How to Use Samsung Pay on the Galaxy S6, Note 5 & More
Samsung Pay is a brand new feature and technology on four of Samsung's latest smartphones released in 2015. Those being the Galaxy S6, Galaxy S6 Edge, Galaxy Note 5, and the Galaxy S6 Edge Plus. The problem though, is most owners don't know how to use it or set it up. Here, we'll be quickly explaining how to use Samsung Pay on the Galaxy S6 and Samsung's other smartphones.
Similar to Apple Pay which was released last year, Samsung's new smartphones can wirelessly make payments for goods at millions of stores throughout the United States. Essentially replacing a wallet. Users just need to add their credit or debit card information to the phone, tap it against select payment terminals in Starbucks or other stores, and that's it. It's extremely safe, secure, easy and fast.
Read: 3 Good Reasons to Use Samsung Pay
However, unlike Apple Pay, which only works at select few locations, Samsung Pay works at nearly 95% of stores throughout the United States. It uses two different technologies, making it far more accessible and advanced than both Apple or Android Pay. As a result, many want to try it, but need to know how.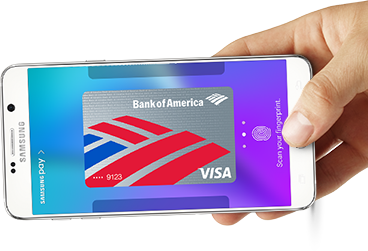 Samsung Pay uses both NFC (Near Field Communications) and MST (Magnetic Secure Transmission) to make purchases with a smartphone. The competition only uses NFC, which requires updated and new payment terminals at retail stores. The second method, exclusive to Samsung devices, is backwards compatible with all swipe-based payment machines (MST) that are in 95% of stores. Essentially anywhere you can swipe a credit or debit card, you can use Samsung Pay. Except an ATM or gas station.
It's this, versus the limited uses of Apple or Android Pay, that makes Samsung Pay so easy to use, convenient, and worth trying. I carry my debit card, ID, and Galaxy Note 5 around daily, and that's it. I rarely need my debit card, as Samsung Pay works for me everywhere I go.

So how can you do this? As long as you have a new Samsung device and one of the above mentioned carriers, cards or banks you can use Samsung Pay, and here's how to set it up. If you don't have a supported bank, don't worry, because more are coming in the near future. Not to mention discounts, coupons, loyalty cards and more.
Instructions
Using Samsung Pay is extremely quick and easy. After about 1-2 minutes of setting things up, downloading the app (if it isn't pre-installed) and adding a card or two is all it takes. Then just tap your phone to the terminal, use a fingerprint for authentication (for improved security) and you're all done. It's that easy, and it works amazingly well.
Steps:
Download Samsung Pay
Open the Samsung Pay App and Agree to Terms
Scan a Fingerprint for Security if setup (recommended)
Tap "Add" at the Top Right to Add a Card
Use Camera to Capture Information (or manual enter)
Save Card (or add more)
Make Payments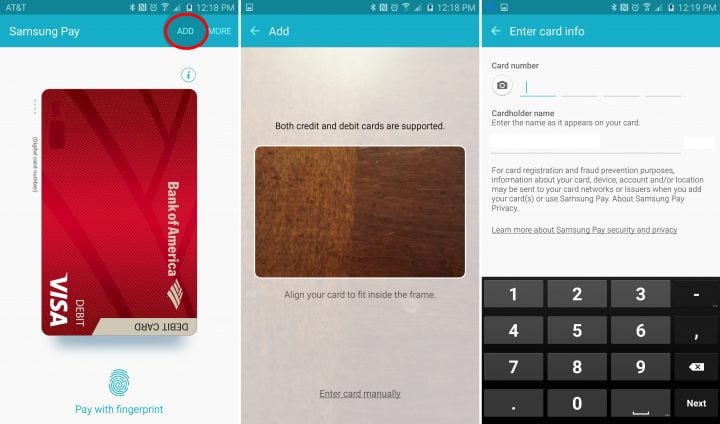 It's that easy. Simply download the app, and then use it to take a photo (or manually enter, if you'd like) the credit or debit card information, and you're all set. From here all users need to do is swipe up from the bottom of the screen to activate Samsung Pay, use their fingerprint for security, and tap the phone against nearly any payment terminal in the United States.
Swiping up while the phone is off, on the lockscreen, or even from the homescreen all work. As Samsung Pay is hidden and waiting to slide up and be used. It's so easy to access with no fumbling through a purse, searching for an app, or even turning on your phone. Just swipe, tap, pay and go.
Samsung uses several layers of security, doesn't store any card information on the phone that can be stolen by hackers, and uses a token system so each transaction is unique and can't be tracked, identified, or used for theft. Meaning not only is it easy to use, but it's safe too.
Owners can add more than one card to their phone if they'd like, to pay with different cards whenever, and Samsung promises to be adding more support and features in the near future. Set it up in a matter of minutes and give it a try today, even at places that don't accept Apple Pay. Because the phone is smart enough to use the other technology and finish the transaction, when the competition fails. It's one of my favorite features of the Galaxy Note 5, and we'd highly recommend giving it a try.