How to Use Sticky Notes for Windows 10
Everything that's old can become new again. With Microsoft's Windows 10 Anniversary Update, the stylus has come back in epic form. The company is finally treating the digital pen as a first-rate way to interact with tablets and 2-in-1 PCs that can transform into tablets. Suddenly Sticky Notes, an app that hadn't seen major upgrades in years, got a fresh coat of paint and new options.
Sticky Notes for Windows 10 does the same thing that the older version did, but better. With the app, you can leave reminders and tips on your device's Desktop. There they'll keep you on task and on schedule, since they're almost always visible. Microsoft refreshed Sticky Notes because it planned to feature it in the Ink Workspace, a dedicated area for sketching, writing and drawing. Every PC gets access to Ink WorkSpace, even if touch isn't included. This also means that everyone gets access to Sticky Notes for Windows 10.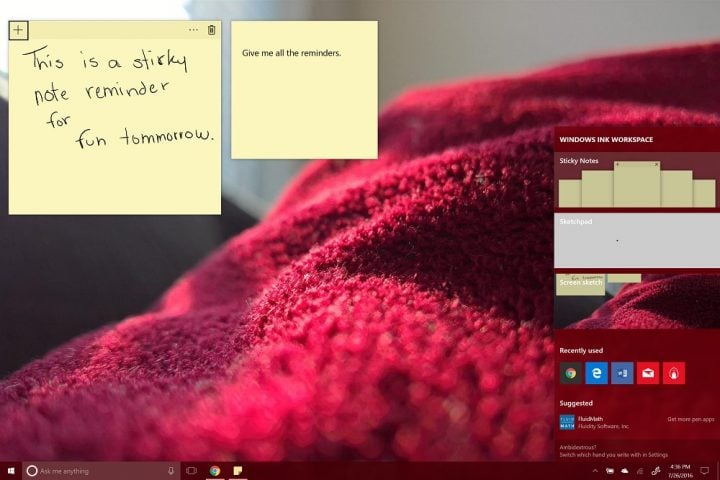 Read: Windows 10 Anniversary Update Review – Everything Necessary
Finding Sticky Notes for Windows 10
Finding Sticky Notes is pretty easy. The initial Windows 10 upgrade made it possible for apps downloaded from the Windows Store to run alongside programs. Look for Sticky Notes in the list of installed apps on your notebook, desktop, tablet or 2-in-1 running the Windows 10 Anniversary Update. If you don't see the Sticky Notes app in your Start menu or Start Screen, it's because the Anniversary Update hasn't been installed yet. Manually check for pending updates in the Settings app under Update & Recovery.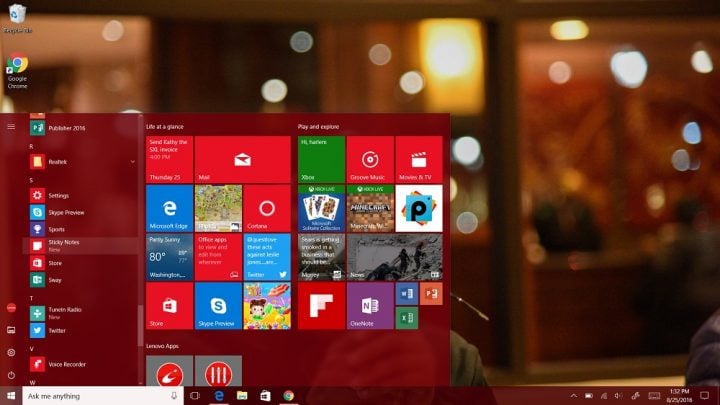 Read: 17 Anniversary Windows 10 Update Features
Tablet and 2-in-1 users have a second way to quickly access Sticky Notes. Look for a pen icon in the bottom-right corner of your screen. Devices with a touchscreen and compatible digital pen have a link to Ink WorkSpace put there automatically. If you right-click in the area you can add the button manually to your PC.
Using Sticky Notes for Windows 10
The first thing you'll see when you open Sticky Notes for Windows 10 is a bare note. If you click on the Sticky Note with your mouse you can begin typing your note. The + button on the left edge of the note allows you to add more. The Trashcan button on the right deletes a note.
By or tapping on the three dots at the top-edge of the Sticky Note, you can change the note's color. Presumably, any new features that Microsoft adds to Stick Notes for Windows 10 will surface here.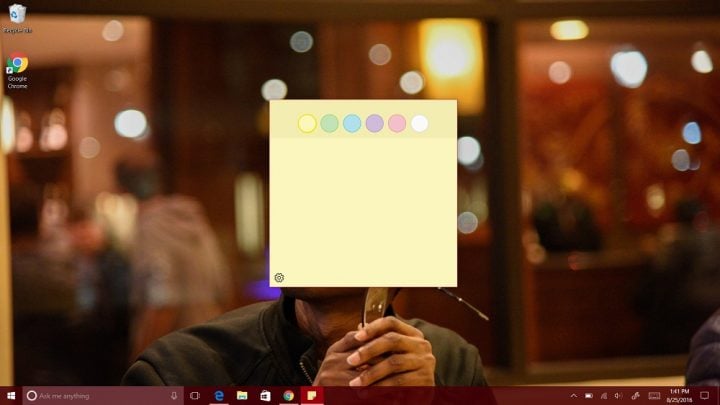 You don't have to type your messages and reminders into Sticky Notes. The app was designed with inking in mind. You can use your Surface Pen, Lenovo Pen or stylus to write the notes by hand and skip using the keyboard altogether.
Read: Surface Pen Tips for Surface Pro 4 and Surface 3
If you hover your mouse pointer at the edges of the notes, you're able to resize them to your liking.
Regardless of whether you type or write your notes, you may find that some text turns blue. When this happens it's because Windows 10 wants to let you quickly create a related calendar reminder for later or link you to more information. Microsoft calls this feature Insights. You can turn it off from the app's settings.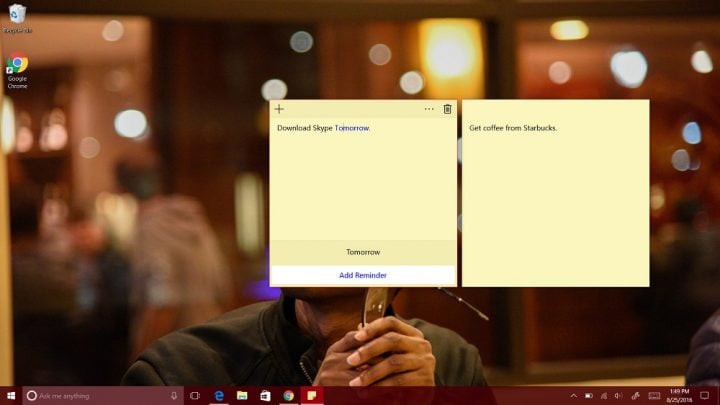 As long as the Sticky Notes app is open, you'll see your notes pasted to your Desktop. By closing or minimizing all of your apps and programs, you're able to get to it. Click on the Sticky Notes app icon in the Taskbar. All of your notes will surface over whatever app or program you are using.
Sticky Notes for Windows 10 Tips & Tricks
If you're busy and don't need the distraction on your screen, you can close all your Sticky Notes, without deleting them. Right-click on the app icon in the Taskbar and select Close Window.
Multiple monitor setups are perfect for Sticky Notes for Windows 10. Open the app on whichever monitor you'd like to keep your notes displayed. Now you have a digital reminder board.
If a note you're about to leave is on a sore subject, remember that everyone can see it. It might be a better idea to turn it into a reminder through the Cortana personal assistant instead. Likewise, if you plan on presenting, remember to close the Sticky Notes app before you connect to the projector or external monitor.
Try using different colors for different subjects This gives you a way to quickly gage your priorities for the work day.
Unfortunately, Sticky Notes for Windows 10 doesn't sync between multiple Windows 10 PCs. Be sure to write down any important notes that you may have before restoring or resetting your Windows 10 PC.
Read: 20 Windows 10 Tips & Tricks from a Fanatic
Good luck with Sticky Notes for Windows 10. Here's to hoping it keeps your work organized, tasks on schedule and head clear.