How to Use Tablet Mode in Windows 10
Whether you liked it or not, Microsoft's Windows 10 operating system changes a lot of things where touch is concerned. A vocal minority and people who were already familiar with the way touch worked on Windows 8 and Windows 8.1 will likely blast Microsoft for these changes. The rest of us, the people who never used Windows 8 and never liked the way it handled touch, are quietly celebrating. Windows 10 has a dedicated Tablet Mode that better balances the needs of users and makes it easier to do things.
Tablet Mode in Windows 10 is for users that have a device equipped with a touch screen and want to make the most of it. Turning on the features activates edge gestures for closing apps and multitasking. It is Tablet Mode that decides whether the Windows 10 keyboard pops-up when you tap on a search box. Tablet Mode even controls how you multi-task in your apps.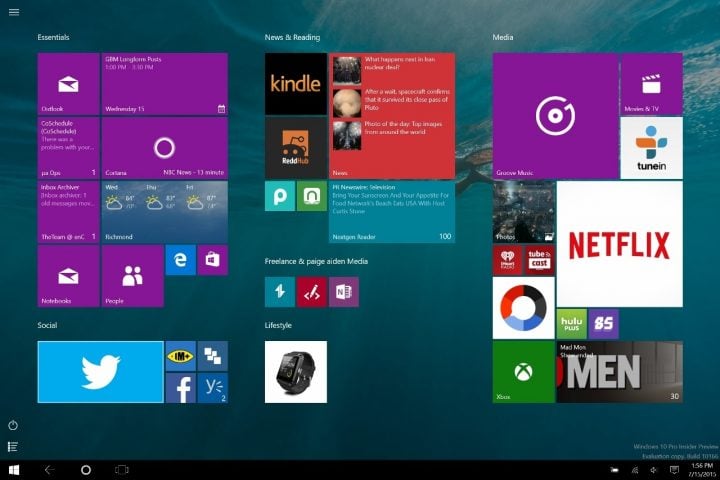 Here's how to use Tablet Mode in Windows 10 and a breakdown of what it's good for and what it's not good for. Remember, you'll need Microsoft's free Windows 10 upgrade to take advantage of the feature. You can reserve your free Windows 10 upgrade now. Microsoft will begin releasing the operating system in waves on July 29th.
Read: How to Get the Free Windows 10 Upgrade
Why Use Tablet Mode
If you have a notebook or desktop than Tablet Mode was created to satisfy you. Rather than forcing touch-centric ideas on all the Windows ecosystem, Microsoft decided it'd take a more granular approach. Tablet Mode is off by default for any device that has a keyboard and no touchscreen.
Tablet Mode is on by default for every device with a touch screen and no keyboard connected. The idea for Tablet Mode is the same as Windows 8. By making common sense changes to apps and the way Windows works, Tablet Mode makes everything more user-friendly.
When Tablet Mode is on tons of things change, but most of them center on the Taskbar.
Apps open in full screen by default
App snapping nets users run all apps by dragging apps to the sides of your screen and adjusting them with a slider in the middle.
The on-screen keyboard opens when you tap on text fields
The Taskbar turns black and replaces Cortana's Search bar in the Taskbar with an icon. App icons disappear from the Taskbar
Titlebars for apps lose their back buttons and a permanent back button surfaces on the Taskbar.
The Taskbar picks up a multitasking button.
The Start Menu becomes the Start Screen and hides app lists in favor of making room for more Live Tiles and app shortcuts.
Windows 10 takes all the apps you have in multiple Desktops and combines them into a single view.
Some of these changes you can easily override. For example, you can bring app shortcuts back by tapping and holding on the Taskbar itself. Others don't offer you the opportunity to switch anything. Tablet Mode is designed to fix Windows 8's huge flaws.
Turning Tablet Mode On and Off
There are three different ways for you to turn on Tablet Mode in Windows 10. Microsoft includes an internal mechanism in Windows 10 called Continuum. Continuum intelligently manages Tablet Mode, turning it on automatically if there's no keyboard present or turning it off if there as. How this is configured depends on your device. For example, the Surface Pro 3 asks you before making the switch. You can mange this setting or even turn the feature off completely from the Settings app in the System area. To be very clear, you can use Tablet Mode with a mouse and keyboard if you want too.
Windows 10 includes a centralized place for quickly switching settings and looking at Notifications. Microsoft calls this the Action Center and it includes a Tablet Mode button for toggling the setting quickly. Swipe left from the right edge of your touch enabled PC to open the Action Center. The Tap the Tablet Mode toggle. There's a message button for the Action Center on the right side of the Taskbar too.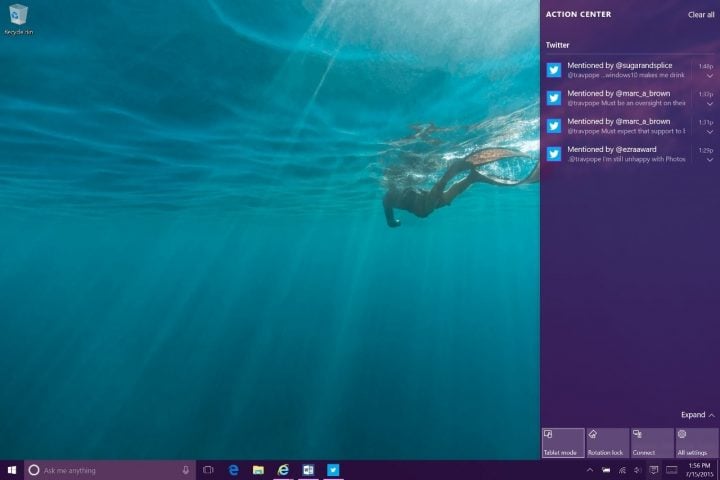 If you go into the Settings app from the Start Screen.
Now tap on or click on System.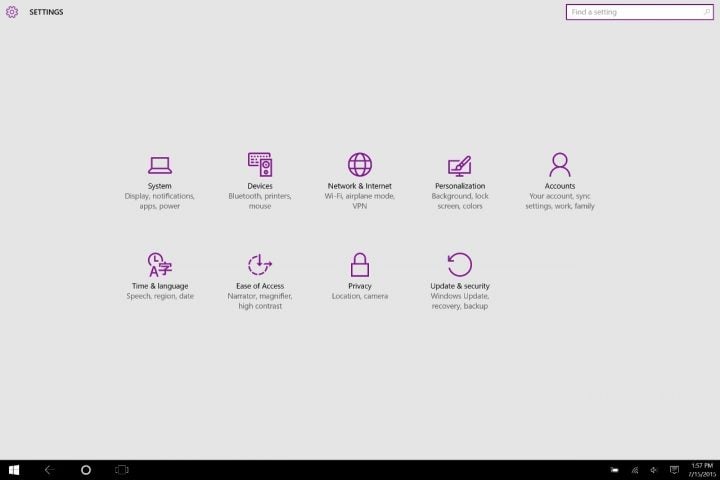 Now tap or click on Tablet Mode.
From here you can toggle Tablet Mode on or off and adjust your settings for Tablet Mode.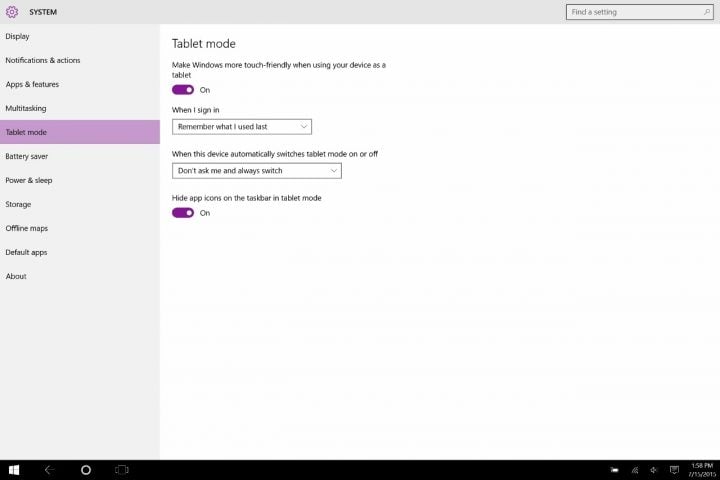 Tablet Mode Gestures
Edge gestures were the true devil of Windows 8, Windows 10's direct predecessor. Microsoft left way too many things without on-screen cues. Settings, for example, were hidden by a swipe on the left side of your screen. Most people never realized these options were there.
You'll find that anything you can do with an edge gesture in Windows 10 has an on-screen button. Still edge gestures are included and pretty handy.
When in an app, swipe all the way down from the top edge of the screen to close an app, just like in Windows 8.
From anywhere place your finger on the left edge of your screen and swipe to the left to get a look at every app you have open.
Swipe down just a bit to open up menus from apps that haven't been upgraded to better support Windows 10 yet. You'll also get a titlebar that will allow you to make apps fullscreen.
That's Tablet Mode in Windows 10. Really, it's a simpler way of doing things for touch users and gives users the option interact with Windows the way they always have. Remember, you don't need to turn on Tablet Mode to get the Start Screen back. GottaBeMobile runs down how to do that here.