How to Use the Fingerprint Scanner on the Nexus 5X
This year Google delivered the return of the do-it-all smartphone, the Nexus 5X. A fair priced and well-rounded smartphone with the latest version of Android. Users have been loving the Nexus 5X and all it has to offer, including the fingerprint scanner on back. For those that are new, below is a quick guide on setting up and using the Nexus 5X fingerprint scanner.
Back at the end of September the Nexus 5X and Nexus 6P were announced. Two impressive new phones by Google running the latest Android 6.0 Marshmallow software. The Nexus 5X started shipping a few weeks ago, and those with the shiny new phone may need help setting a few things up.
Read: Nexus 5X Setup Guide: 10 Steps to Get Started
The Nexus 5X fingerprint reader unlocks the phone extremely quick, makes secure wireless mobile payments with Android Pay, can login to accounts or websites, and even sign into banking apps and more. We've been getting asked a lot of questions, and here we'll be explaining how to set it all up and even add multiple fingers, if users skipped this step during initial setup.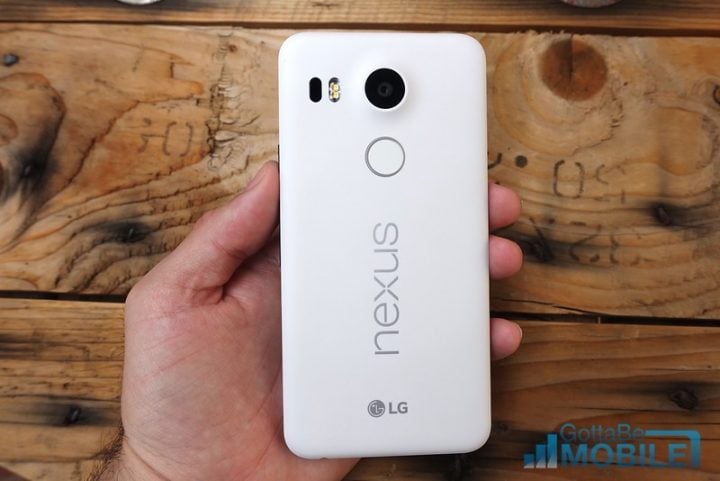 In Android 6.0 Marshmallow, also released earlier this month, Google added native fingerprint support. This will eventually be added to recent Samsung devices, and be great for owners of the Nexus 5X and Nexus 6P. Google is calling it Nexus Imprint, and it works somewhat different and much quicker than Apple's TouchID, or Samsung's own fingerprint scanners.
However, almost everything is the same. Users need to set up a backup password or pin, in case their finger doesn't work, is wet, or covered, and setup takes less than a minute too. It's fast, convenient, and easy to use.
Read: Android 6.0 vs Android 5.1 Lollipop: What's new in Marshmallow
Above are a few extra details about the new Android Marshmallow release, but lets get started on the fingerprint scanner and setup. During initial phone setup instructions the Nexus 5X will ask users about this. You can do it then, or even add them later if this was skipped during setup. The video and screenshots below explain everything for owners.
Instructions
The video below is from our hands-on with the Nexus 6P, but we're starting it half-way through where we setup a fingerprint as the lockscreen security measure. This entire process is 100% the same on the Nexus 5X, and amazingly, works just as well too. It's one of the fastest fingerprint scanners we've ever used, and everyone is going to love it. Everything from daily usage, initial setup, or accuracy is all better and faster than Samsung or Apple. Yes, it's that good.
We'll start with the hands-on video and instructions first, then go into the actual setup below for those who skipped this during first boot of the phone.
As shown in the video above, users simply add a backup password, pattern, or pin, then setup the finger with six taps. With Samsung it takes nearly 10-12 taps to learn a finger, more steps to actually set it up, and it doesn't seem to work as well. My Note 5 is very accurate, but the Nexus 5X and 6P might be better.
That said, if you skipped this all during setup, and now need or want to add this as a security measure, lets do that next.
Start by heading into settings by pulling down the notification bar twice, or swipe once with two fingers, and tap the gear-shaped settings button on the top right. Here's the screenshots and full instructions for beginners, or experts. It's really easy.
 Head to Settings > Security
Select Nexus Imprint
Hit Continue, then setup a backup password, pin, or pattern
Follow the steps, tap the scanner 6 times to save a fingerprint
Once finished add more fingers, or one from your other hand
Nexus Imprint learns as it's used, and becomes more accurate over time
Personally, I added both index fingers, so I can easily unlock the phone with each hand. And of course owners can add other fingers, but the index finger makes the most sense considering the scanner isn't on the front, where a thumb would be useful like the Galaxy S6 or iPhone.
Once you've setup a fingerprint add a credit/debit card to Android Pay, and start using wireless mobile payments with NFC. Android Pay is accepted at thousands of locations, and all it takes is the tap of your phone, a fingerprint to confirm the method is secure, and you've wirelessly paid for goods. Go try it today.
Google's placement of the scanner on the Nexus 5X is perfect. Users index fingers are perfectly placed while holding the phone, without having to learn a different way of holding the device, or using it, and just tap the sensor and instantly unlock your phone. It's extremely fast, typically working in less than a half a second.
As a reminder, Google requires the backup password, pin, or passcode to be entered on first use after a reboot, before using the fingerprint. Then owners can continue using a fingerprint until they reboot again. Basically, make sure it's something you'll remember. That's it and you're all done. Stay tuned for more details, how tos and more in the coming days and weeks.

As an Amazon Associate I earn from qualifying purchases.