How to Use the Xbox Elite Controller on PCs
Not many people thought that Microsoft was serious about bringing its Xbox experiences to PCs. Whatever the reason, hardly anyone doubts the company is serious now. It all started with the Xbox Elite Controller that Gotta Be Mobile reviewed earlier this year.
The Xbox Elite Controller is Microsoft's first piece of serious hardware made specifically for hardcore gamers. Revealed last year at the Electronics Entertainment Expo, the Xbox Elite Controller offers up premium build quality and customization options that simply weren't viable for the regular Xbox One Wireless Controller. Among those features, is the ability to connect the controller to a Windows 10 PC for updates, customization and button mapping.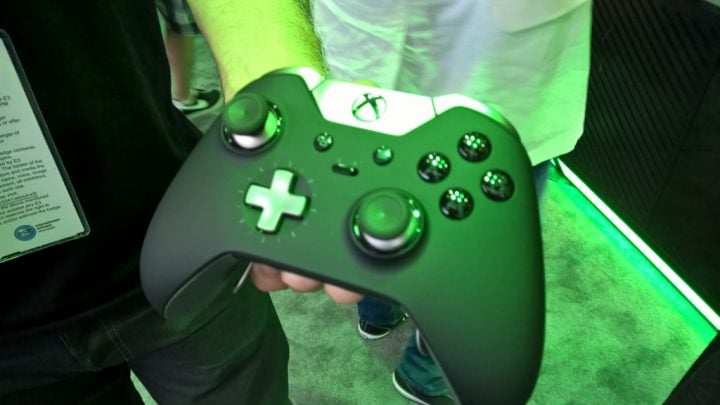 Here's how to use the Xbox Elite Controller on Windows PCs.
Why Use an Xbox Elite Controller
Before we begin, I think it's necessary to answer a few obvious questions about the Xbox Elite Controller. The first of those is why bother using the Xbox Elite Controller for PC gaming at all? Why not use a joystick or a gaming keyboard?
Truth is that both of those options are great if you're a PC gaming native. The Xbox Elite Controller is perfect for the gamer that isn't native to PC gaming or prefers a controller. Having a controller means being able to lean back and enjoy your game without something in your lap. You're no longer chained to the immediate area in front of your gaming PC.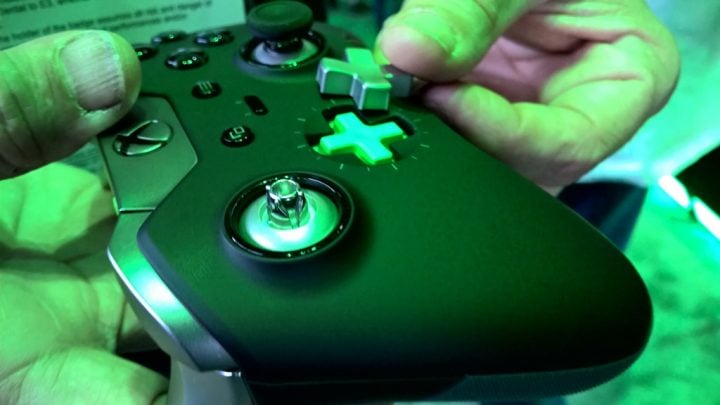 Read: Xbox Elite Wireless Controller Review
Through key mapping, you can decide which buttons on the Xbox Elite Controller match the keys on your keyboard. Games that already support controllers simply map to the Xbox One Controller without issue. With the right accessories, there are no wires involved in the setup at all either.
Getting Started
Before you even purchase the $149.99 Xbox Elite Controller, consider how'll you want to use it on your PC. Gone are the days when you had to choose between whether you wanted your controller to be wired or wireless; the Elite Controller handles both ways of interacting with your gaming PC. Included with the controller is a braided mini-USB cable that allows you to charge from and connect to your PC.
What's not included with the Xbox Elite Controller is the Xbox Wireless Adapter. You'll need the Xbox Wireless Adapter before your Windows PC can communicate with your controller. The Xbox Wireless Adapter costs $24.99 from Amazon.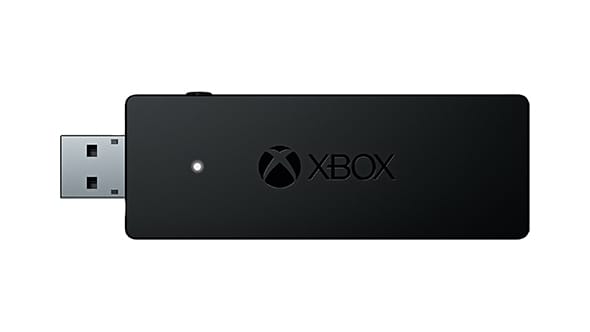 Another important thing you'll need to consider is the operating system that you have installed on your PC. The Xbox for Windows app and Xbox Accessories apps are how Microsoft extends the Xbox experience onto your computer. Both of those are only available to Windows 10 and Xbox One owners. Really, you'll need to have a computer with Windows 10 pre-loaded on it or have taken advantage of the Free Windows 10 Upgrade Offer to get the best out of the Xbox Elite Controller.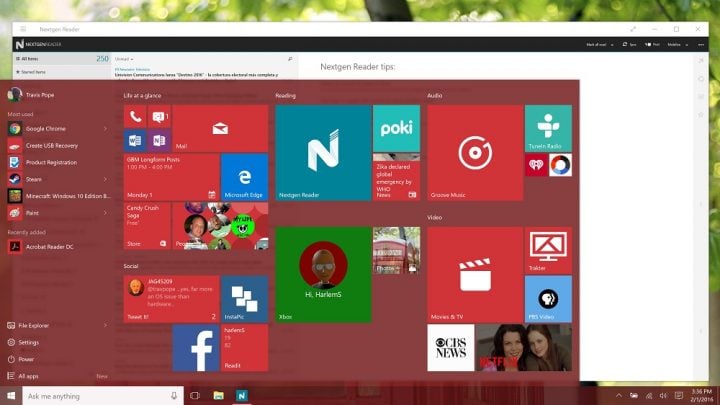 Read: How to Use Xbox on Windows 10
Mapping Buttons with the Xbox Accessories App
Download the Xbox Accessories app to start mapping buttons to your Xbox Elite Controller. You'll be guided through the process of naming your controller and get a tour of all the features that it offers.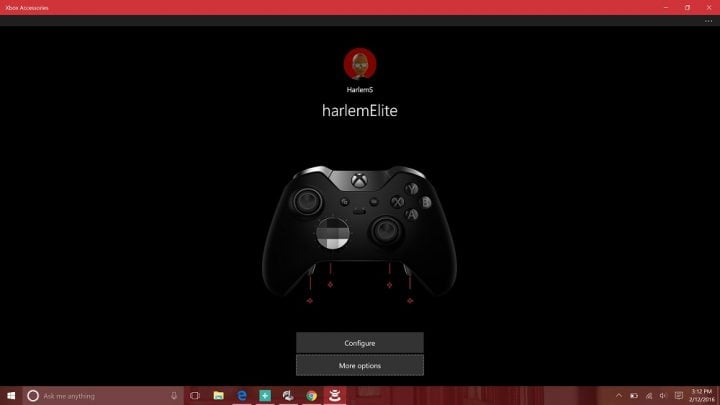 Every Windows game that already features Xbox 360 controller support that you own won't require any fine tuning beyond downloading the app and choosing what you'd like the paddles on the controller's rear to replicate.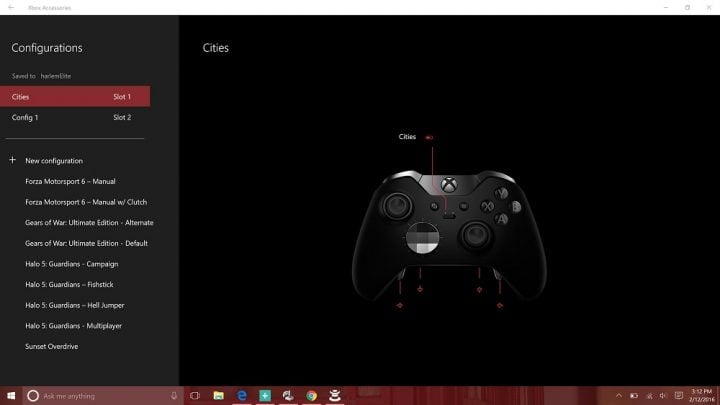 You can give each controller configuration a name and assign it to a specific slot so that it's easy to switch in and out of it. There are also options for joystick sensitivity, logo brightness and reversing some of the controller's functions.
Mapping Keys with the JoyToKey
For whatever reason, there are a ton of games available outside of the Windows Store that do not come with support for controllers. Usually, these are games that depend heavily on mouse input for whatever reason. Cities Skylines is a perfect example. Steam lists the game as having partial controller support, but it doesn't work with any controllers on PC. That is, without some added handholding. Put in some work and you can make any game at all support your Xbox Elite Controller.
The best software to do this that I've found is called JoyToKey. Once your Xbox Elite Controller is connected, you can assign it to replicate the actions of specific keys on your keyboard. For example, the left joystick on the Xbox Elite Wireless Controller can replicate a PC mouse. The buttons can pretend to be the A key on your PC.
Download JoyToKey from here, and extract the files to safe place on your PC. There's no installation per se, simply double-click on the program to open it and begin mapping keys to your controller.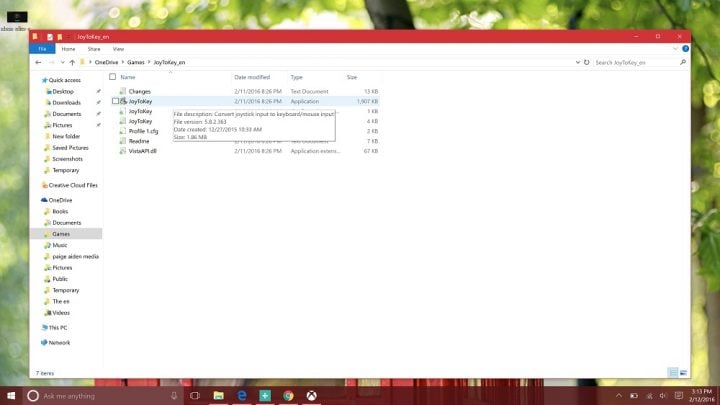 As you begin setup, push a specific button on your controller and JoyToKey will tell you what button that is with a yellow highlight. For the best results, I recommend getting a list of keys your PC game requires and then using the Bulk Assignment Wizard.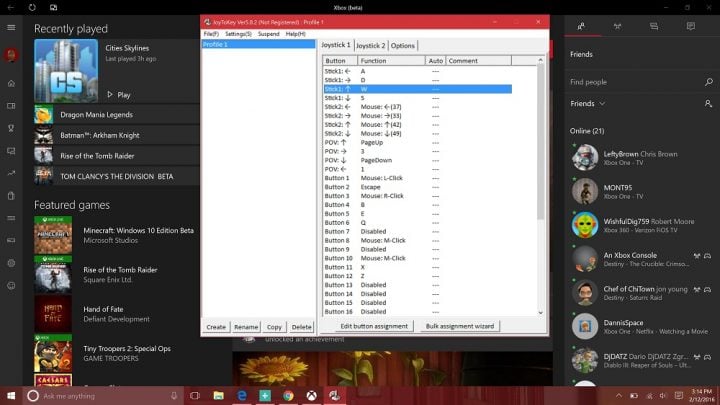 To fine tune individual keys, you'll need to select the button from the list and double-click. Hit the key on your keyboard that you want to map.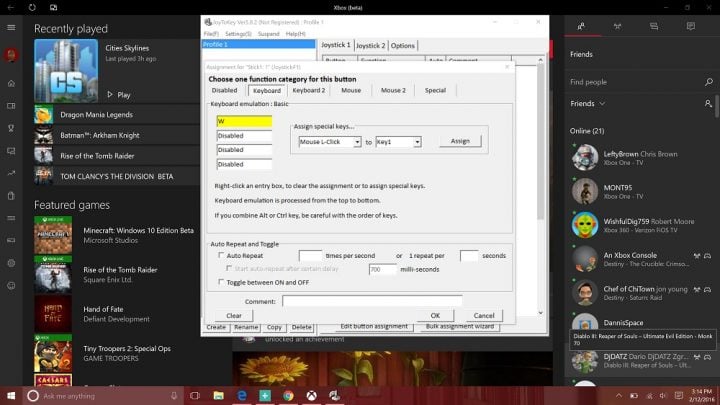 Select Mouse from the list of options if you'd like to map a joystick on the Xbox Elite Controller to your mouse.
Note that going forward, you'll need to start JoyToKey before playing any games that you need to map keys for. The app makes this a bit easier by letting you force it to startup for specific games in the Settings menu. Note that Xbox Live games downloaded through the Windows Store shouldn't require you to do any key mapping.
Good luck with your Xbox Elite Wireless Controller.

As an Amazon Associate I earn from qualifying purchases.