How to Use Xbox on Windows 10
Lightweight and versatile upgrades to many of Microsoft's apps make Windows 10 the best operating system upgrade we've seen from Microsoft in years. The Start Menu is back and Store apps are finally becoming more mouse and keyboard friendly. With so much happening on the productivity side of things, it's easy to forget that Microsoft hopes Windows 10 will be the ultimate upgrade for gamers too.
Windows 10 includes DirectX 12, a huge upgrade for the gaming subsystem inside Windows that many developers build their experiences off of. Microsoft says gamers who upgrade should see huge improvements. Though that update alone is crucial, the crux of Microsoft's gaming argument relies on the new Xbox app for Windows 10. Xbox on Windows 10 allows users to send messages, record video clips and take screenshots. Xbox Live functionality is built into the experience. Soon game developers will unleash new PC titles built with Xbox Live multiplayer.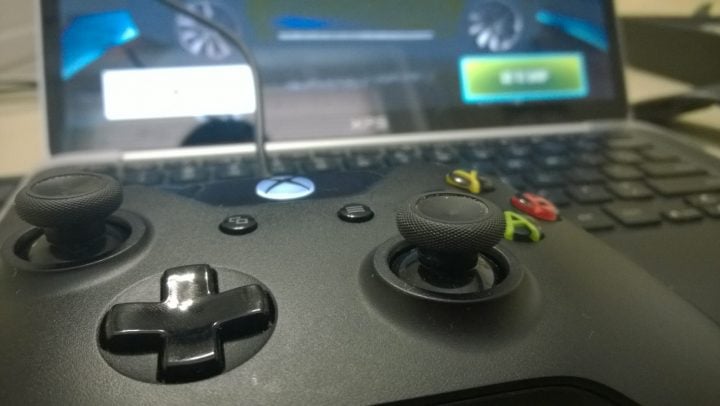 Read: Windows 10 Review – A Love Affair
Here's how to use Xbox on Windows 10 to upgrade your PC gaming experience.
How to Use Xbox on Windows 10: How to Get Compatible Games
The newly upgraded Windows 10 store allows users to download all sorts of mobile games complete with Xbox Live achievements, but in the future the company hopes more developers will put their big-name, serious titles into the Windows Store for users to purchase as it plans to do. Only self-published titles are confirmed for right now. Gears of War Ultimate Edition, Fable Legends and Gigantic are all coming from Microsoft.
Microsoft has fumbled in the PC gaming space too many times for users to take the company seriously with a dedicated gaming store. One mistake Microsoft made in the past was to lock users into its store. This time the company is being smarter. The PC games you purchase from GameStop, Origin and Steam all work with most of the Xbox on Windows 10 features. You can drop links to them in the app for easy access or launch them separately.
Windows 10 is able to detect games when you open them and surface the Gamesbar, a small interface for doing things in-game. Right now its unclear if games sold outside the Windows Store will get Xbox Live multiplayer integration.
How to Use Xbox on Windows 10: How to Take a Screenshot
Taking a screenshot in your game to share with a friend is pretty easy in Windows 10. In fact, it'll seem very familiar to anyone who frequently takes screenshots of their apps.
One way to take screenshots of your games in Windows 10 is to press the Windows key ALT and the Print Screen button at the same time.
You can also press the Windows key and the letter G at the same time to open the Gamesbar. When the Gamesbar opens, click or tap on the picture icon.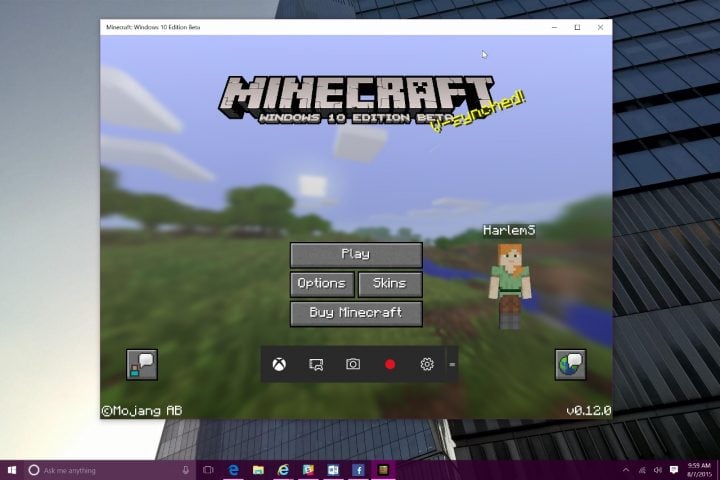 The screenshots you capture surface immediately in the Xbox app on your Windows 10 PC in the GameDVR area. From there you can rename them and open them.
You can also save pictures captured by your Xbox One, if you have one. You can capture pictures in any video game you own, but to upload that content the game needs to have been downloaded from the Windows Store. This is how Microsoft protects Xbox Live from offensive or inappropriate content.
How to Use Xbox on Windows 10: How to Record Video
Recording video using Xbox on Windows 10 is the same as pictures, but there's more nuance involved in the feature itself.
Open your game and press the Windows key and the G key at the same time.
Now tap or click or click on the red Record button in the Gamesbar. Xbox on Windows 10 will immediately begin recording video from your game in real-time.
The Settings cog gives you a feature breakdown. There you can decide how long you want your game clips to be.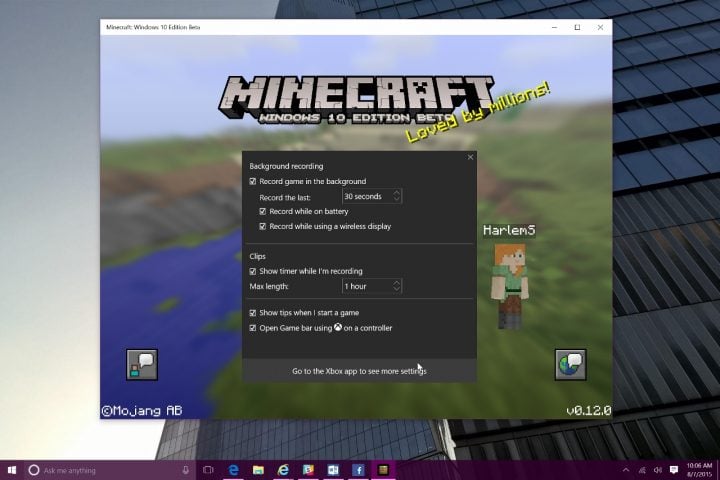 Any video that you record has the same restrictions as pictures. If it's a game from the Windows Store, that content can be uploaded to your Xbox Live profile and shared with friends. Footage taken from games purchased from Steam or other places can't be shared over Xbox Live. Be careful with video recording as it can take up a lot of space if you aren't careful.
Xbox on Windows 10 GameDVR Requirements
Not all PCs can use GameDVR. Microsoft says that the feature requires a fairly modern AMD or NVIDIA graphics card. Devices with an integrated Intel HD 4000 graphics or later can also use the feature.
How to Use Xbox on Windows 10: Using an Xbox Controller
Last year Microsoft made it possible for Windows PC users to connect their controller and play their favorite games. At the time, it wasn't seen as a huge feature since the Xbox 360 controller could be used this way already, provided users had everything they needed. Users either needed a wireless adapter to connect to their existing Xbox 360 Wireless Controller or a USB Xbox 360 controller. The Xbox One has a microUSB port built right-in, making it the obvious choice for PC gamers already comfortable with it.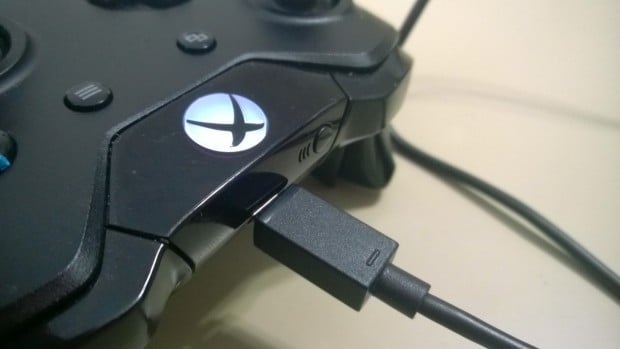 Windows 10 has Xbox One Wireless Controller support built right in. Today, if you plug the controller in with a USB cable you can use it most popular titles without a problem. In the future Microsoft has a wireless adapter planned that'll kill the need for the USB cable.
To use your Xbox One Wireless Controller simply plug it in. Your PC already has everything you need to get going. Note that the games you download will need controller support too. Many available in the Xbox Store already do. Most PC game developers include it in their titles too, though you may have to go into the game's settings to enable it.
How to Use Xbox on Windows 10: Start a Party
One of the cool benefits of Xbox Live is being able to Party Chat with your friends. Party Chat puts users in a virtual room for voice communication, regardless of what game everyone is playing. Windows 10 offers this feature too, and it works in tandem with the Xbox One.
To start a Party open the Xbox app. Now tap or click on the Start Party button in the top right corner of Xbox on Windows 10.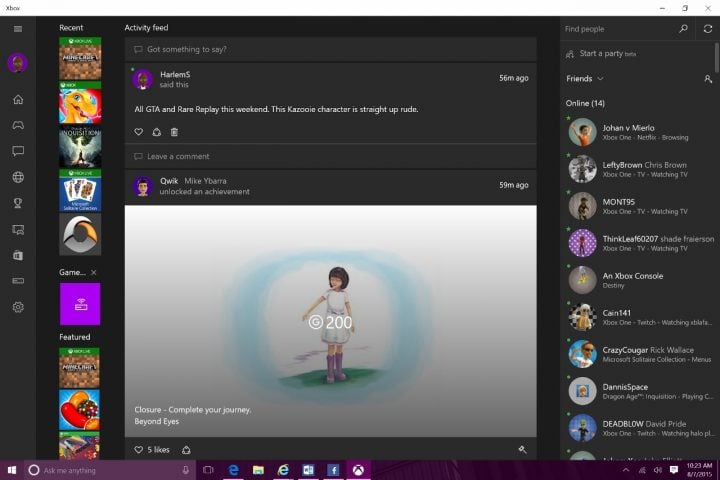 Once you've started a Party you'll need to add people to it. You can do so by tapping or clicking on the + icon. Parties can have a mix of PC and console gamers.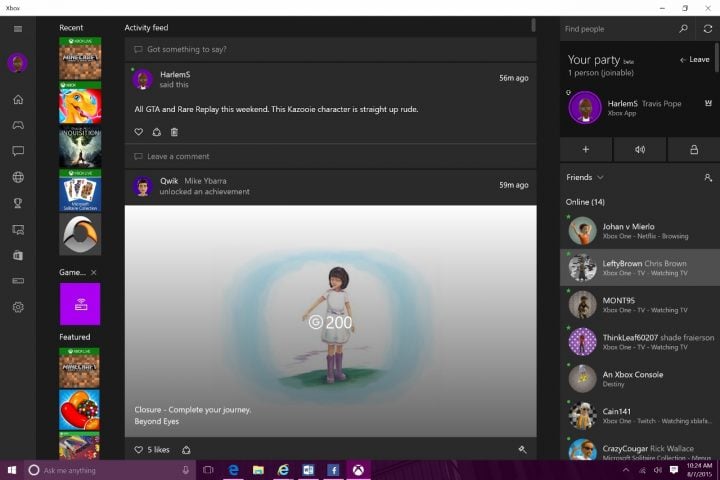 Select one of your friends from the list and wait for them to accept your Party Invite.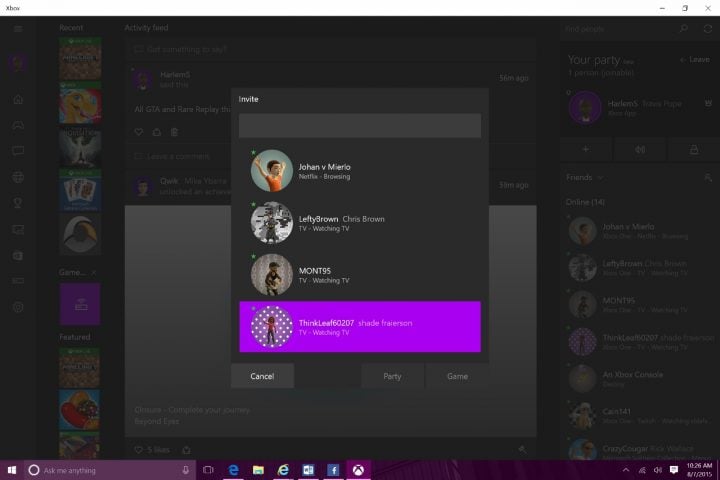 You can lock the party to people you want or leave it open. You can also mute yourself if you don't want to be heard.
How to Use Xbox on Windows 10: Add Games to Your Collection
Xbox on Windows 10 wants to be your on-stop shop for gaming. To do that it needs to link you to the titles you already have. Go the My Games area in Windows 10 and click the Add a Game From You PC button to add titles you already own from somewhere else.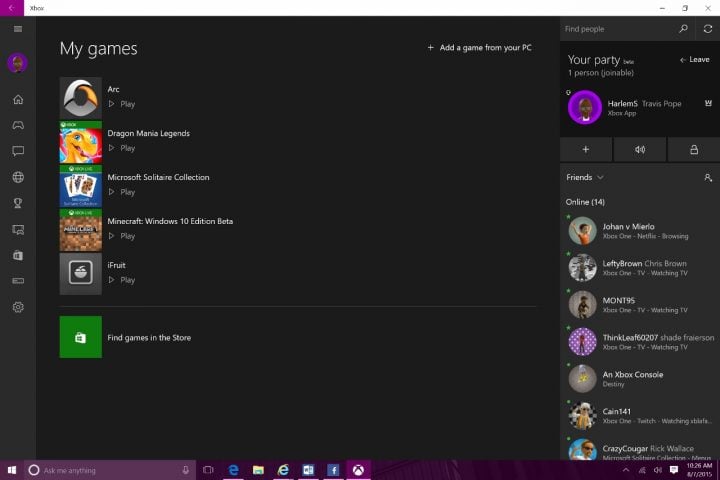 The Xbox on Windows 10 app itself will automatically add any games downloaded from the Windows Store. It'll also recognize many popular titles and add them on its own.
How to Use Xbox on Windows 10: Send Messages
Send messages to other Xbox Live uses by tapping or clicking on the Messages item in the menu. All your previous messages from Xbox Live users surface there too.
How to Use Xbox on Windows 10: Stream Games
For any user that has an Xbox One already, Xbox on Windows 10 is the ultimate accessory. Say you're in your office and don't want to go to your living to play a game. The Xbox on Windows 10 app allows you to stream a game that living room console.
Before you try this though, know that there are some specifics. First, what you're seeing in the Xbox on Windows 10 app when you stream a game is a direct mirror of what is on the console. For right now this means that you can use the app to get around getting control of your console. For example, watching television while game streaming is possible, but not great since neither user will get full control of the screen. Second you'll need to be on the same network as your console and have an Xbox One controller.
Open the Xbox app and plug in your controller.
Tap or click on the Connect menu item and turn the console on that you would like to stream from. Tap or click on Add a Device if you haven't already synced the two before. Now go to Home.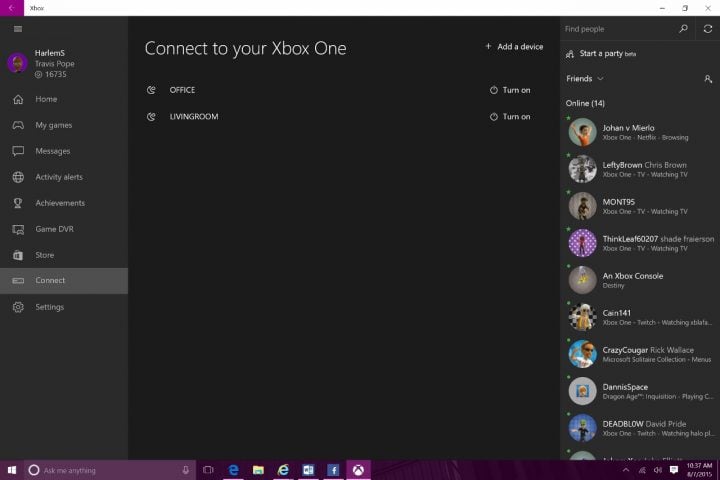 Tap or Click on the Game Streaming icon in the middle-left column of the app.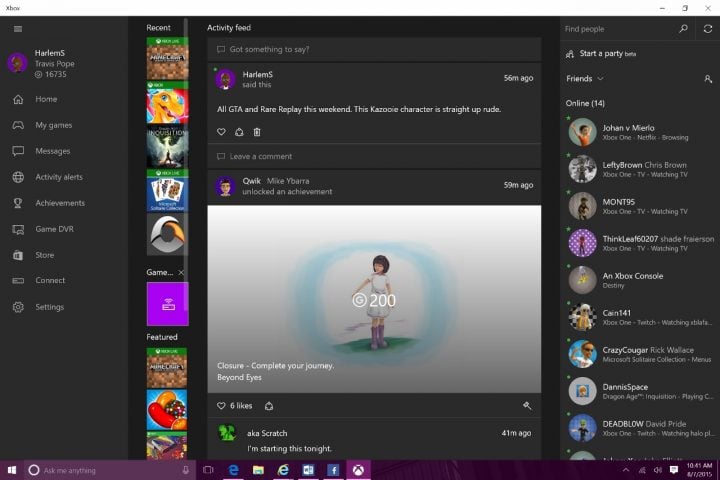 From here you'll be able to choose your game and stream it directly to your Windows 10 PC. For the best results, you really want your Xbox One connected with Ethernet to a decent wireless router at the very least. A bad router or slow wireless connection can make Game Streaming very unpleasant.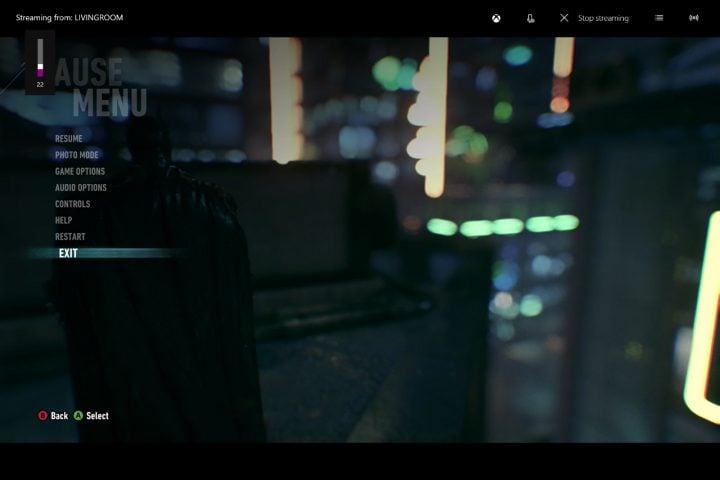 Good luck with Windows 10 and its Xbox One app.