How to Watch a DVD in Windows 10
Many want to know how to watch a DVD in Windows 10. The free Windows 10 upgrade advances what came before it in a number of ways. The Start Menu is back and the Windows developers have the tools they need to fill the Windows Store with compelling apps ready for mouse and touch lovers. What Windows 10 doesn't do is enhance listening to music and enjoying different kinds of entertainment in a big way. The new Groove Music and Movies & TV apps are better than their Windows 8.1 counterparts, not big upgrades in terms of features.
In fact, Windows 10 gives up some huge gains depending on your movie and TV watching habits. Microsoft long abandoned Windows Media Center and Windows Media Player, moving on to new solutions that better match the competition. Windows Media Center isn't in Windows 10 at all, and won't get another update. Windows Media Player is in Windows 10, but Microsoft has gutted its DVD playback capabilities.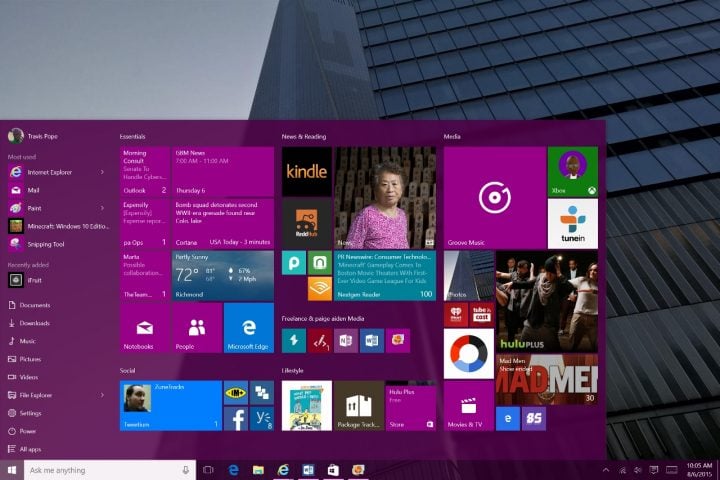 Read: Windows 10 Review – A Love Affair
Watching a DVD in Windows 10 requires that a PC have a DVD playback app or utility installed. Here's how to watch a DVD in Windows 10, and what you need to know about why Microsoft made the change.
How to Watch DVDs in Windows 10: Why It's Gone
Microsoft has a long, prepared answer for why Windows Media Player in Windows 10 doesn't have DVD playback. Microsoft originally depended on hardware makers to include DVD playback software with their machines. DVD players cost many because software makers need to pay a licensing free to stake holders when they add DVD compatibility to their software. With more and more PCs coming without a disc drive, plus changing video watching habits, Microsoft made the decision ahead of the Windows 10 release to drop the feature for its line-up entirely.
Windows Media Player hasn't been updated meaningfully in years, but the company still keeps it around for compatibility reasons. The situation we have now is the result of Microsoft balancing priorities. It seems that Microsoft doesn't want to keep paying DVD licensing fees for all versions of Windows when less users are taking advantage of it.
Most users simply rent or purchase music through a digital store like iTunes. Windows 10 has the Windows Store, an all-in-one solution for buying media from Microsoft. Microsoft is hoping that users will skip discs and buy their content from there.
Read: How to Watch Videos, YouTube & More in Windows 10
How to Watch DVDs in Windows 10: What You Should Do
With DVD playback gone out of Windows officially, Microsoft is hoping that users avail themselves of their other options. To be absolutely clear, every device being upgraded from an older version of Windows should still have a separate DVD playback utility that came with that PC. Windows 10 users can continue to watch DVDs through those programs. Cyberlink, is a huge provider of DVD software for hardware makers, for example.
PC owners with fresh Windows 10 installations have other options if Cyberlink or other software isn't available.
Microsoft DVD Player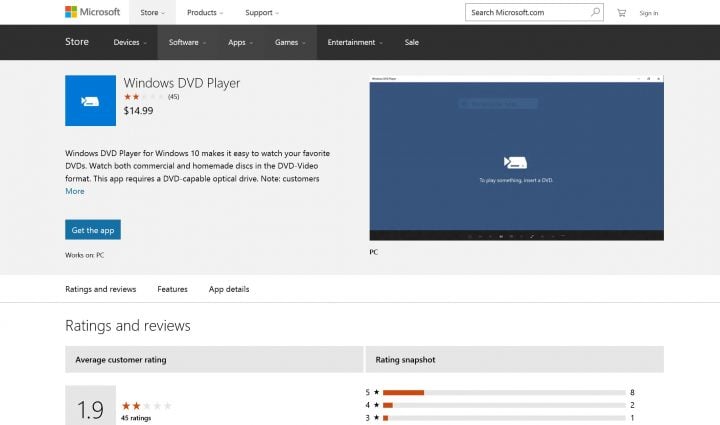 Microsoft may have taken out DVD Playback in Windows Media Player, but it smartly added a dedicated app to the task. This app is called Microsoft DVD Player. Microsoft DVD Player is available directly from Microsoft's Windows Store. You can buy it, install it on all of your PCs and you've solved your DVD playback problem in Windows 10.
That's the good news. The bad news is that Microsoft DVD Player costs money, $14.99 to be exact. What's worse, early reviews of the app don't seem to indicate it works well enough for some people. The apps comments are stuffed full of people complaining about video artifacting. Also, many aren't happy that it can't play Blu-ray movies in addition to DVDs.
VLC
The VLC for Windows 8 app doesn't support DVD playback, but the Desktop version does. VLC is made by Videolan, and organization known the world over for its free and accessible media playback utilities. Download the Windows version of VLC and be sure to select the DVD playback option during the installation process.
Again, VLC is absolutely free for anyone to download and use.
Theoretically, Microsoft plans to improve on the Microsoft DVD Player over time, meaning that eventually watching DVDs with that app should get better. Even if it doesn't VLC is a perfectly acceptable, free alternative that should continue to work for year to come.
Good luck with your free Windows 10 upgrade. Here's to hoping one of these two DVD playback solutions help to fill in the feature gap.