How to Watch NASCAR on iPhone and Android
As the NASCAR season kicks off with the Daytona 500, NASCAR and Sprint are teaming up again to bring the NASCAR Mobile 13 app and the NASCAR RaceView Mobile 13 app, to serious NASCAR enthusiasts.
The pair of NASCAR apps let users watch NASCAR on the iPhone and Android, and follow their favorite drivers.
Sprint Data customers will get the premium content from the NASCAR Mobile 13 app for free. Other users can add content for a fee using the NASCAR RaceView 13 app, but they won't get as much as Sprint users.
Both apps will work on the Apple iPhone, iPad and on Android devices. They apps are free to download with in-app purchases for the premium content.
NASCAR Mobile 13
No matter which carrier your iPhone or Android is on, the NASCAR Mobile 13 app delivers news, video highlights, pictures and driver specific information. Users can also check social media content with links to drivers on Twitter as well as other NASCAR related social media accounts to follow. The app also lets anyone see race schedules, standings for the season and buy tickets to races.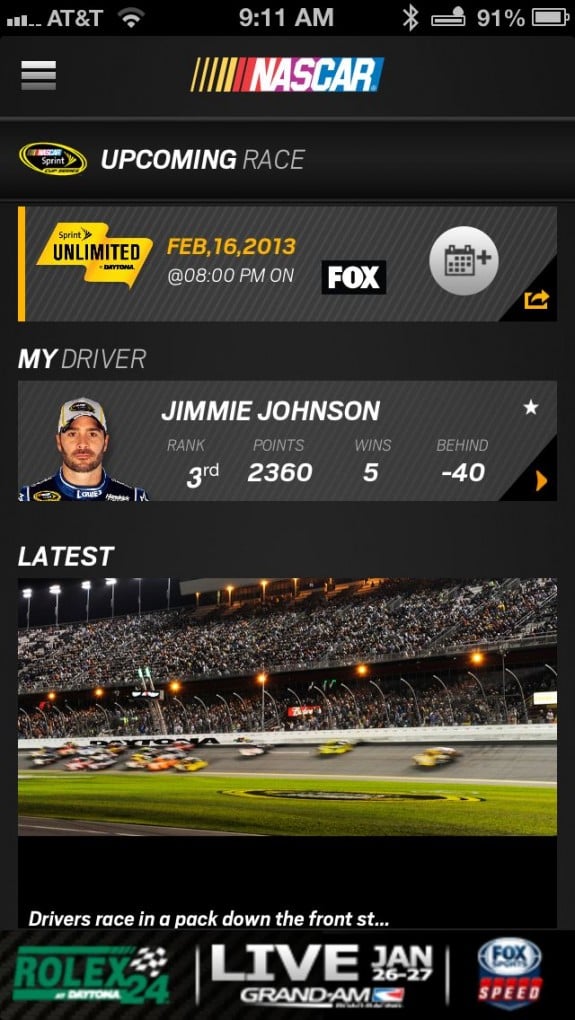 An update will add fantasy game content and mobile alerts about races and drivers. When the season gets underway, starting with the weeks leading up to the Daytona 500, the app will offer live video of practices, qualifying and more. We don't know yet, but we expect this video content to only work for Sprint data customers.
Sprint data customers also get other premium content for free, such as live race coverage that includes in-car audio, alternative race views when they're available and a real-time leader board. Fans will get information about their drivers like track position and telemetry data. This covers the Sprint Cup, Nationwide Series and Camping World Series truck racing.
Fans will get to listen to MRN (Motor Racing Network) and PRN (Performance Racing Network) audio broadcasts.
The app lets users select their favorite driver, but users can't pick more than one at a time. We wish they would let users select a few favorites since many NASCAR fans follow a team of drivers, and not just one driver.
NASCAR RaceView Mobile 13
NASCAR RaceView is an app with a subscription that lets users enjoy live NASCAR content during the races. The NASCAR RaceView app is available on iPhone and iPad, and should come to Android soon. There's no word yet on the cost of the subscription service.
NASCAR's mobile app page describes it as follows:
The app is the ultimate race day companion experience for the NASCAR Sprint Cup Series that included 3D race virtualization, enhanced position tracking, driver telemetry plus race radio and driver/officials audio.
Get the free universal NASCAR Mobile 13 app in the iOS App Store and the free Android app in the Google Play Store now. To learn more about the NASCAR RaceView Mobile 13 app see the NASCAR Mobile site to get links for the Android version. Get the iOS version from the iTunes app store.

As an Amazon Associate I earn from qualifying purchases.