How to Watch NBA Games Live
The NBA regular season is under way and that means attempting to catch all the action as possible. However, if you'll be traveling or spending your time out on the go, there's no reason you still can't watch the games, as there are a few options available for streaming them live.
The NBA season is a long one, lasting until next spring, so if you need something that will get you through the cold winter months until it starts getting warm again, the NBA will be with you during that long journey.
While you can catch many NBA games on television, whether or not you have cable, you can also watch NBA games on your computer or on your smartphone or tablet, provided that you have the right apps and a solid internet connection for streaming the games.
Here are a few options that you should be aware of if you ever find yourself wanting to watch an NBA game.
On Your Television
If you'll be home to watch some NBA games and have at least an over-the-air antenna to capture local channels, that's half the battle right there, with the other half being able to keep a signal, especially if you live in a rural area.
Of course, it's better if you have cable, as most of the NBA games will only be available on cable channels, with only a few being available on local channels, but you'll usually be able to watch many of the bigger games on local channels.
If you're like me and don't even have an antenna to grab local channels, there are still some options that you can consider.
Streaming Online
If you want to stream NBA games on your computer without any strings attached, there are several streaming websites that offer live sports at no cost, although there are a couple of things to keep in mind if you plan to go this route.
Some websites that come to mind are Stream2Watch and Wiziwig. You can stream live stream sports using these websites, as well as view specific channels in order to watch a specific television show that comes on.
However, these sites usually have a ton of ads, so it's a good idea to enable some sort of ad blocker, as they're littered with advertisements that hinder the viewing experience.
Furthermore, don't expect the best streaming quality from these websites. Most of them only offer standard definition, so the picture might not look as good on an HD display.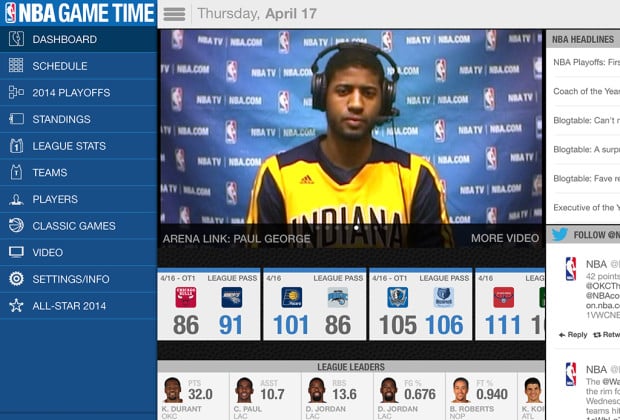 Other than some sketchy streaming websites, you can use NBA League Pass to stream games on your computer, gaming console, or set-top box. It will cost you a hefty $199 subscription fee for the entire season, but it offers the best streaming experience with HD quality.
However, blackout restrictions apply, so if you live close to the NBA team that you want to watch, you won't be able to view any of their games through League Pass.
On Your Smartphone or Tablet
If you have to rely on your smartphone or tablet to watch live NBA games, NBA Game Time is about the best option. NBA League Pass works through the NBA Game Time app, which is a free download.
Furthermore, access to the entire season is a bit cheaper on mobile devices, with NBA League Pass costing $149 instead of $199.
With NBA League Pass, you'll be able to watch all games live, although local blackout restrictions apply on mobile devices as well, so you won't be able to watch your home team unless you're in a location outside of the blackout area.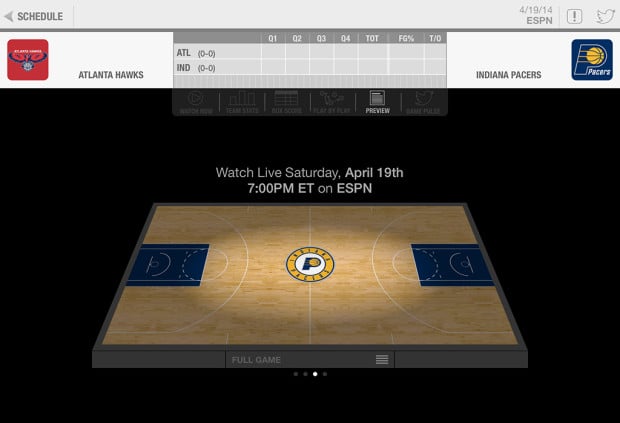 Nonetheless, the NBA Game Time app still offers everything you would need without the live streaming, including scores, schedules, stats, highlights, replays and more. You'll be able to see when games begin so that you won't miss one, although we'd recommend setting yourself a reminder for when it's game time. All of this is free to begin with, so you're merely just paying for the live streaming of games.
NBA League Pass works on WiFi connections, as well as 3G or 4G LTE data networks, although you'll have to be careful about signal strength since the live stream will need a solid connection in order to get the best quality. Furthermore, users who aren't on an unlimited data plan (which is most users) will want to be careful about streaming live NBA games on a data connection, as it will drain your bank of available data in no time flat.
Other Options
If you have a cable subscription with Comcast, Cox, Dish Network, Google Fiber, Time Warner Cable, Verizon FiOS and others, you can stream NBA games using the WatchESPN app. It's a free download and you don't have to pay extra to watch live games, which is a nice bonus.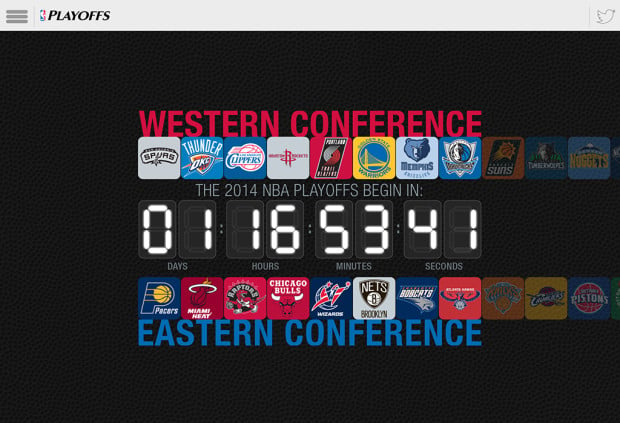 Granted, if you have cable, you most likely have all the NBA games you need, but the mobile app is still a good option to have if you ever find that you're away from home during a game, and not all cable plans are created equal, so you might not have the right channel for a big game. This is where mobile streaming options come in handy.
If you'd rather watch NBA games on your TV and you don't have a cable subscription, you could get an Apple TV or a Roku streaming box, or if you have an Xbox or PlayStation, you can also stream NBA games on those devices as well. Granted, you'll need to pay the full price for the aforementioned NBA League Pass, since these aren't mobile devices, but it'll give you the opportunity watch live games on your TV without needing a cable subscription.
Seeing that live sports is the biggest con of cutting the cord and quitting cable, users want access to live games without having to pay for a cable subscription, and NBA League Pass makes it possible. Granted, it can be a bit expensive, but it's certainly not as much as you'd pay for a full year of cable.

As an Amazon Associate I earn from qualifying purchases.