How To Watch NFL Games and NFL RedZone on Your Android [Verizon]
Football season is here, and thanks to Verizon, Android users have an easy way to watch their favorite teams.
The NFL Mobile app for Verizon customers delivers live streaming video from over 30 NFL games this year, including Monday Night Football, Sunday Night Football and Thursday Night Football.
In addition to these games, Verizon customers get access to NFL RedZone so that they can see every touchdown from every game on Sunday.
In the past, you would need to have an expensive satellite package to bring this type of live video to your smartphone, but with the new NFL Mobile App for Android, users can get it for $10 a month. If you have a 4G LTE smartphone like the HTC ThunderBolt, Droid Bionic, Droid Charge or LG Revolution, the premium video service is free for the 2o11 NFL Season. The rest of the Verizon Android users have free streaming video until October 1st.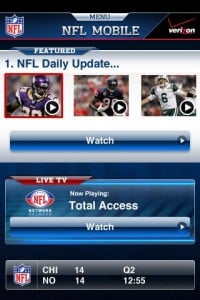 The NFL Mobile App Delivers the following features for free to all Verizon Android users;
The latest news, information, schedules and scores from around the league
Extensive video on demand of game day and other exciting team action
New and improved Fantasy Football Tracker with deep links to the NFL.com Fantasy Football game
On demand access to NFL Films content
The ability to set your favorite team and receive daily text alerts with NFL highlights when new content is available
Live audio broadcasts of all regular and postseason games, including Super Bowl, with a number of games also available in Spanish
The live audio is one of my favorite features. As a Dolphins fan stuck in Ohio I can only see them play on TV a few times a year. With this free app, I can listen in to the games no matter where I am. This year, with my HTC ThunderBolt, I can even get the live streaming video for the few times that I can't carve out an evening to watch the night games.
If you have one of the 4G LTE devices, you get the following free. If not, you'll need to pay on a month by month basis starting on October first, but for fans it's worth it.
Live streaming video of NBC's Sunday Night Football and ESPN's Monday Night Football all season and eight NFL Network Thursday Night Football games;
Live streaming video of NFL Network, the only network devoted to football 24/7; and
NFL RedZone with live look-ins featuring every touchdown from every game on Sunday afternoons.
I used the NFL Mobile App for Android to watch a few preseason games, and it performed quite well with a speedy connection. This is one of the few apps that really leverages the speed of Verizon's 4G LTE network in a way that regular users will notice and appreciate. The app streams video on WiFi,
Unfortunately, the NFL Mobile app isn't available on the Samsung Galaxy Tab 10.1 with 4G LTE. This is a big disappointment and a missed opportunity for Verizon to sell a bunch of tablets to diehard NFL fans who want a big portable screen for watching the game.
To start watching live NFL games on your Android smartphone, Download NFL Mobile from the Android Market. You can visit www.verizonwireless.com/nfl for more information and a list of phones that work with the NFL Mobile App.
https://youtu.be/TUD8TO6GT64
This commercial signals the "kickoff" of Verizon's NFL Mobile app advertising campaign.
If Verizon is smart, they'll start advertising to users without a smartphone that they can get free live NFL streaming and a $100 Verizon gift card when you upgrade to a Verizon smartphone before September 30th.
If you have an iPhone or have an Android device with anyone other than Verizon your only real option is NFL Sunday Ticket, but you'll need a Direct TV subscription and NFL Sunday Ticket on your plan. Here's our review of NFL Sunday Ticket for the iPad.