How to Watch NFL Preseason Games Live on Android
Football is finally back with the 2016-17 NFL Preseason officially kicking off Thursday August 11th after the Hall of Fame game was canceled. Surely millions of eager fans will be watching at home as the first games get started. It's shaping up to be an extremely exciting season, and we're here to help fans watch it live on their mobile devices.
While preseason is never the most exciting things, it's football, not to mention true fans get to see all the improvements and new faces. Some watch it, others don't. For those that do, we have a few tips to catch NFL preseason games live on Android.
Read: How to Get NFL Sunday Ticket Without DirecTV
For all of you that will be away from the TV, working, or otherwise out and about will likely catch a few plays or the entire game on a mobile phone. Everything from Android smartphones and tablets, to the iPhone and iPad. The choices for live streams are still somewhat limited, but are getting better and better each and every year. Read on for a few ways to get started.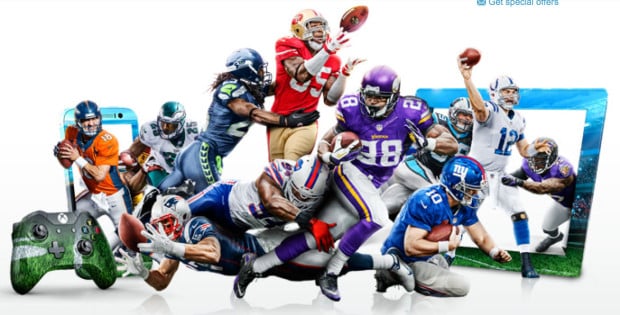 There are a wide array of options for watching football this year, and many of them have been available for a long time. Of course having DirecTV and the Sunday Ticket helps, and you can get their Android app here, but that isn't the only option available. Everyone knows about that, so below we'll go over other methods.
Everything from streaming through unofficial channels, getting DirecTV, NFL Mobile, and even options right from the NFL are all available. We'll hear more details and announcements as the regular season starts, but for now here's a few options to get you through preseason.
NFL Game Pass
The NFL understands mobile is a big market, and they're slowing integrating more options for mobile users. In prior years there was a Preseason Pass for tablets, a regular Game Pass and Rewind, but everything has been condensed into one package for 2016.
It's called the NFL Game Pass and it's $99.99 and good until July of 2017. This gives users access to live stream all Pre-season games (except what's airing locally in your area) and much more. Game Pass will also stream all regular season, Playoff, and Super Bowl games after they air, not live. Meaning this is one option, but certainly not the best. The NFL gives all the glory to DirecTV.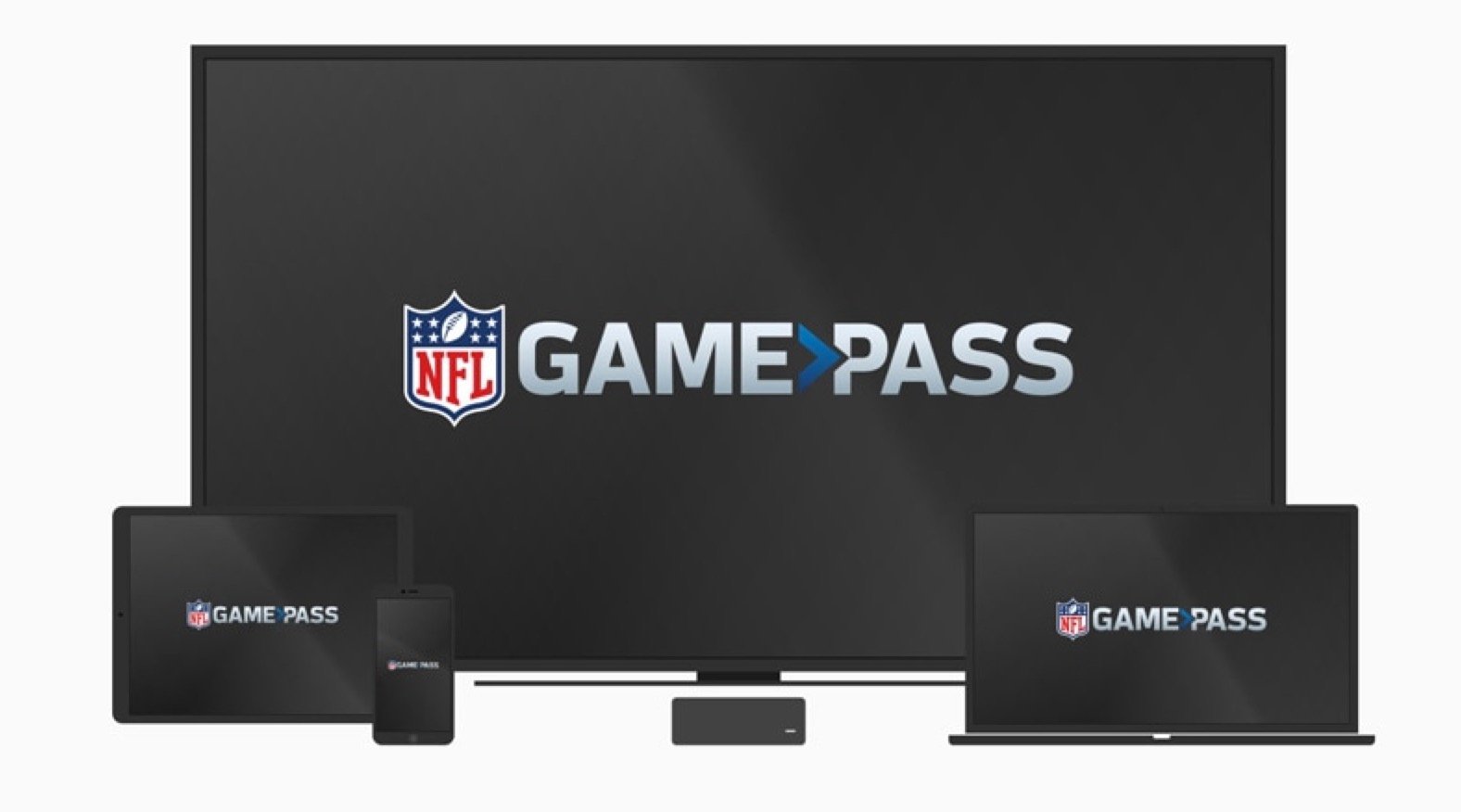 If you're not enjoying the games live you can watch most games in about 30 minutes with a condensed option without pauses or commercials, but I enjoy the huddle and entire experience personally. Fans can hide the score as they watch, see Coach film and more. The Archive goes back to 2010 with every game for those interested, and you'll be able to watch all 65 games this year either live, or on demand as you see fit.
NFL Mobile Android Link (Game Pass is built into NFL Mobile)
NFL Mobile
Of course another excellent option is NFL Mobile, something I've used for more than a few years now. However, as amazing as NFL Mobile is, it's exclusive to Verizon Wireless customers only, unless you pay for Game Pass. This gives you live video of tons of games, including Sunday night, prime-time, CBS, and FOX games all completely free as long as you're on select Verizon plans. It does have a lot to offer though, and I wish it was available for all carriers.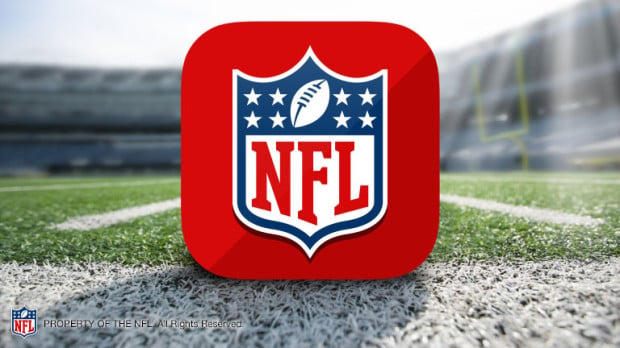 NFL Mobile has live video, highlights, analysis, team tracking, fantasy alerts, and live video of the show "Fantasy Live" as the season continues. It was just updated for 2014, so get it now.
Sling TV
Over the past year Sling TV has burst onto the scene as the first true online TV streaming service that's worth using, from Dish Network. Sling has been praised over and over again for being a $20 a month TV service with just enough to make it awesome. It's basically a service that ditches the hundreds of channels no one uses, and sticks to 30-40 of the ones you do like, for a low monthly price.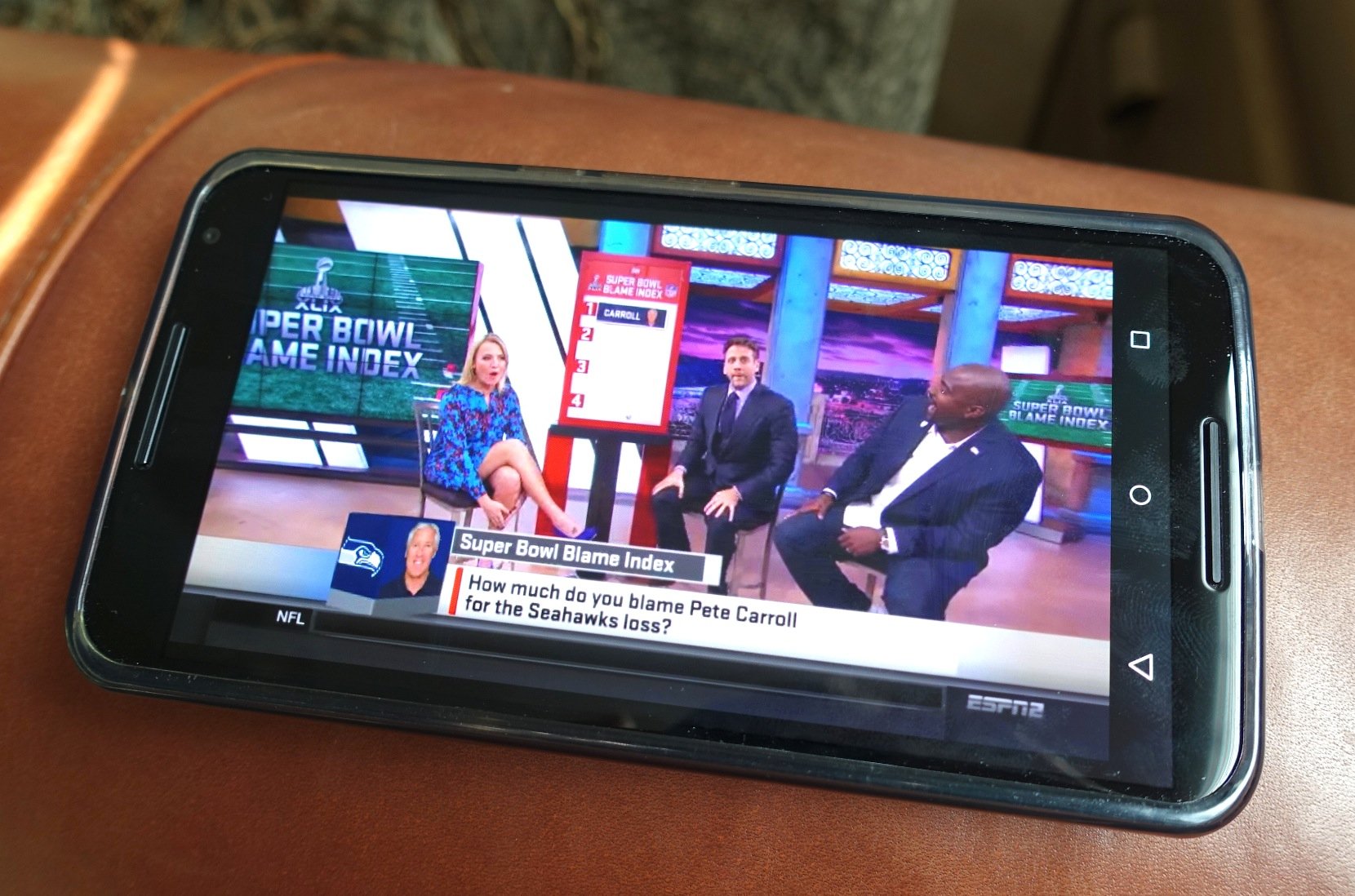 Sling TV recently announced the regular "Sports Extra Pack" add-on now has NFL Network and NFL RedZone, giving us tons of Football for only $5 more a month as an add-on. Considering the base package already has Fox and ESPN, for under $30 a month Sling TV is an excellent option for Football fans.
I've been using it for over a year and it has replaced my cable TV service. Here's our full review, although without some of the more noteworthy recent updates. It now allows for streaming to multiple devices at once and has tons of channels. I'd highly recommend Sling TV to anyone, and of course to Football fans.
WatchESPN
Preseason won't be viewed on ESPN, but the WatchESPN Android app is a great option as they often times show games from other channels, and this will hopefully include many NFL football games during the 2016-17 season. I watched my Packers countless times this way, and you can too. You'll need to be a subscriber with one of their many accepted cable providers. Simply sign into your cable account on WatchESPN, and stream games live to your smartphone or tablet.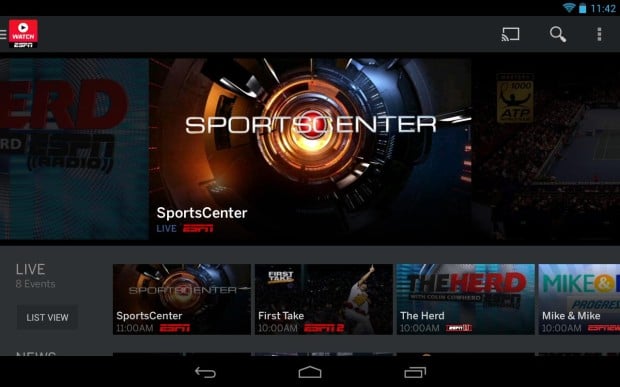 The app works great and even supports Google Chromecast, so mirror those games to your HDTV without a problem. There's a possibility those new Thursday Night Games on Twitter will be available on ESPN, so keep that in mind.
NBC Sports Live Extra
The NBC Sports Live Extra app streams all Sunday night NFL games live on iOS, Android, and your PC if you'd like to catch the games that way. We're not sure if they'll be offering the same for the entire preseason, as most the games are on weekdays, but many will be shown on NBC. We'll update once NBC confirms more details for the 2016 season.
Fox Sports Go
Again, being behind a paywall, if you're a current cable subscriber you'll be able to catch almost every game from multiple Fox channels on mobile. Catch tons of preseason games with Fox Sports Go on your Android tablet.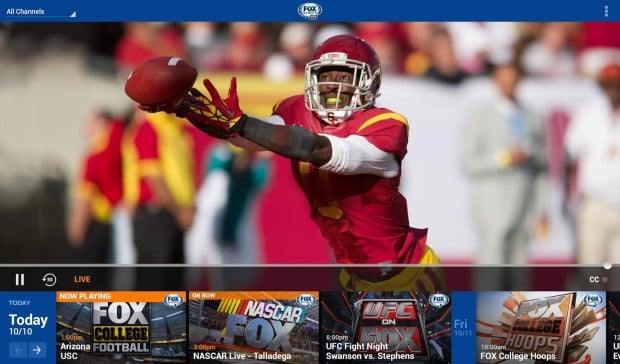 Fox Sports Go streams most sports live to smartphones, but with the NFL restrictions you'll only get them on your Android tablet, the games aren't on phones. The interface is decent, and hopefully they'll be streaming all the preseason games as well.
Slingbox
Of course the Slingbox and Slingplayer is another option for those who've already paid for and enjoy it. This is a device that connects to the users TV service at home, work, or anywhere with an internet connection and then streams it over Slingbox servers. The mobile app costs money still, but if you already have this setup, you'll be able to stream all the NFL Preseason games with ease to any mobile device or browser. Just tune into any of the channels with a game you'd like to enjoy, and stream it to your device of choice.
This option isn't cheap, but Slingbox is popular because it works well.
Other Methods
Of course many don't want to pay for NFL GamePass, DirecTV, Sling TV or Slingbox, and there is always a few alternate methods. Like those "shady methods" of apps and websites full of pop-ups, ads, and junk that can be harmful. While we don't recommend these, or will link to them, there's a few popular ones that work well with KODI.
As you can see there are a growing number of ways NFL fans can catch the latest game of choice this Preseason, and all regular season long too. I'll be cheering for my Packers (discount double check) and taking a much needed vacation to watch them Play live later this year. Enjoy all the methods above, and drop us a comment below if they work for you.