How To Watch The 2013 State of The Union On iPhone
Tonight President Barack Obama will deliver the first State of the Union address of his second term of President.
The president will deliver his speech in front of Congress at 9 p.m. ET, and every network TV channel will air the speech on their network. There are also a number of ways for iPhone users to watch the speech on their smartphone.
There are options available with just the speech and reaction shots of the crowd followed by the Republican response and analysis, and an option to watch an "enhanced" version of the speech with charts and graphs displayed next to the President as he talks.
Wall Street Journal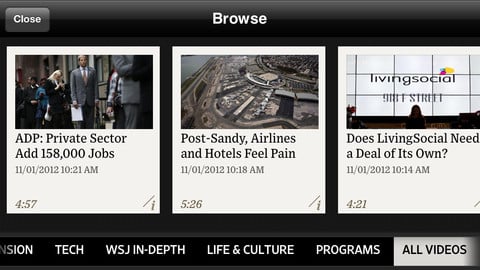 The Wall Street Journal will stream the 2013 State of the Union address to iPhone users through its free WSJ Live app in the App Store. The newspaper will also stream the speech at this website and through several other services such as Hulu and YouTube. Users who plan to use AirPlay to watch the speech on a HDTV can skip a step and watch the speech through the WSJ app on the Apple TV.
The Wall Street Journal will have experts on its streaming starting at 8:45 p.m. to give some insight into what President Obama may speak about. The publication will also have guests on after the speech to give their reactions to the address.
White House App
The official White House app will also stream President Obama's address. The app is available for free in the App Store. The app will display the "enhanced" version of the speech which will display charts, graphs and other images next to the president as he speaks. The slides will include a quote from Steve Jobs and references to Pac-Man according to this image the White House tweeted.
After the speech the White House app will show a panel of policy experts and advisors to the president answering questions from journalists and Twitter users.

As an Amazon Associate I earn from qualifying purchases.