How to Watch the 2015 Moto X & G Event Live Stream
After months of leaks, rumors and speculation, tomorrow on July 28th Motorola will take the stage at simultaneous events in New York City, London, and São Paulo Brazil to officially announce some new smartphones for 2015. You can watch the Moto X 2015 launch event live, and below is everything you need to know.
Below we will explain how to watch the announcement and live streaming event for the new Moto X 2015, Moto G 2015 and whatever else Motorola has up its sleeve on your computer, Android, iOS and more. Now that Lenovo owns the smartphone manufacturer, this is sure to be its biggest event yet.
Read: Moto X & G Release: Everything You Need to Know
In recent years Motorola has released new devices near the end of August or in mid-September, but this year they shocked everyone by sending out invites for July 28th. Along with the invite was a teaser saying "XOX, Moto" but it looks like XGX, lending credence to all the rumors about two new X phones and a 2015 Moto G. Below is the announcement, and more details on how, when and where to watch it live.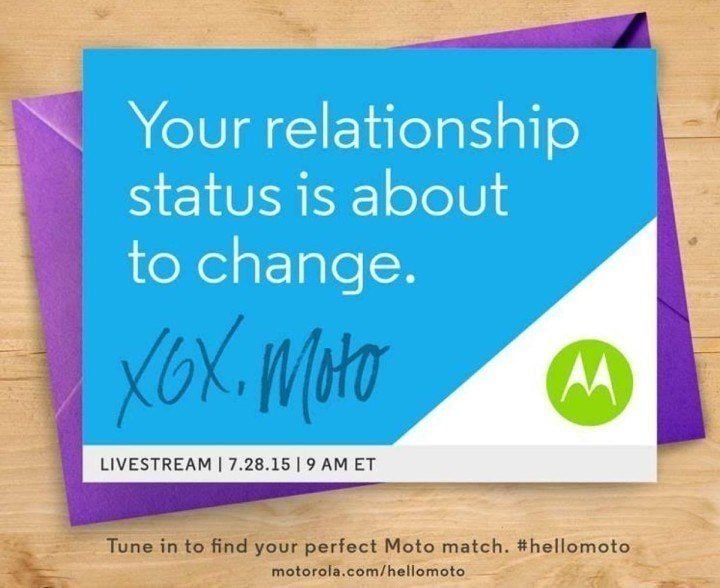 We're expecting Motorola to make a slew of announcements in a very quick and brief online streaming event tomorrow, July 28th. The company has all but confirmed the new Moto G, we've seen countless leaks about a few Moto X phone variants, and we could even see a new Moto 360 smartwatch and some accessories.
Whatever they end up announcing, you'll want to watch it live and have all the information as it happens.
Potential buyers and enthusiasts can tune into Motorola's live streamed announcement tomorrow, July 28th, at 9:00 a.m. ET. That's 6:00 a.m. for those on Pacific Time, and 8:00 a.m for those in CT. Here's the link:
https://www.youtube.com/watch?v=a0N6cHJ-o4w
Currently that link just redirects to a site giving a few additional details about the event tomorrow, and a further page to sign up for more information as it becomes available.
A better mobile relationship is on its way."
Simply tune into Motorola.com/hellomoto tomorrow on a PC/Mac, smartphone, tablet, Android or iOS and watch the event happen live. It'll most likely be streaming over YouTube, and we'll update with a link as soon as that surfaces. (Here it is) Unlike Apple you won't be required to use Safari or Google Chrome, and this live stream event should be viewable by everyone on any device that is capable of browsing the web and viewing a video.
As a reminder, we're expecting to see an all-new Moto G with tons of improvements for the same low price as the last few years, a bigger and better Moto X with more to love and tons of customization, a rugged Moto X Sport, and maybe more. This looks to be one of the biggest events of the year for any one manufacturer, with lots of announcements you won't want to miss.
Tune in tomorrow morning, or stay tuned right here at GottaBeMobile for all the details. We'll have the device(s) ready with hands-on pictures and video as soon as humanly possible. What device are you most excited about, or are you getting the OnePlus 2? Drop a comment below with your thoughts.