How to Watch the AFC & NFC Championship Games Live
The AFC and NFC Championship games take place today, and here's how you can watch all of the action, whether it's on television or on your mobile device while on the go.
The NFC Championship game is the first on the chopping block, with the Green Bay Packers taking on last year's Super Bowl champions Seattle Seahawks. That game begins at 3:05 pm ET on FOX.
As for the AFC Championship game, the Indianapolis Colts will take on their rivaling New England Patriots starting at 6:40 pm ET on CBS.
These are perhaps the biggest games of the playoffs, as they determine who goes on to the Super Bowl to compete for the national championship, and the teams that made it this far are now rolling up their sleeves and getting their hands dirty as they face a one-game elimination.
You'll be able to catch all the action on local channels on your television, or you can watch them live on Android or iPhone. Watching NFL games on mobile devices is a bit easier than past years, but it's still not where it should be, as blackouts are still one of the biggest downsides of streaming live sports. However, if you'll be out and about can't be around a television to watch the games this weekend, here's how you can catch all of the action without skipping a beat.
NFL Mobile
Perhaps the most popular method for watching NFL games on the iPhone is by downloading the NFL Mobile app, which is available exclusively to Verizon customers. It's a free download that any user can install, but the streaming access to NFL Mobile is only available to Verizon customers, and it allows them to watch NFL games right on their devices.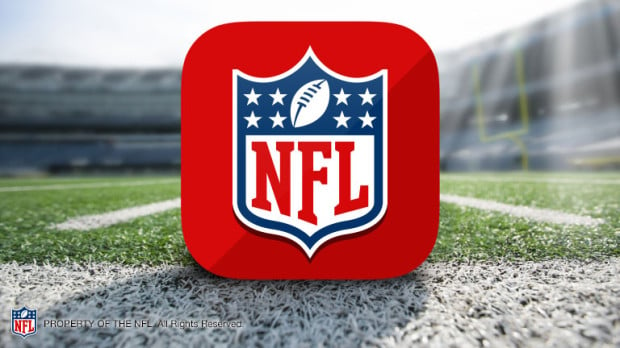 The app also features news, alerts, on-demand video highlights, and a section called Game Center, where you can get a comprehensive breakdown of every game.
And obviously, you can check team standings, stats, rosters and schedules, as well as browse theNFL.com shop, find game tickets, or read expert analysis.
NFL Sunday Ticket
NFL Sunday Ticket is now available to anyone without the need for a DirecTV satellite subscription, but pay attention to the fine print, as there may be a catch.
Previously, NFL Sunday Ticket was only available to those who subscribed to DirecTV, and even then you still had to pay for the NFL streaming, which didn't make much sense as far as its exclusivity with DirecTV, but that's changing now, as DirecTV has announced that NFL Sunday Ticket will be available to anyone willing to shell out at least $250 for the privilege of streaming any game all season long for the 2015 season, but this also includes the rest of the playoff games this season.
Packages start at around $250, and the entry-level package allows you to stream any NFL game on your computer or mobile device. This is all sounds great, but be aware of the fine print. Most notably, blackout restrictions apply, so if you live near your home team (which you most likely due), you'll be blacked out from streaming it.
WatchESPN
This is an obvious choice because it's a fairly popular amongst sports fans. WatchESPN lets you view all sorts of sports content from ESPN's various channels, including ESPN 2, ESPN 3, ESPNU and ESPN Classic. Of course live football games can be had as well.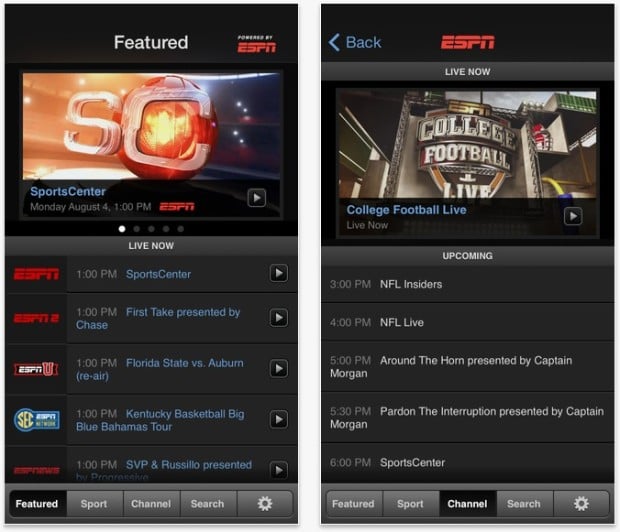 The big caveat here is that you'll need to be a cable subscriber for a provider that WatchESPN supports, so if you're looking into getting WatchESPN as an effort to quit cable, you might be sorely disappointed.
However, if you have an Apple TV, you can use AirPlay to beam WatchESPN content to your living room television, allowing you to watch football games on the big screen.
NBC Sports Live Extra
NBC Sports Live Extra streams thousands of live sporting events that air on NBC and NBCSN, including football games, but it seems it's only limited to Sunday games at the moment.
However, the app also features video clips, previews of upcoming events, and highlights from past events. Plus, you can even browse the schedule for when the app will stream its live content.
As with WatchESPN, NBC Sports Live Extra is better when the user has a cable subscription, which will allow you to watch all of the live sporting events, but it can still be a handy app otherwise. Just be aware that many iOS users have complained about the app crashing a lot, but your mileage may vary.
CBSSports.com
If you're wanting to watch the Colts vs Patriots AFC Championship game, CBSSports.com will live stream it in the web browser, allowing you to watch it on your computer.
Unfortunately, it looks like the CBS Sports app won't allow you to stream the game on your mobile device, so be sure you have your laptop on hand if you plan to live stream the game with CBS Sports. Otherwise, you'll have to find other options if you want to stream it on your iPhone or Android device.

As an Amazon Associate I earn from qualifying purchases.