How to Watch the New Year's Eve Times Square Ball Drop
2016 is just around the corner, and if you're interested in watching the ball drop at midnight on New Year's Eve, here's how to watch the New Year's Eve Times Square ball drop on a variety of devices.
Most people will either be at home or even at a bar or restaurant to celebrate the start of the new year, so watching it on television will be the easiest option for most viewers. However, if you'll be out on the go and can't be near a television to watch the ball drop, there are mobile options available for both iPhone and Android devices.
You can also live stream the ball drop on a computer if you don't have a television to watch it on. Here's a more detailed in-depth look at how you can watch this year's New Year's Eve ball drop in Times Square, whether it'd be on a television, on your smartphone or tablet, or on the computer.
On Television
If you want to watch the New Year's Eve ball drop on television, all the major local networks will have their own broadcast, and as long as you have an antenna that can pull in the major local channels, you'll be good to go.
Starting at 8pm on ABC, "Dick Clark's Primetime New Year's Rockin' Eve" will kick off with host Ryan Seacrest from Times Square in New York City with correspondent Jenny McCarthy, while Fergie will host in Los Angeles on the west coast. There will also be a music performance from past American Idol winner Carrie Underwood.
On NBC, Kathie Lee Gifford and Hoda Kotb will host "A Toast to 2015!" starting at 8pm as well, featuring interviews with Zooey Deschanel, Eva Longoria, Michael Bublé, Blake Shelton, Katherine Heigl, Howie Mandel, Kelly Osbourne, and Margaret Cho. Then at 10pm, Carson Daly, Andy Cohen and Gwen Stefani will host "New Year's Eve with Carson Daly."
Starting at 8pm, FOX will be broadcasting "Pitbull's New Year's Revolution" with Pitbull hosting down in Miami, with musical performances by Jussie Smollett, Shawn Mendes, Austin Mahone, Pia Mia, Prince Royce, and R. City.
If you're looking for a more mellow version of New Year's Eve, the New York Philharmonic will put on a New Year's Eve show on PBS that starts at 8pm.
CBS will not have a New Year's Eve broadcast, and instead will air re-runs of TV shows.
On a Mobile Device
If you'll be out and about on New Year's Eve and won't be near a television, you can still catch all the action on your iPhone, iPad or Android device with the official Times Square New Year's Eve Ball App that's available for both iOS and Android devices.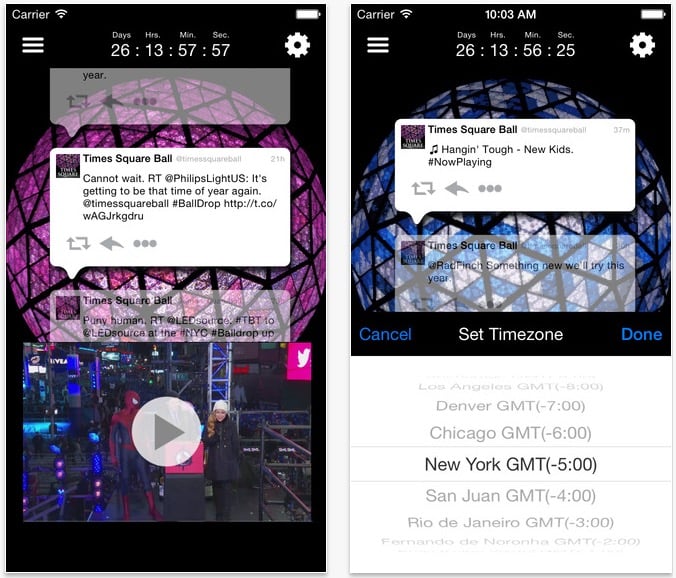 The app includes a handful of features, including watching live streams of the events in Times Square leading up to New Year's Eve, including "opening ceremonies, musical performances, celebrity appearances, hourly countdowns and the midnight Ball Drop!"
You can also customize your Countdown Clock with your time zone of choice and find out what's happening in and around Times Square, as well as follow and interact with the Times Square Ball on Twitter.
You can download the app below for free.
On a Computer
If you won't be around a television and you can't get your smartphone or tablet to live stream the events, you can watch the New Year's Eve celebration on your computer from the web browser.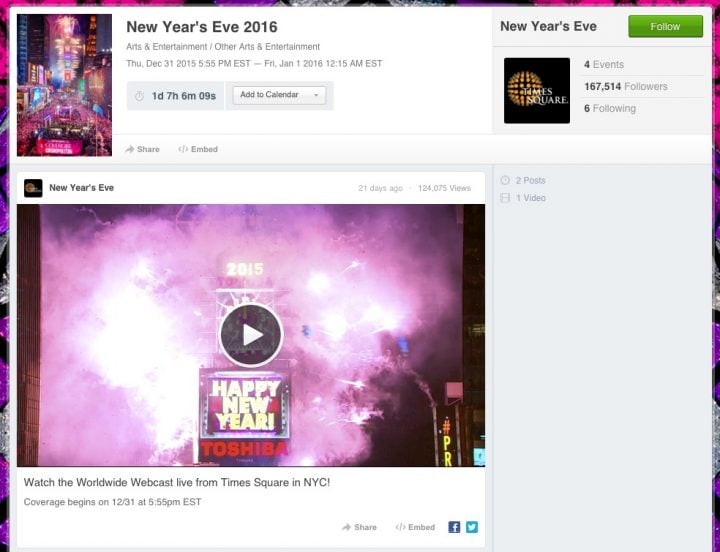 Livestream will have an official live stream event for the New Year's Eve ball drop, where festivities will begin at 6pm.
Not a lot is known about what viewers can watch during the live stream, but the teaser video that's posted shows off a handful of musical performances and interviews with a handful of celebrities, so it seems like it will be quite feature filled for viewers who watch on their computers.