How to Watch the US Open on iPhone & Android
One of golf's biggest tournaments will be wrapping up this weekend. Here's how to watch the US Open on iPhone and Android.
The US Open began action on June 18, with round one in the books, but the biggest rounds will take place this weekend with a winner being crowned on Sunday if there aren't any rain delays and things go smoothly.
Currently, American Dustin Johnson and Swedish golfer Henrik Stenson are tied for first place going into round two, but that could easily change over the next couple of days, as the Patrick Reed is in third place and only down by a stroke, with other players not far behind.
Even if you're not a big golf fan, you have to admit that watching the sport can be very relaxing. Wherever you're at on the spectrum, there's no reason not to catch all of the action. If you want to watch the US Open, whether you're at home or out and about, here's how to watch the US Open on iPhone and Android devices.
How to Watch the US Open
Unfortunately, there's only one app for the iPhone and Android that will allow you to watch the US Open live, and that's Fox Sports Go.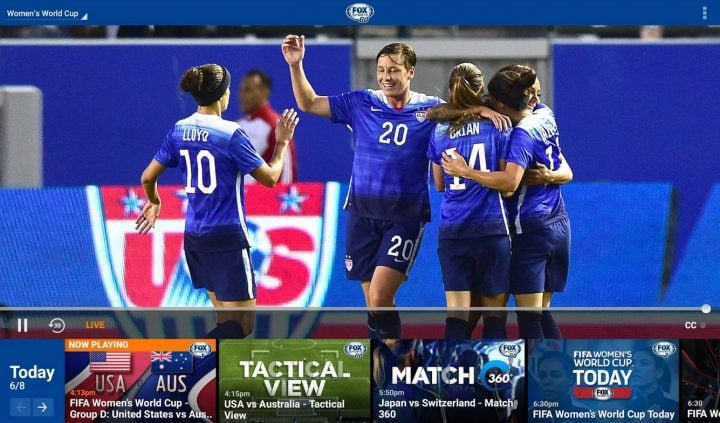 However, you'll need a cable subscription in order to take advantage of the live streaming functionality. The app supports a handful of popular cable providers, including Comcast, AT&T, Verizon, Cox, and Time Warner Cable, but if you don't have cable, you won't be able to watch the US Open on your smartphone or tablet.
However, if you do have cable, you can stream the tournament in its entirety, and depending on who you have as a cable provider, you can get access to many of Fox Sports' popular channels, including FOX Sports, FOX Sports 1, FOX Sports 2, your regional FOX Sports Network, FOX College Sports and FOX Deportes.
Watching on Fox Sports Go will allow you to stream the US Open on your mobile device while you're on the go, so if you're not home and can't watch it on the television, this is the next best option.
Fox Sports Go is a free app available for iOS devices, Android devices, and even Windows Phone.
How to Watch on Your Computer
Luckily, if you have your laptop with you, you can stream the US Open for free without any restrictions or requirements.
For this, you'll go to the US Open website and click on Viewing Schedule. From there, scroll down to the section called Live Streaming and click the small Launch button. This will open up a separate window and the live stream will begin.
You have three different viewing options: Featured Groups, Featured Holes, and US Open 360. Featured Groups focuses on a select group of golfers, while Featured Holes focuses on a handful of select holes. US Open 360 gives you a bit of both worlds and provides a chunk of everything to viewers.
This is perhaps the best option for streaming, as it doesn't require a cable subscription, and there are no restrictions to viewing the live stream on the US Open website.
Of course, the only problem is getting WiFi on your laptop when you're out on the go. Usually most coffee shops will have free WiFi, and more and more establishments are giving customers those benefits, but even then, they sometimes block streaming so that you don't hog the bandwidth.
With that said, you might look into getting a mobile hotspot "puck" or even just enable the mobile hotspot feature on your iPhone or Android device. This will allow you to connect your laptop to the internet when there isn't a WiFi signal around.
Just be careful if you have a limited amount of data per month with your data plan, as streaming video will quickly use up data in a heart beat. Otherwise, sit back and enjoy watching the US Open!

As an Amazon Associate I earn from qualifying purchases.