How to Watch Videos, YouTube & More in Windows 10
Microsoft's free Windows 10 upgrade does a lot to appease a lot of users. The Start Menu is back, giving users the ability to pin Live Tiles or forget about them entirely. Apps downloaded in the Windows Store now run alongside traditional programs, like iTunes.
With the Windows Store, Microsoft is making a play on entertainment. More specifically, it's aligning its resources to take on iTunes and the Google Play Store as sources for digital content. For years, Microsoft left media up to other companies. By the time it wised up, the iTunes Store and iTunes app were the undisputed kings of renting movies and buying television shows. Windows comes with a newly renovated Windows Store. It offers movie rentals and television show purchases.
Here's to watch videos in Windows 10, whether you're renting a movie, purchasing a television show or have some content you already own. There's also some apps to popular streaming services like Twitch and YouTube.
How to Rent Movies & Purchase TV Shows in the Windows Store
Every version of Windows 10 comes with access to what Microsoft calls the Windows Store. The Store, as it's called by Microsoft, is an app in the operating system and marketplace online. To purchase content from the Windows Store, you need a Microsoft Account, which you should have already created for services like Outlook, Xbox and more.
You don't have to install the Store separately from Windows 10. It's one of the pre-installed apps you get automatically. Press the Windows key on your keyboard or the Windows button on your Taskbar if you have touch.
Now look for the Store tile in your Start Menu or Start Screen. If you don't see it, select it from the list of apps under All Apps.
Welcome to the Windows Store. Now tap or click on Movies & TV in the top navigation.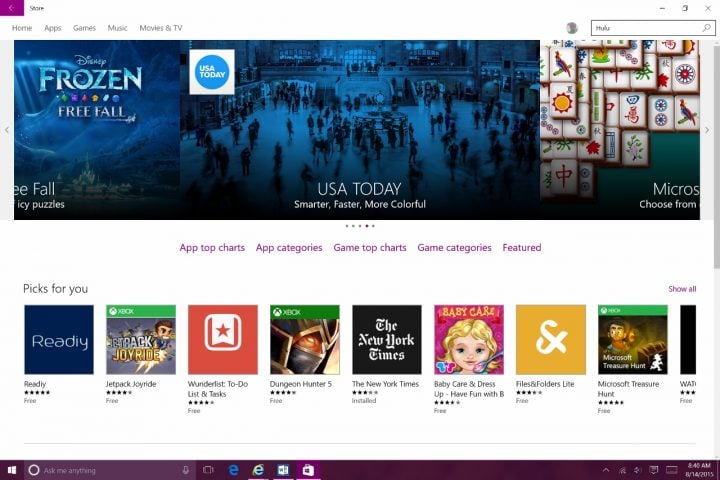 This is Microsoft's video store for Windows 10. Search for the movie you'd like to rent or purchase.
When purchasing a movie or television show you can store it on your device for viewing when you don't have an internet connection. Renting a movie or television show requires you to choose whether you'd like to stream or download it at the time of purchase. Once you rent a movie, it stays in your collection until it expires two weeks later. Once you hit play on a rented movie you have two days to watch it. Microsoft syncs any video that you purchase from it's store to apps on the Xbox One, Windows 10, Windows Phone and the web. You can't burn any rented or purchased content to a DVD.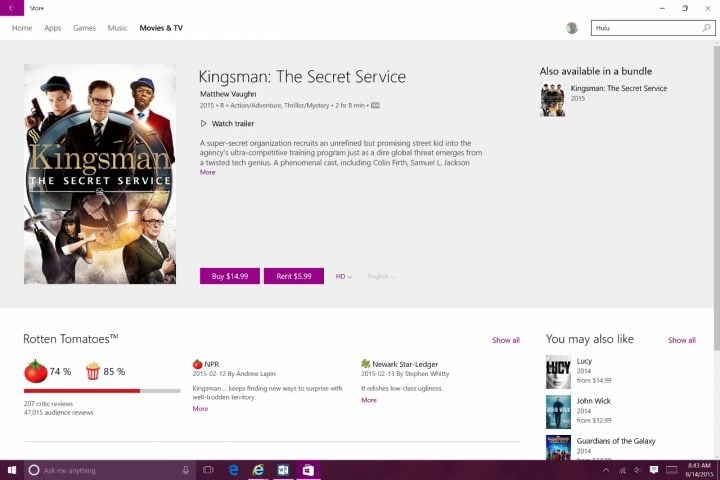 When you're ready to play your video content the Window Store will kick you to the Movies & TV app for viewing.
How to Watch to Watch the Videos You Already Have
Millions of users already have video content from DVDs or files that they downloaded. Microsoft has made it easier for those users to watch video too. First, it's relegated its Windows Media Player to history's dust bin. Second, it's made huge upgrades to its videos app.
Microsoft calls its videos app, Movies & TV for some reason, but it's the default player for all kinds of video. The company threw in MKV support for this release, letting Windows users who've ripped their DVDs watch that content without downloading a separate video player. Using the Movies & TV app to play video doesn't require a Microsoft Account.
Press the Windows key on your keyboard and look for the Movies & TV app. If it's not pinned to your Start Menu/Start Screen just select it from the All Apps Menu under M.
Welcome to Movies & TV. Any content you purchased from the Windows Store is available here. That includes Movies and television shows. Select Video to see the content you already own and watch it through the app.
By default the Movies & TV app looks for content you have stored in your Video folder. You can add new folders full of video content on your device by tapping or clicking on the Change Where We Look button. This option is also in the settings.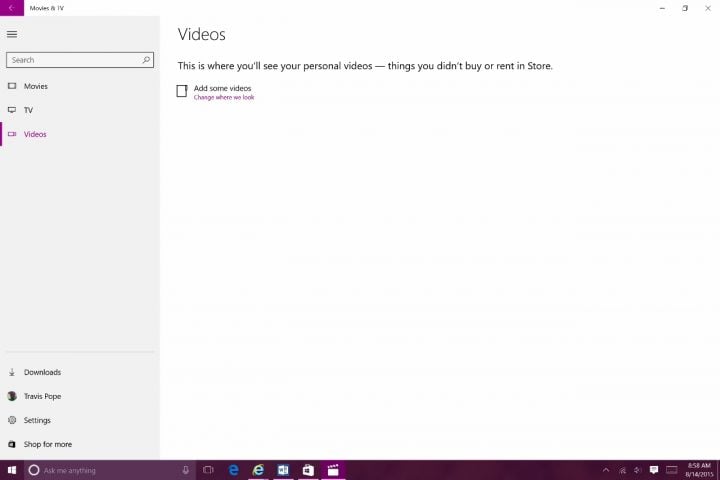 According to Microsoft, the app can play m4v, mp4, mov, asf, avi, wmv, m2ts, 3g2, 3gp2 and 3gpp files. Microsoft says it plans to upgrade the Movies & TV app with new features.
How to Watch YouTube Videos & Other Video in Windows 10
If you're into streaming, Windows 10 has dedicated apps for man popular video services in the Windows Store. Many of them you're likely familiar with the iPhone and iPad.
MetroTube & TubeCast are great for users who want native YouTube access. Google doesn't make an actual YouTube app for Windows, hoping that users will flock to its website instead.
8Stream is a native Twitch app for Windows. Inside you can chat with streams as they play their games live.
Hulu Plus & Netflix are available in the Windows Store for free, though users do have to purchase a monthly subscription directly from their websites – just like on iPhone and Android.
Good luck trying to watch in Windows 10.