How You Can Keep Up with News Using Mobile Technology
I have to be honest, despite a background in political science–which was the basis of my undergraduate studies–I am horrible at keeping up to date with breaking non-tech news; as a technology blogger, I already have a hard enough time as it is writing about and staying in the loop with gadget releases so even breaking world news–like Osama bin Laden having been killed and captured–may not even hit the radar until much later. However, with mobile phones, tablets, and thankfully iOS's third-party apps leveraging push technologies, I am able to get some of that breaking news as it happens.
On mobile devices, there are now a number of ways to track and follow mobile news. Android users can use widgets to keep abreast of the latest stories through widgets, something that's currently not available on iOS–at least not without a jailbreak. A number of free widgets are available for news, and some manufacturers like Motorola and Samsung also offer their own solutions. Many mobile platforms now have free or paid news apps. The New York Times, CNN, Reuters, AP, the Wall Street Journal, and more are available on a number of platforms. The best part is that some of these apps on some platforms, like iOS, come with push notifications that will send you a message in real time when a break news story happens.
Also, with capable browsers, mobile phones and tablets can also access their own favorite news source (LA Times, Chicago Tribune, San Francisco Chronicle, and others) by going to the browser.
For those who like to aggregate their news, RSS apps and feeds may be yet another way to capture news. A popular RSS app, Pulse, allows users to create a magazine-style layout of stories, blog posts, and articles out of their RSS feeds to avoid the tedious, boring lists of news.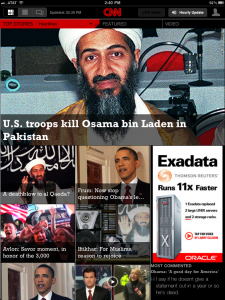 Twitter and Facebook now are quickly replacing RSS as the sources of news. I subscribe to CNN, the New York Times, and a number of other news sources so when a story goes live on the Times and gets tweeted, I can choose to read it if it interests me. With more users logging more hours into their favorite social media network, it's a great way to get news from official sources, but also to peruse, browse, and check out news that friends, followers, or followees may post that you may not have checked in the first place. Twitter is now one of the first places I go to now for tech news, and when I do, I almost always get sidetracked with a friend's re-tweet of some other interesting non-tech (or tech) news story.
The way I found out about Osama's killing? The news was delivered while I was engrossed in an e-book on my first-generation iPad via the New York Times' push notification. After that, I checked the Times, decided to forgo trekking downstairs to the living room television, and instead opted to follow coverage on the CNN app on my iPad and logged onto Slingplayer on my Android smartphone, which allowed me to stream all the channels on my cable subscription to my phone, tablet, Mac, or PC. Granted, I was at home in pajamas when the news happened, but I could have been sipping coffee at a favorite cafe or enjoying my snack du jour at my favorite restaurant and still have been in the loop…thanks to push notifications, ubiquitous mobile broadband coverage, and the right mix of apps and mobile devices. Where were you when you heard about, as CNN headlines, "U.S. troops kill Osama bin laden in Pakistan," and how did you hear about it?

As an Amazon Associate I earn from qualifying purchases.