The HP Elite x2 convertible pulls double duty with Windows 10 to deliver productivity like never before. I found myself squeezing in extra work during hectic days with the keyboard removed and the kickstand extended to keep the Elite x2 in front of me while troubleshooting problems at lunch.
Instead of switching to a separate tablet and opening up the same pages and files, I can simply pull the detachable keyboard off and keep working. Even during long days of switching from tablet to notebook, the HP Elite X2 battery keeps up.
HP designed the Elite x2 to look more like a consumer device with a shiny back and soft touch material on the back of the keyboard. But it's more than a pretty gadget, the Elite x2 can withstand drops up to 36 inches onto a wooden floor and if something does break an IT department can take it apart to upgrade or replace parts. We don't see this type of repair-ability, or upgrade-ability on many pro level devices these days.
[letsreview]
The HP Elite x2 1012 starts at $899, though most users will want to opt for the bundle that includes the detachable keyboard and spring for the Pen that lets you take notes easily. We spent the last month using the HP Elite x2 with an Intel Core m5 processor and 8GB RAM. This model retails for $2,331, but is available for $1,227 direct from HP.
The only place I can't regularly use the HP Elite x2 is on my lap. The magnets on the keyboard and the kickstand on the Elite x2 don't inspire enough confidence that it will stay on my lap without devoting some attention to the placement. Typing on the keyboard is pleasant, especially for such a thin device and the touchpad is quite accurate and responsive.
One of the biggest benefits to a convertible like the HP Elite x2 is that it allows you to be more productive thanks to its fitting into multiple roles. There are many times where you need a keyboard to write, email or code, but just as many times where you need to read, research, absorb and take notes.
Switching into Tablet mode in Windows 10 allows you to go from the first set of tasks to the second on the same device and do it seamlessly.
In addition to using the touch screen and the keyboard, there is also a Wacom pen that allows you to tap on the screen, take notes and more. I found it to be an excellent way to take notes with the Elite x2 flat on a table or with the kickstand fully extended. I skipped the loop attachment and simply carried the pen with me in a bag since the last thing I need is a tether to the edge of a convertible device getting caught on something.
The Intel Core m5 processor and 8GB of RAM proved more than enough for working in multiple Explorer and Chrome windows, as well as in One Note, without slowdowns or any issues.
A Windows Hello compatible fingerprint scanner allows you to login without a password. This is located on the back of the tablet and works very well for the swipe across style. This is a must-have feature with complex and lengthy passwords.
With cameras on the front and rear of the tablet, sharing is easy on a video call or when you need to take a picture or video of something you are working on. I found this particularly helpful in adding notes to a picture of something I was working on or for marking up a paper document that I needed to share edits on.
The kickstand on the back of the Elite x2 1012 is stiff, which is a good thing in this case. Although it takes a pull to open, the stand stays where you put it. When on a desk or table, tapping on the screen at any angle worked well. I particularly like that you can open the kickstand to 150 degrees, which is a great option for use while you want to still keep others in view during a meeting without laying the tablet flat.
HP includes Bang & Olufsen tech for the speakers, but ultimately they don't pack enough volume and the sound quality is only OK. It works for video calls, but you'll want headphones or a bluetooth speaker if you plan to use this for music or movies.
With Cortana you can easily find what you are looking for on your computer or on the web. This is an easy way to check something by typing or using your voice. It's similar to voice assistants on your iPhone or Android that can check news, weather and sports, but it can also help you find a setting or make a change on your computer even if you don't know the exact menu to look at. Just tell Cortana what you want to do and you'll get that app or community help with the settings you need to change.
A big part of productivity and mobility is battery life. While using the convertible for mainly web work in Edge and Chrome the HP Elite x2 battery life delivered a little over eight hours of battery life. This is short of the estimated ten hours, but still acceptable considering I am not using on the lowest brightness settings. It's good enough that I can leave the charger at home for most outings, which increases portability.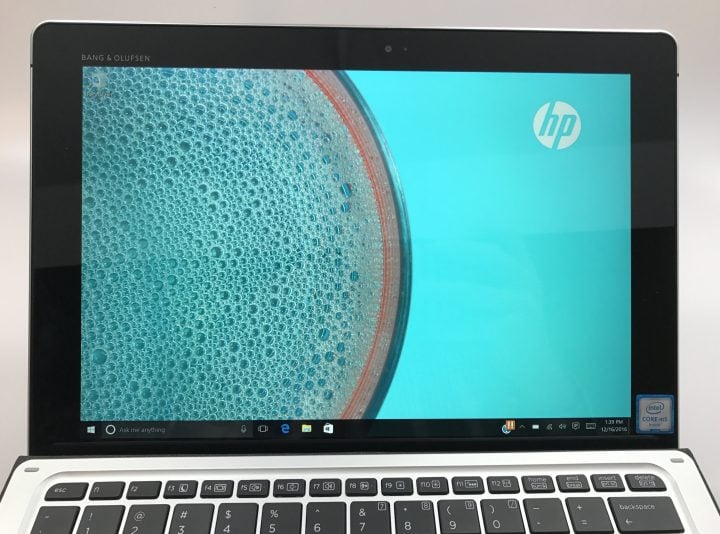 The 11.6-inch full HD screen works well. While there are higher resolution screens available on competing devices, this fits the purpose of a small convertible tablet. The 1,920 x 1,080 resolution provides enough room to work on two documents side by side when needed, but I primarily use this as a single focus device. The display is very glossy, so you will see a lot of reflections on it. The screen is covered in Gorilla Glass 4, which speaks to the durability of this tablet.
If you need to upgrade the HP Elite x2 or repair something, it is designed to come apart for easy fixes. Instead of glue and soldered on parts, you'll find screws that offer an IT department access to the internals. This can extend the life of the Elite x2 and reduce downtime thanks to quick, in-house repairs.
The HP Elite x2 delivers excellent productivity thanks to a smart design and essential Windows 10 features like Cortana in a package you can take anywhere.

As an Amazon Associate I earn from qualifying purchases.