HP Elitebook Revolve: A Windows 8 Tablet with a Twist
While convertible hybrid tablets with keyboard docks are quickly becoming en vogue, HP's Elitebook Revolve is a modern twist on an old favorite: the HP 2730p tablet PC. The Elitebook Revolve carries a design that's more akin to the old popular tablet PCs of yore, but with striking modern lines and a lightweight ultrabook finish, meaning it's still got plenty of power, but is lightweight and full of performance.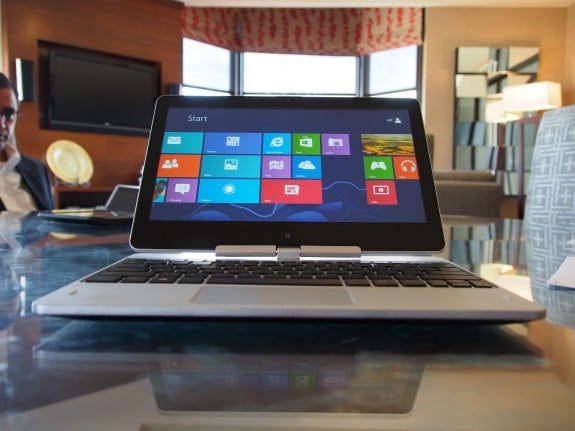 Unlike hybrids with keyboard docks, the screen is permanently attached to the keyboard portion and there's a hinge on the center rear that allows the 11.6-inch display to be twisted and folded over the full-sized backlit keyboard for use in tablet mode. The screen can also be swiveled around for different viewing angles and purposes, like showing a presentation, for example.
The device will work with Windows 7 or Windows 8 Pro, and according to HP, will ship with the latest Intel processors in March. 4G LTE will also be an option alongside USB 3.0, a DisplayPort and NFC capabilities.
There will also be an optional dock that will expand the ports on the device.
The tablet itself has a 720p HD front-facing microphone, SRS Pro Audio sound, and will come with a 256 GB Intel Smart Start SSD.
It's definitely a more modern, lightweight tablet PC that combines the best tablet PC form factor that's been popular in the past with today's ultra-lightweight ultrabook design.
And while HP is moving this convertible slate design into the Elitebook family, the company is making some subtle design changes. First, rather than an all-aluminum enclosure, the outer shell of the Elitebook Revolve is now made from plastic that encases a magnesium chassis. The design also features Corning Gorilla Glass 2 for the display.
The tablet will be geared at business and enterprise customers and HP will offer tools and a variety of options for fleet deployment.