HP Mini 1000 6-cell Now Available – for $154!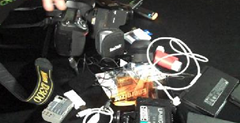 After we posted up video of   Notebooks.com's Xavier Lanier packing a 6-cell battery for the HP Mini 1000, the netbook world went crazy. There was finally proof that a 6-cell battery battery was available for this popular netbook, and it was finally within grasp.
Now thanks to the folks at HPMiniForums.com and PortableMonkey, there is finally a way to order one – for the whopping price of $153.90!!! Head over to this HP ordering page and look for part number: 517581-001.
via Engadget

As an Amazon Associate I earn from qualifying purchases.