HP Talks About Notebook Designs, Windows 8, Touch, Ultrabooks
This article is cross-posted on Notebooks.com.
I had joined HP on a press tour earlier this week where the company was showing off its business-class EliteBook notebooks, which is an elegant aluminum-clad enterprise notebook that boasts rugged features that are tested using military specs. During the company's presentation on design, notebooks design head Stacy Wolff had given us some insight on where HP's design is going amidst changes in the PC industry with touch computing, tablets, Windows 8, and ultrabooks.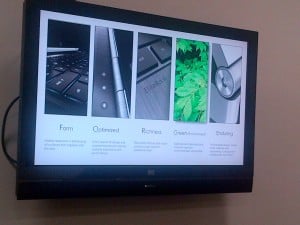 To date, the world's leading PC-maker, which says it shapes 2 PCs every second, has yet to announce an ultrabook unlike competitors such as Asus, Lenovo, and Toshiba to name a few. The ultrabook category was created by Intel as a means to offer Windows PC-makers a way to compete with Apple's MacBook Air in an era where netbooks are shunned and tablets are favored. Anticipated pricing is expected to hover around $1,000 and these ultrabooks will utilize Intel's performance low voltage Core processors.
However, according to Wolff, ultrabooks provided too many compromises for the end user and HP wants a premium experience that will give users strong performance, high reliability and durability, and good battery life. And in my experience examining ultrabooks at Intel's IDF 2011 conference recently, I would have to side with HP's Wolff as many of those machines–with a few exceptions–look unpolished with a few too many corners crossed–some of the models had keys with too shallow of travel distance leading to an uncomfortable typing experience and others had keyboards that flexed too much leaving me unsatisfied.
HP does want to head into the thin and light category, however, and the company is saying that it is experimenting with new materials and construction to make that happen so that the final experience won't be compromised. For example, in the near future, HP will be looking at ceramics for use in its notebooks, which not only offers strength, but also a new way for heat to be dissipated.
In addition to ceramics, carbon fiber and metal film may also be used in future models to provide structural integrity to make machines stronger while reducing weight.
The company is also aware of the consumerization of IT or technology. With executives and many employees across many different companies now bringing their own laptops and PCs into the workplace, a lot of consumer features are now making its way into enterprise system. That means that consumers can now buy an enterprise system and enterprise users won't be left with a stale designed notebook.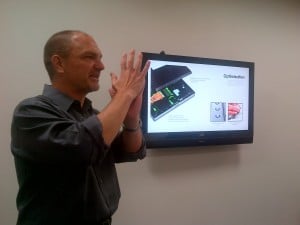 Additionally, with Windows 8 and the post-PC evolution, HP is considering how users interact with their systems. For example, the company found that for their all-in-ones (AIOs), touch was not optimized as it required the user to have to reach their arm across the table to touch the display, leading to arm fatigue if this usage paradigm was used for a long period of time. As a result, the company made the AIO systems with a kneeling hinge so that it could stand upright as a normal display, or lowered and angled more dramatically like an angled tablet on a table top for touchscreen use.
In addition to touch, HP is looking at the post-PC era with some foresight by examining technologies like displays and batteries. The company sees that users will be using their PCs more in different environments, like in bright sunlight, and that this will potentially affect battery life and charging so HP is looking at brighter outdoors-visible displays and longer life battery on future machines.
As news is swirling around HP's change of direction with the personal systems group, it is refreshing to hear that HP is still sticking to its core values, that the company is listening to customer feedback as it designs notebooks and computers with optimal experiences.
Be sure to tune into Notebooks.com where I will cover the HP press tour in greater depth and talk about how HP tests its notebooks and computers before releasing them to the market!

As an Amazon Associate I earn from qualifying purchases.