HTC 7 Pro Arrives on US Cellular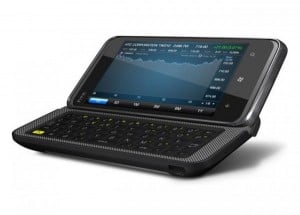 US Cellular is now offering the HTC 7 Pro Windows Phone 7 smartphone with a sliding and tilting screen in landscape mode to reveal a QWERTY keyboard. The HTC 7 Pro is similar to Sprint's HTC Arrive, which features the same hardware design for the carrier's CDMA 3G network.
The HTC 7 Pro features a 3.6-inch touchscreen with a WVGA resolution, a 1 GHz Snapdragon applications processor from Qualcomm, along with a 5-megapixel camera with 720p HD video recording and 16 GB of storage. Though there's no expandable storage, users can tap Microsoft's cloud-based SkyDrive service to synchronize and store photos on the cloud with 25 GB free storage for photos and documents.
The regional carrier will start offering the device beginning June 14th in stores for $200 after a $100 mail-in-rebate.
The HTC 7 Pro represents still a rare form factor for Windows Phone 7 devices as it's one of the few to still sport a physical keyboard; the majority of Windows Phone 7 devices are available in a touchscreen-only form factor.
For CDMA networks, the HTC 7 Pro/HTC Arrive is one of two devices that are available. The other device is the HTC 7 Trophy that was launched on Verizon Wireless.
Via: PC Mag