After a number of leaks the HTC Desire X is finally official. HTC announces the new mid-range smartphone at IFA 2012 today, and it fits with everything we heard before the launch.
According to PC Magazine the HTC Desire X is HTC's new 4-inch smartphone that runs Android 4.0 and Sense 4. The new smartphone slots in between the HTC One S and HTC One V. It's not quite a low-end phone like the One V, but it's specs aren't quite as good as the One S.
The HTC Desire X uses a dual-core 1GHz Snapdragon S4 processor, which is just a bit slower than the 1.4GHz version used in the One S. The 4-inch screen of the Desire X also places it below the One S. The Desire X screen has a 800×480 resolution, which is lower than the qHD (960×540) resolution of the One S.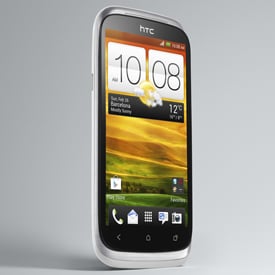 HTC's Desire X doesn't carry the One Series moniker, but it does use the same ImageSense chip as the rest of the One lineup. The Desire X has a 5MP camera and uses HTC's custom camera app that lets users take video and photos at the same time. The camera is likely the same as the one in the One S.
HTC will release the Desire X in EMEA and Asia Pacific, but there's no word on a U.S. release or price.
With the focus on the HTC One branding in the U.S., it would be surprising to see the Desire X land on a major U.S. carrier. But at least we have the option of any HTC One phone.