HTC Bliss: New Leaked Images of the Droidette Emerge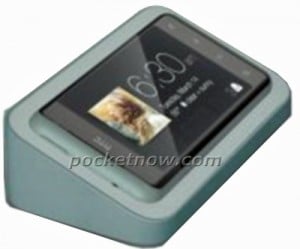 Leaked images of the HTC Bliss–or what we lovingly refer to as the 'Droidette'–smartphone have begun to surface. The HTC Bliss is a codename for a smartphone that HTC and Verizon are rumored to be developing that would target the female demographics.
The HTC Bliss will be an Android smartphone that will be targeted at the mid-range to high-end smartphone segment. Most likely, the device will come with an HTC Sense experience, and the smartphone was last rumored to be headed to Verizon Wireless. Another device, the HTC Glamor, will also be targeting the same female demographic but the difference will be that the Glamor will target the entry-level segment.
Right now there isn't much additional information about the smartphone, but it does look like the folks at pocketnow have obtained an image of the device with its subtle hue and curved edges docked in a slanted docking station.
It's unclear if targeting the female demographic will pay off for HTC and Verizon. Right now, it looks like just another Android smartphone with a different blue-grey color, though that could be due to the image rendering than the actual color upon launch, and a different docking station or box presentation for the phone.
Via: Unwired View