HTC Courts iPhone Owners With Free urBeats for Trade In
After having proposed a trade in program for existing smartphone owners and paying for older smartphones as long as customers upgrade to a new HTC device, HTC is now going after iPhone owners. In its latest trade in offer, HTC Trade Up is now offering iPhone owners a free pair of urBeats earphones, valued at $99, to owners of iPhone smartphones from Apple to switch to an HTC One X smartphone. In the U.S., the HTC One X is available on carrier AT&T and is a Beats Audio compatible smartphone.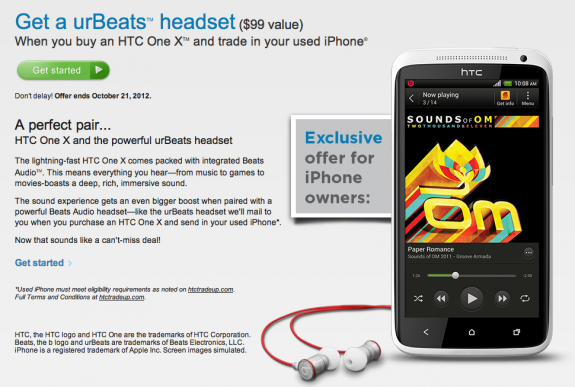 This continues HTC's aggressive strategy to regain market share in a competitive space as HTC saw its profitability suffer due to rising popularity of rival smartphones from Apple and Samsung.
Through HTC's partnership with Beats Audio, the company is now offering ways to differentiate its offerings compared to other smartphones.
The $99 offer for a urBeats headset isn't quite as good a deal for owners of newer Apple smartphones, such as the iPhone 4S or the iPhone 4, which may fetch more money through traditional trade in deals or through secondary market sales like through eBay, Craigslist, or Amazon Marketplace.
If you're not as enamored with iOS and want an Android smartphone, HTC is definitely trying to sway your pocketbook in its favor.

As an Amazon Associate I earn from qualifying purchases.