HTC Desire X Pictured Before Launch
HTC's new mid-range smartphone won't have very many surprises when it debuts at IFA 2012 this week. We've already heard the Proto code name and Desire X final name, as well as the specs and today we have blurry images of the new smartphone.
The images come from Hong Kong site ePrice, and they show the new HTC Desire X from most angles with varying amounts of noise. The images show a smartphone that closely resembles the renders we saw recently. The Desire X looks like it blends some of the Desire HD design with the design of the HTC One Series of phones.
According to the post, the HTC Desire X runs Android 4.0 Ice Cream Sandwich with Sense 4.0. The rumored 4-inch screen with a WVGA (800×480) display is here as well. It's hard to make out in the blurry image of the back of the device, but it looks like it has Beats audio as well, just like the rest of the HTC One lineup.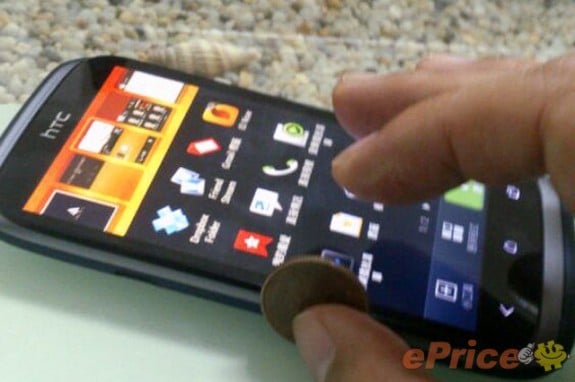 HTC will likely announce the new Desire X during IFA 2012, at which point we'll see better images of the device along with final specs. The model here is likely an international model meant only for 3G networks with no 4G LTE. We don't know if the phone will make it to the U.S., or if it will have 4G LTE if/when it does.
When the HTC Desire X debuts it will likely fit between the One V and One S in HTC's lineup, filling the space between the upper-mid-range phone and lower-end prepaid phone.