HTC Dodges ThunderBolt Ice Cream Sandwich Update Questions
With less than 48 hours before the end of August, HTC is remaining tight-lipped about the HTC ThunderBolt Ice Cream Sandwich update and its release date.
Earlier this month, the HTC Facebook account proudly proclaimed that the HTC ThunderBolt ICS update release date was still slated for a date before the end of August.
Now, the company is singing a different tune and as of yet, it's unclear if that's a good thing or a bad thing.
HTC's Facebook account is listening and responding to inquiries from disgruntled ThunderBolt owners but it's not saying when the ThunderBolt Ice Cream Sandwich update might arrive. Interestingly it's not even confirming the update for August any longer.
Read: HTC ThunderBolt Ice Cream Sandwich Update Comes Down to the Wire.
The company claims that it's still working on updates, it doesn't even refer to the ThunderBolt directly, and that it will share information when and if it becomes available.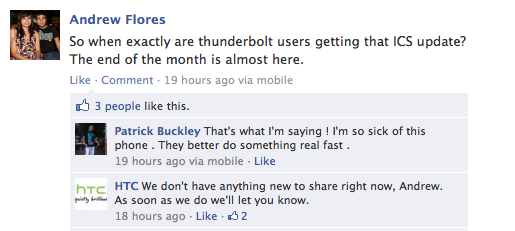 And unfortunately, all HTC ThunderBolt owners who are interested in the ICS update's release date are being treated with the same type of vague response.

HTC ThunderBolt owners around the U.S. are hoping that HTC does indeed have some news to share "very soon" as the clock is winding down for the ThunderBolt update release window.
The company originally promised the update for July or August and now, it's now down to the absolute wire as the end of August sits less than 48 hours away.
HTC missed its last Ice Cream Sandwich roll out window with the HTC Rezound Ice Cream Sandwich update. Originally, the update was promised for June or July but HTC rolled out the update in the first week of August instead.
It's possible that we could see something similar happen with the HTC ThunderBolt update, especially since Verizon has yet to post the changelog to its website, something that happens before an update rolls out to the masses.