HTC EVO 3D Bootloader Will Be Unlocked
All of you out there that pre-ordered the HTC EVO 3D and were worried about the possibility of a locked bootloader even after HTC confirmed that its upcoming devices would arrive with unlocked bootloaders can breathe easy. HTC's Peter Chou has confirmed that, one way or another, the HTC EVO 3D will have a bootloader that is unlocked.
In several email exchanges, HTC's CEO confirmed that the HTC EVO 3D will have an unlocked bootloader. That's the good news. The bad news is that he didn't say whether or not the phone will arrive with it unlocked or if the company will take care of it via an OTA update after the phone has been released.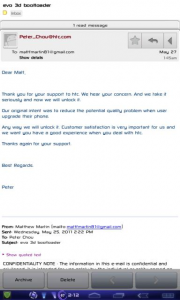 There is a good chance that EVO 3D owners will see a locked bootloader when the phone arrives but we imagine that HTC will take care of the issue shortly after launch if this is the case. In any event, the HTC EVO 3D bootloader will be unlocked at some point.
This news comes on the heel of HTC's commitment to unlocking bootloaders on all of its upcoming devices after the company received complaints from many Android enthusiasts. A locked bootloader would have prevented HTC EVO 3D owners from customizing their device and would have crippled the EVO 3D community before it even had a chance to start.
As for the other big HTC release that's on the way, the HTC Sensation 4G for T-Mobile. Chou didn't confirm anything but it should meet the same fate as the EVO 3D.
Via: Android Police

As an Amazon Associate I earn from qualifying purchases.