HTC EVO 3D Launching June 24th?
Yesterday it became apparent that the HTC EVO 3D might not be launching in the first part of June but instead, come during the fourth week of next month and now we have some evidence from Radio Shack to back up that notion.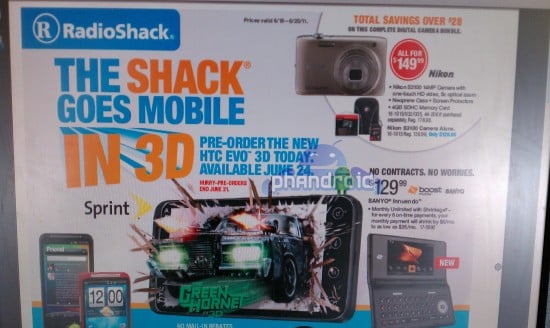 Originally, the EVO 3D was thought to be launching on June 4th. Now it appears that it might be launching 20 days later on June 24th and that's according to this recent promotional flyer from the folks at Radio Shack.
Radio Shack, Best Buy and Sprint are all currently taking pre-orders for the device and Radio Shack will apparently be doing so until June 21st.
So, this is the clearest evidence yet that points to the HTC EVO 3D arriving at some point later on this month and not three days from now.  In addition to the missing release date, we still have no idea about how much the EVO 3D is going to cost when it hits shelves.
The promotional flyer unfortunately didn't reveal that tidbit but we have a feeling we'll start seeing some pricing pop up in the near future.
Via: Phandroid

As an Amazon Associate I earn from qualifying purchases.