HTC EVO 3D Not Launching Until Late June?
Over the weekend, it became apparent that Sprint's HTC EVO 3D might not be arriving until after that presumed June 4th launch date. And now, there is even more evidence to back that up as it appears that the highly anticipated smartphone might not be launching until the fourth week of June.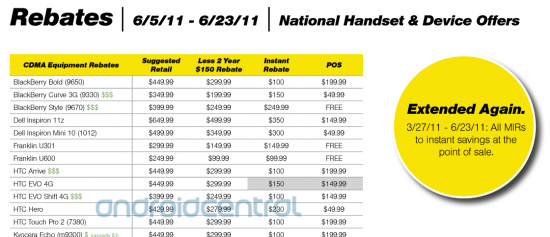 On Sunday, Sprint's PlayBook had the HTC EVO 3D listed under "Week 4" which led many to believe that it would be coming in week four. Yet, it seemed to refer to the training cycle rather than the actual release date of the device.
Today though, a rebate schedule has leaked out and the device is not seen at all between the dates of June 5 to June 23rd. A quick look at the calendar reveals that June 23rd is the Thursday during the fourth week of June which means that the 23rd, 24th 25th and 26th of June are now the like likely candidates for an EVO 3D launch date.
Of course, it's possible that all of this could change and we could see the device roll out much earlier, but all signs are pointing to the fourth week of June and those four dates are probably the ones you want to circle on your calendar.
For now, you can only pre-order the HTC EVO 3D and you can do so at Sprint, Best Buy and Radio Shack.
Via: Android Central

As an Amazon Associate I earn from qualifying purchases.