HTC EVO 3D Pre-Orders Begins at Best Buy
Sprint's HTC EVO 3D is apparently up for pre-order at Best Buy stores this very moment only the retailer wants to stay hush hush about the whole affair which means you apparently won't be able to pre-order one unless you march in there and ask.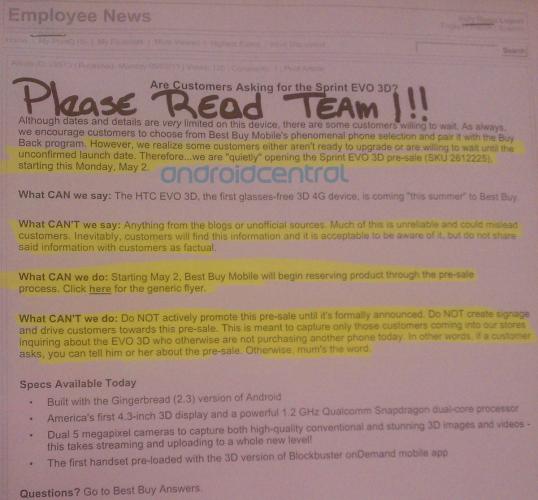 Android Central has come across an internal memo that indicates that May 2nd, today, is the day that pre-orders begin for the EVO 3D. They have also confirmed this to be the case at a physical location so it appears to be the real deal, even if the company remains mum.
As of right now it's unclear as to how the pre-order works, but it's probably going to be familiar if you've done it before. Fork over money, get a gift card and then use that gift card on the purchase of the phone once it's available.
Or, just blow it on Xbox games. It doesn't matter to us.
You should know though that the HTC EVO 3D doesn't yet have a release date which is probably the reason that Best Buy is keeping this pre-order low key. They likely don't want to relive the nightmare that was the HTC ThunderBolt launch again.
So, if you wish, you can head on into your local Best Buy and demand an HTC EVO 3D pre-order. Just be prepared to wait for the device.
Has anyone out there successfully be able to pre-order the EVO 3D?
—
Sprint HTC EVO 3D Hands On Video

As an Amazon Associate I earn from qualifying purchases.