HTC EVO 3D Price Confirmed by Radio Shack?
Even though Best Buy, Radio Shack and Sprint are currently taking pre-orders for the upcoming HTC EVO 3D, none of them have bothered to confirm an official price for the smartphone. However, according to a leaked ad, Radio Shack will be selling the device for $199, a price that may or may not come to both Sprint and Best Buy.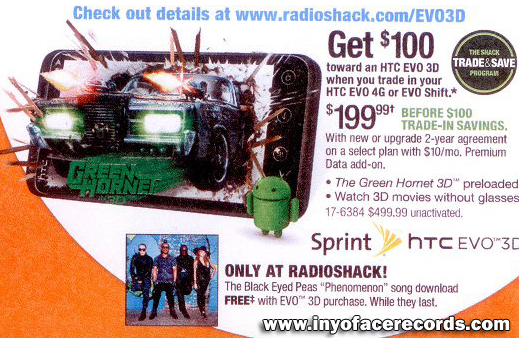 The ad states that Radio Shack will be offering the EVO 3D for $199 on a new two year contract while those hoping to get it off contract will have to pony up $500. There are also a couple of other interesting items contained in the ad as well.
Apparently, Radio Shack will let HTC EVO 4G and HTC EVO Shift 4G owners turn in their devices for $100 towards the EVO 3D. Pretty appealing, if true.  Second, the phone will apparently come pre-loaded with the Green Hornet 3D. Third, you'll get the Black Eyed Peas song "Phenomenon" for free.
Also, you see that familiar $10/mo Premium Data add-on that HTC EVO 4G owners have become accustomed to.
So, while there is a possibility that this ad is forged (it looks legit to us), don't be shocked to see all of this go down as soon as June 4th, the rumored release date of Sprint's EVO 3D.
Via: Good and EVO

As an Amazon Associate I earn from qualifying purchases.