HTC EVO 3D Stars in Flash Mob Video in Golden Gate Park
San Francisco, California residents were treated to a surprising 'art' flash mob curated by the Now Network where Sprint's HTC EVO 3D was the star! Highlighting bubbles, family, and the park, the flash mob video takes a twist on some of the more popular recent flash mob videos that we've seen recently on YouTube. The video, uploaded to YouTube, was shot in 3D and can also be viewed on the glasses-free qHD display of the Sprint flagship Android smartphone, which debuted in March at CTIA in Orlando, Florida.
According to the carrier, the video is meant to give people a taste for what they can do with the smartphone, with its ability to capture images, record videos, and view both personally captured and professionally made videos and photos in 3D and 2D.
The video is the first ever corporate 3D video created to showcase 3D technology available to all in the form of the HTC EVO 3D phone from Sprint, the first mobile phone that allows you to watch and create 3D content glasses-free. The video is meant to serve as an inspiration to the masses to get out there and go beyond standard and boring 2D video capabilities!
https://youtu.be/htzfY_cEKoQ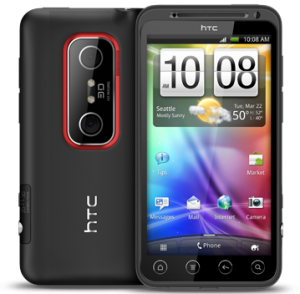 The HTC EVO 3D comes pre-loaded with a Hollywood title in 3D. Additionally, there are also a number of games available for consumption as well where users can experience the glasses-free 3D display. Beyond videos and games, users can also tap YouTube for 3D content as well.
The EVO 3D is the best-in-class smartphone to date, combining multiple leading technologies in a single package, including dual-core CPUs, abundant RAM, crisp qHD resolution, glasses-free 3D screen, dual-rear cameras for 3D photo and video capture, front-facing camera for video chat and self portraits, the latest HTC Sense UI, Android Gingerbread, and more in a lightweight package. The phone can also tap into Sprint's 3G/4G WiMax network for high speed mobile broadband connectivity.
With 4G, Sprint says that users can experience download speeds up to ten times faster than on 3G, and the network is the first to launch a 4G network in the U.S. To this date, the main highlight of Sprint as a carrier is its stubborn desire to still offer an unlimited data plan to consumers at a time when other carriers are migrating to more costly tiered and metered data plans.