HTC EVO 3D vs Motorola Photon 4G: Which Should You Buy?
I have friends that own aging smartphones with contracts that are ending this summer and, as expected, they have bombarded me with questions about what smartphone to get. More than a few of them are on Sprint and answering their questions has almost become a daily routine since Sprint and Motorola announced the Photon 4G last week in New York City.
"HTC EVO 3D or Motorola Photon 4G?" is the question I get asked the most and makes me assume that many of you out there are having the same struggle. Well, I'm here to help and I wanted to touch on both of the phones and maybe help you get closer to a final decision.
Now I will say this. I don't have either of the phones in my hand so these opinions are based on the information I know about both of the phones. That means that until I actually get to sit down with both of these, I can't come to a final conclusion on which one I recommend. I can only bring up some things that might help you in your search for a new phone.
First, some background on both phones and a quick look at their featured specifications.
Motorola Photon 4G
Originally thought to be Sprint's version of the Motorola Droid X2, the Motorola Photon 4G is actually much closer to AT&T's Motorola Atrix 4G. The Photon 4G is going to sport a dual-core NVIDIA Tegra 2 processor with 1GB of RAM, a 4.3-inch touchscreen with qHD (Quarter High Definition) display, an 8MP camera with dual-LED flash, 16GB of on board memory, and a front facing video camera for video chatting.
HTC EVO 3D
The HTC EVO 3D is the successor to Sprint's wildly popular HTC EVO 4G smartphone that was released back in June of 2010 and is currently up for pre-order right now with a listed release date of June 24th.
The EVO 3D has a 4.3-inch qHD display – same size as the EVO 4G but with a higher resolution – and the display will be able to handle glasses-free 3D content. It'll also have a 1.2 GHz Qualcomm Snapdragon dual-core processor, dual 5MP rear cameras for 3D, a 1.3 MP front facing camera, and it will be powered by Android 2.3 Gingerbread with HTC Sense 3.0.
Similarities
Before I touch on the differences with the two devices, I thought it best to take a look at a few of the things the Photon 4G and the EVO 3D have in common. First and foremost, they are WiMax devices which means that they are 4G phones. It also means that these are both going to be flagship devices for Sprint.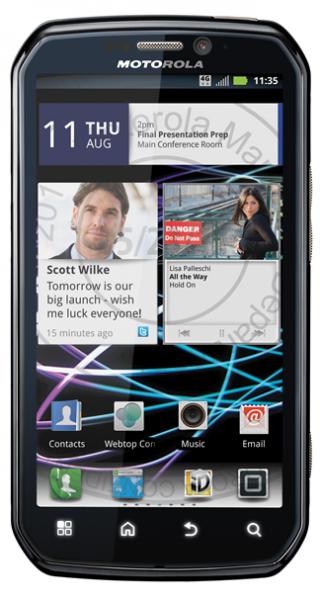 They also both employ 3G/4G hotspot support which means you'll be able to connect up to eight devices on the Sprint 3G or 4G networks. Extremely nifty if you power goes out or you're constantly on the go.
Both of them also have 1GB of RAM which is going to make just about everything on your phone run smoother. Both phones also have dual-core processors and while the Photon 4G employs a Tegra 2 and the EVO 3D has a Qualcomm 8660, they are likely going to be very close in speed and performance. They also seem to have a similar size with neither appearing too much bulkier than the other. That's where the similarities end though and now it's time to look at what makes these phones unique.
Differences
Let's start with the HTC EVO 3D. Have a look at its name. See the ending? Yeah that's the first big difference betweem the two phones. It means that the HTC EVO 3D is capable of displaying and shooting 3D content with its dual-cameras, something that the Photon 4G cannot do.
The HTC EVO 3D is also running HTC Sense which, in the past, has been almost unanimously preferred over Motorola's MotoBlur. Well, the EVO 3D's version, HTC Sense 3.0 is bringing a host of awesome things to the table including a new lock screen, new home screen, more applications, HTC Watch for media, and bunch of other stuff that looked impressive at CTIA 2011.
Although it's not going to be that way at launch, HTC is going to be unlocking the bootloader of the EVO 3D and that means that owners are going to be able to customize like crazy. ROMs, kernels, you name it. There will also be a nifty little desktop dock for the HTC EVO 3D available for those that miss the kickstand that HTC omitted from the EVO 3D because of space constraints.
Now, for the Photon 4G. The Photon 4G is a world/global device which means that you're capable of making calls or accessing files and email when roaming on GSM networks around the world.
The Motorola Photon 4G will be running the new MotoBlur. You can get a pretty good sense of what you can expect if you read our Droid X2 review here. Just know that it's much improved since the last version but we still don't think it's as exiting as HTC Sense 3.0. It also will be coming with Sprint ID which is an extremely easy way to customize your phone, all in one download.
Unfortunately, the Photon 4G's bootloader is going to be locked at the start and that means that you are going to have a hard time customizing this thing. Sprint will likely unlock the bootloader when Motorola releases software towards the end of 2011 but that means you're going to have to wait awhile before seeing tons of options as far as customizing is concerned.
Like I said, the Photon 4G is like the Atix 4G in a couple of ways and one of the major similarities is the fact that the Photon will be able to take advantage of the multimedia accessory dock that came out with the Atrix. The dock allows for the Photon to access a webtop application in order to "open, view, edit and send Microsoft Office documents using cloud-based web apps through the full Mozilla Firefox browser." In other words, it has a lot more value than the EVO 3D's dock.
So those are the major differences, in my opinion, between the devices. So, now let's take a look at what I think about all of this, otherwise known as the part where vigorously defend the phone you love against my points in the comments below.
Which One Should You Buy?
It's a tough call. Both have extremely nice specifications and both are 4G.  The HTC EVO 3D is going to appeal to people who want 3D content on their device while the Photon 4G is going to be really nice for the world traveler. If you fall into those groups, the choice might be easy.
For the rest of you, this is an extremely difficult decision because it's going to come down to minor preferences:
HTC Sense 3.0 or MotoBlur?
Which feels better in your hand?
So, my recommendation is this. Wait. I know, I said it about 4G LTE recently but it's the best move here. Neither phone is out which means that you can't go and see it for yourself and that's what you need to do because of the awesome things both of these bring to the table. The EVO 3D is tempting, I know, but I think it's worth giving Motorola and Sprint's new partnership a chance.
If you can't wait the EVO 3D will be out on June 24th. As for the Photon 4G, it will be out at some point this summer.

As an Amazon Associate I earn from qualifying purchases.