HTC EVO 4G LTE Owners Reporting Display Issues
It seems at least some HTC EVO 4G LTE owners are seeing light bleed issues on their new Sprint 4G LTE smartphone.
According to Android Police, users over at XDA have posted about light bleed issues that have been occurring in and around the device's home button.
The bleed occurs when the device's display is dark but the home button is lit up. That issue can be seen in the photo below that clearly shows the issue at hand. Keep in mind that the photo was taken in a dark room which means that the light bleed probably won't be as noticeable in normal conditions.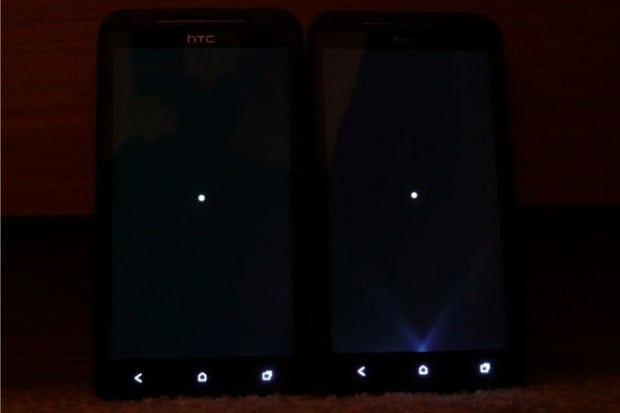 Read: Sprint HTC EVO 4G LTE Review: A Worthy Successor to the Original (Video).
It's unclear how widespread this issue is at the moment. It's likely limited to a few rotten eggs but it's definitely worth checking up on for those that just purchased a new EVO 4G LTE. It appears that both Best Buy and Sprint will replace the device within the 30 day return period if the issue is noticed.
For the record, we did not experience any light bleeding on our review unit so again, this is probably only going to seen on a small percentage of EVO 4G LTE's.
Sprint and Best Buy have yet to respond about the issue.
Read: HTC EVO 4G LTE Vs. HTC One X.
The HTC EVO 4G LTE is Sprint's third 4G LTE smartphone for its network that has yet to go live. Sprint has said that the software would be rolling out sometime during the middle of the year but it has yet to confirm a concrete date.
The device was originally supposed to launch on May 18th, however, due to a patent dispute with Apple, Sprint and HTC launched the phone earlier this month on June 2nd.

As an Amazon Associate I earn from qualifying purchases.