HTC EVO 4G LTE Release Date All But Confirmed
It appears that the HTC EVO 4G LTE release date on Sprint is now all but confirmed as yet another report has disclosed May 18th as the day that Sprint plans to launch the highly anticipated 4G LTE smartphone.
Good and EVO is reporting that a reliable source, with a proven track record, has revealed to them that the device will go on sale on May 18th.
This is the same date that has leaked out twice in the past which means that it appears to be the date that Sprint has slated as HTC EVO 4G LTE launch day.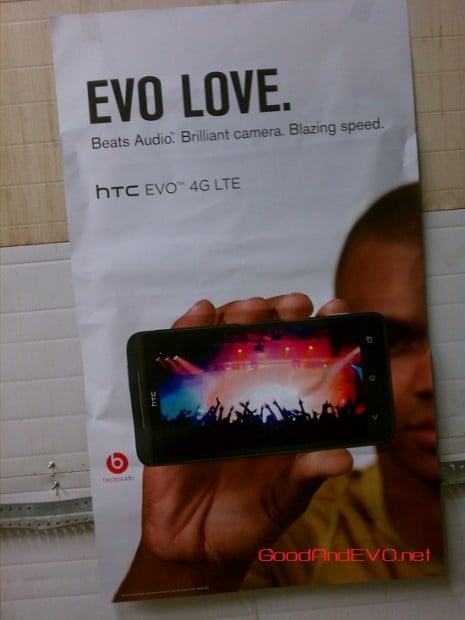 Of course, these dates are always subject to change, but because Sprint has already made the pre-order date of May 7th official, May 18th seems like as good of a date as any.
The site also posted some marketing materials that will apparently be going up in Sprint retail stores sometime within the next few weeks.
Clearly, we're getting closer to a launch for Sprint's latest EVO-branded smartphone, a device that will replace the HTC EVO 3D on the nation's third-largest service provider.
The EVO 4G LTE, which can be seen in the hands-on video below, will be the first 4G LTE enabled EVO.
Read: Sprint Galaxy Nexus vs. HTC EVO 4G LTE.
This means that it will be able to achieve data speeds up to 10 times faster than those found on a normal 3G network. It will also be bringing some interesting specifications to the table including a 4.7-inch Super LCD display with 720p HD resolution, a dual-core 1.5GHz Qualcomm Snapdragon processor, a 8MP rear camera that is powered by a dedicated ImageChip and has a physical button, 16GB of storage, 1GB of RAM, an NFC chip for use with services like Google Wallet, and a large 2,000 mAh battery.
And with an attractive $199.99 price tag, it will surely be an option for those looking to sign with Sprint.
Sprint has already launched two 4G LTE smartphones in the LG Viper 4G LTE and the Samsung Galaxy Nexus but it has yet to launch the actual 4G LTE network that's supposed to power these devices.
We're assuming that the network will be live by the time the EVO 4G LTE rolls around but that won't mean that everyone in the U.S. will have access to these speeds.
Sprint plans to launch the network in an initial batch of six markets with more rolls outs planned for this year. Those who don't have 4G LTE in their area will have to use the devices on the carrier's 3G network until 4G LTE service does arrive.

As an Amazon Associate I earn from qualifying purchases.