HTC EVO 4G LTE vs HTC One X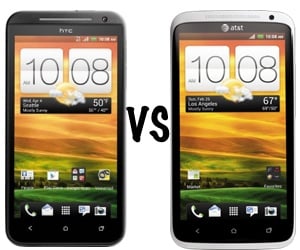 The HTC One X for AT&T and the HTC EVO 4G LTE for Sprint are very similar Android smartphones. So similar that many may wonder which one they should choose. If you're already on AT&T or Sprint and don't want to change carriers, the decision is clear. But if you're thinking about switching, there are a few differences between the phones and the carriers that could tip you in one direction or the other.
Note: This comparison utilizes the AT&T version of the One X, not the International version.
Carriers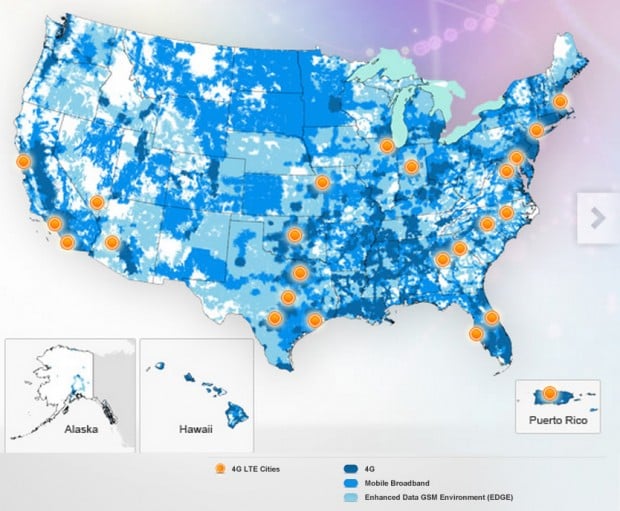 Both the One X and EVO are capable of running on LTE networks, but will there be an LTE network for you to utilize?
AT&T started rolling out their LTE network this year and orange dots on the map above show where it's available. Right now LTE is not nationwide, but the carrier is bringing it to more cities over the year and hoping to cover 150 million people by the start of 2013.
In areas without LTE coverage, the One X will run on AT&T's HSPA+ 4G network.
Currently, Sprint doesn't have any LTE coverage. They've announced plans to roll out LTE in Baltimore, Kansas City, Atlanta, Dallas, Houston and San Antonio by "mid-2012". Though the carrier hasn't said when the EVO 4G LTE will be available, pre-orders start at the beginning of May. It's a good guess that LTE will go live shortly before or right when customers can actually get the phone.
Sprint plans to have much of the country covered by LTE by the end of 2014, but that's a long way away.
(Read: Sprint 4G LTE Coverage Map Leaks)
In areas without LTE coverage, the EVO 4G LTE will run on Sprint's 4G network.
In most testing Sprint's 4G comes out ahead of AT&T's variant in major cities, though speeds do vary by location. It's worth checking out average speeds in your town or city before making a decision.
One other thing to note: the EVO will be able to take advantage of HD Voice for making calls. HD Voice will improve call quality with a combination of upgrades to Sprint's network and some hardware inside the phone itself, such as the dual mics. The difference is dramatic. If you use your phone as a phone a lot, this is a big checkmark in the EVO's favor.
Data Plans
Sprint is the last of the major carriers to still offer an unlimited data plan and that won't change for the EVO 4G LTE. Whether users are on the existing 4G network or the new LTE one, they won't have to worry about data caps.
Existing AT&T customers have been able to grandfather in their unlimited data plans to new phones so far. New customers will have to choose from a tiered data plan with 250MB, 3GB or 5GB per month.
Hardware and Design
The EVO and the One X are the same size — 4.7-inch display, 5.3 x 2.7 x 0.35 inches — a similar weight and have mostly the same hardware. There are a few differences that may impact your choice.
On the design front, the EVO 4G LTE has two elements the One X does not. The most noticeable is the kickstand on the back. The original EVO was the first to have a built-in kickstand and customers really like it.
The other difference is the addition of a hardware shutter button for the camera. Pressing this button launches the camera when you're in another app and snaps shots when you're in it. As Chuong pointed out earlier today, this is a must-have feature for people who care about using the camera.
Read: Why Mobile Photographers Should Choose the Sprint HTC EVO 4G LTE Over the One X
The One X will come with an 1800 mAh battery whereas the EVO sports a 2000 mAh one. Since the phone has a big display and is LTE capable, you're going to need all the juice you can get.
Price and Availability
The EVO 4G LTE will cost $199 with a two-year contract on Sprint. As I said, there's no firm release date, though pre-orders begin on May 7th.
AT&T hasn't officially announced when then HTC One X will be available, though a recent leak of a Best Buy memo indicates that it may arrive by May 6th.
Before the EVO's announcement many predicted that the One X wuld come with a $299 price tag since that's the trend with superphones these days. Given that Sprint is going with the lower standard $199 price, AT&T may do so as well or split the difference and set it at $249.
Software and OS
Both phones have the same operating system: Android 4.0 Ice Cream Sandwich with a Sense 4.0 skip on top. There are likely to be different apps on the phone as both Sprint and AT&T have a few proprietary ones they like to throw in plus whatever deals they've made with third parties.
Overall, you're going to get the same experience on both on this front.
Read: In-Depth Hands-On with Sense 4.0
Now that you know what differentiates the two phones, which are you more likely to get? The HTC EVO 4G LTE or the HTC One X?
[polldaddy poll=6111703]