HTC EVO Shift 4G for Sprint Shown with Hard Case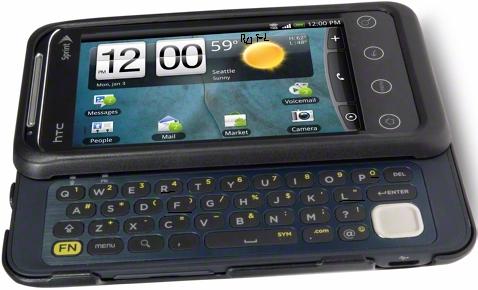 A new image of the HTC EVO Shift 4G has emerged, and this time the Android slider shows off a hard case accessory. The HTC EVO Shift 4G will be Sprint's answer to the T-Mobile G2, which the latter carrier is boasting as a "4G" device running on its HSPA+ network in the U.S. For its part, the HTC EVO Shift 4G will likely run on Sprint's 3G CDMA network with compatibility for the carrier's expanding 4G WiMax network like the HTC EVO 4G before it and the Samsung Epic 4G, which is Sprint's variant of the Galaxy S.
The HTC EVO Shift 4G will have a smaller 3.7-inch display compared to the 4-inch Super AMOLED display of the Epic 4G, but will also feature a sliding QWERTY keyboard in landscape mode. The more compact form factor may appeal to enterprise users.
Like the T-Mobile G2, this device does not appear to sport a front-facing camera for video calls. Though more phones are coming with front-cameras and a number of upcoming tablets will employ front-cameras, the experience isn't as seamless as it could be as most network operators don't offer video calls in the U.S. and third-party software would have to be downloaded and configured before the camera can be used for video chat.
Also, while the T-Mobile G2 offers minimal customizations to the Android user interface, it seems that the HTC EVO Shift 4G, as shown in the picture, utilizes HTC's proprietary user interface called HTC Sense.
Given that CES is just around the corner, perhaps an announcement at CES is likely.
Via: Android Central

As an Amazon Associate I earn from qualifying purchases.