HTC Flyer Goes on Sale Early at Best Buy
For those of you dead set on picking up an HTC Flyer Wi-Fi from Best Buy, you'll be happy to know that you don't have to wait until May 22nd, this Sunday, to get your hands on your piece of equipment.  In fact, Best Buy stores have been told to sell their stock starting today if they have it.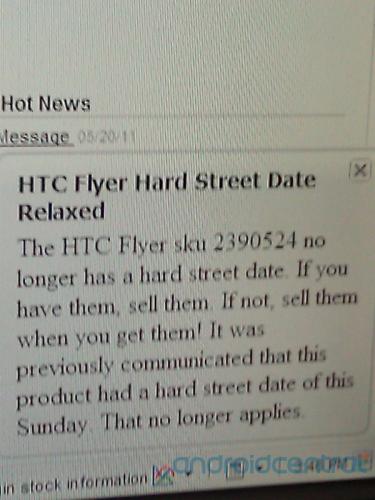 The evidence comes in the form of a short but sweet internal memo that gives Best Buy retail stores permission to sell the HTC Flyer if they have stock. Because the hard release date of the Flyer is a mere two days away, we assume that more than a few Best Buy stores currently have devices available.
So, if you've been looking forward to plopping down a cool $500 plus the $80 for the stylus pen which, as you well know, is sold separately at Best Buy, you probably want to make the trip down to your local Best Buy to see if they have the 7-inch tablet in stock.
Anyone out there going to take the plunge? Or are you going to wait for the HTC Flyer to get Honeycomb before you pony up the funds?
Via: Android Central

As an Amazon Associate I earn from qualifying purchases.