HTC Flyer Tablet and HTC Incredible S Smartphone Headed to T-Mobile USA?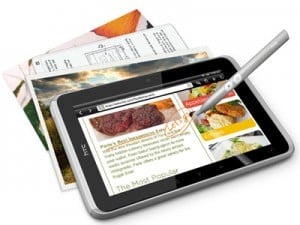 There is speculation that T-Mobile USA may be offering the new Android 2.4-powered HTC Flyer tablet with its tablet-revamped HTC Sense user interface the the updated HTC Incredible S smartphone that now houses a larger 4-inch display. The models that were being introduced in Barcelona at Mobile World Congress come with support for T-Mobile USA's AWS spectrum support for 3G/4G (via HSPA+) network.
There's still no guarantee that the Flyer nor the Incredible S will land on T-Mobile's network as the carrier hasn't officially announced that those products will be joining its lineup.
If in fact the Flyer will be coming to T-Mobile USA, it will be the carrier's third seven-inch tablet device. T-Mobile USA currently offers the Galaxy Tab from Samsung and the Dell Streak 7. Adding the Flyer would be an interesting strategy as T-Mobile would have an Android 2.2, Android 2.4 with HTC Sense, and Android 3.0 tablet through the larger Optimus Pad variant, the LG G-Slate. The Flyer would also differentiate itself from other tablets on the market with an N-Trig stylus for inking.
Via: TmoNews

This article may contain affiliate links. Click here for more details.