HTC Inspire 4G Gingerbread Update Now Available
The HTC Insire 4G has been out since February and since then, owners have been waiting and waiting for their freshly baked Gingerbread to arrive. Turns out, the update started rolling out a few days ago according to HTC and can now be pulled OTA if it's ready or can be installed via ROM over at HTC's website.
If you haven't already received the update and want it right now, you'll want to manually install it. Keep in mind though, you'll also want to back up all of the stuff on your phone because if you do it this way, it's going to wipe everything. So keep that in mind before taking the plunge.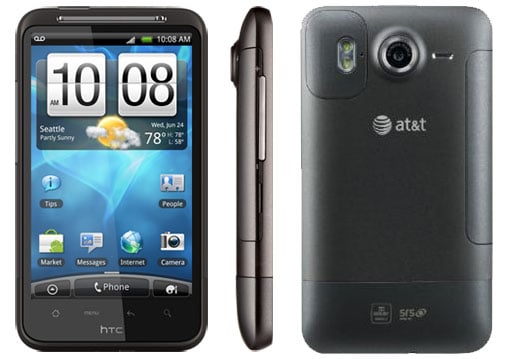 Here's what HTC had to say about the update:
This update will only be available for AT&T HTC Inspire 4G Customers and will be sent to the device over the air. Once the release is ready, HTC Inspire 4G users will receive a notification on their device advising them of this update and provide instructions to receive and install it. Users can proactively check for this update by going to Home>Menu>Settings> AT&T Software Update > HTC Wi-Fi software update > Check now. The system update can also be downloaded below and manually applied to the device.  less
This system update includes:
Android 2.3.3 Gingerbread
New HTC Sense™ features

Updated Application Tray features
Updated FriendStream™ features
Added Quick Settings in the Notifications window

Improved Power Management function
Improved media experience
Various minor bug fixes
Manual system update instructions:
NOTE:  Performing the system update manually will delete all information from the device.  Ensure all information is backed up before proceeding.  Information saved on the microSD card will not be affected.

Performing the ROM Update:
Download and save the HTC Inspire 4G™ for AT&T Gingerbread ROM update to your PC.
Connect your device to your PC via the supplied USB cable. NOTE: You must have HTC Sync installed on your PC in order to run the update.
On the Connect To PC pop-up on your device, select HTC Sync.
Once connected to HTC Sync, locate the HTC Inspire 4G™ for AT&T ROM Update that you downloaded and double-click on the file to launch the system update wizard.
Follow all of the system update wizard instructions shown on your PC.
Once the update is complete, click Finish in the Wizard and the device will reboot.
Once the device reboots, the initial setup wizard will appear.
Once the initial setup process is complete, the device is ready for use.
The ROM that HTC speaks of can be downloaded right
here
. Again, keep in mind, it's going to wipe everything so make sure you back your files up before you manually install. Otherwise, enjoy your Gingerbread HTC Insire 4G owners.