HTC M7 Launch Date: What to Expect
Today, HTC sent out press invites for a launch event scheduled for February 19th in New York City and in London. It's unclear as to what HTC has up its sleeve but bets are on the company showing off its next flagship smartphone, the HTC M7, a device that will likely replace the HTC One X and the HTC One X+.
Read: Top 10 Rumored Smartphones for 2013.
The HTC M7 has cropped up in rumors over the past few weeks, exposing itself as the likely successor to the high-end HTC One X, a device that is a part of HTC's One Series from 2012. The HTC One X was one of the best Android devices of 2012 though it was hampered in the United States as it only launched on AT&T.
This time around, it's looking like HTC might have learned its lesson as the HTC M7 is rumored to not only be coming to AT&T, Sprint and Verizon, but it could wind up launching on T-Mobile as well.
That's great news for those who are looking for a new smartphone on any of those carriers as the HTC M7 figures to be HTC's big release of the first half of 2013 and quite possibly, the entirety of 2013.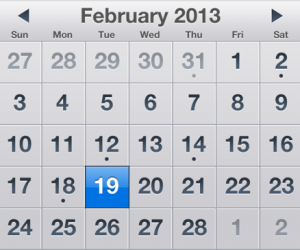 The HTC M7 is rumored to be employing technology that will likely be found on most high-end Android devices in 2013, including the Galaxy S4 and the already announced Sony Xperia Z. Of course, HTC will put its own spin on things and likely offer some unique advantages over its rivals.
It's supposedly going to come with a 4.7-inch 1080p display, smaller than its rivals, with 468 pixels-per-inch. If that's true, it will mean it will have a better screen than the Droid DNA's. Speaking of the Droid DNA, it's supposed to feature a design similar to it with soft material instead of aluminum, the latter of which HTC used with the HTC One X.
Like other Android devices, it is supposed to have a quad-core processor and it should also come with a 13MP camera, potentially the best that HTC has ever offered. Remember, the HTC One X had a fantastic camera.
It's also said to have a larger battery and quite possibly, Android 4.2 Jelly Bean though like the other features, nothing is confirmed until HTC says that it is.
Those looking forward to the phone, and we expect that many are, will no doubt have their eyes fixated on that February 19th event that HTC announced today, even though HTC has yet to confirm the device as the centerpiece of that event.
And while it may or may not be, here is what we expect from the HTC M7 launch date nonetheless.
February 19th Launch Date
While HTC may not be talking devices just yet, the timing of the invite suggests that it should be for the HTC M7.
Last year, HTC announced its HTC One X at Mobile World Congress at the end of February. Early HTC M7 rumors suggested that the company would again be looking to announce the phone at Mobile World Congress, a year after the HTC One X's announcement.
However, as we've seen, HTC is no stranger to hosting its own launch events and given the success of Samsung's Galaxy S3 launch away from MWC 2012, it's not surprising to see HTC putting on its own production for what will likely be the One X's successor.
So, it will be around the one year anniversary of the HTC One X's arrival, it will be a date that not only falls into the projections of rumors but also a date that has been rumored as the HTC M7 launch in the past. And given that Samsung is prepping a Galaxy S4 for launch, possibly in March, it's hard to think that this won't be HTC's flagship launch.
Certainly, it could be for another device but the HTC M7 is the only device that has leaked in recent days worthy of this type of a launch.
Straightforward Event
HTC may be following in Samsung's footsteps and hosting a launch event separate from the trade show floor, but that doesn't mean that the company has mastered the art of the show itself. Apple is still the master of the product launch event but Samsung has made big strides using magic, and even a symphony to launch its products.
Unfortunately, HTC events tend to be dull and we have no reason to believe that HTC is going to break that trend with its HTC M7 launch event. Look for it to be straightforward like the Droid DNA launch event was.
Little for the Imagination
Not helping matters is the fact that the HTC M7 just can't seem to stay in the shadows. Apple and Samsung do a fantastic job of keeping eyes and ears at bay prior to their launch events but HTC hasn't followed suit.
Already, we've seen very specific features leak out, several times in fact, something that seems to all but confirm them to be real. We've also seen the HTC M7 leak out on video and in likely photos, giving potential buyers a look at the product before its launch.
So by the time the launch event comes around, consumers who have been following along will likely know everything HTC announces on stage before HTC announces it on stage.
U.S. Release Window at Least
There is at least one reason why HTC is hosting two events (one in New York and one in London) instead of just one. That reason is that it wants customers in the U.S. and aboard to hear about whatever product it plans to announce, which again we are assuming is the HTC M7.
However, we don't expect that to be the main reason why HTC is using two launch events. Instead, we are assuming that HTC will use the two launch events as cause to announce both global and U.S. availability. Here's what we mean.
At MWC 2012, when HTC announced the HTC One X, we heard that it would be coming to AT&T but we got no release date, we only got a global release date. That has happened many times in the past and it's something that American consumers hate. Samsung changed the game when it announced the Galaxy S3 last year with U.S. availability included. Now, we expect HTC to follow suite.
Because HTC has two events lined up this time around, we imagine that the manufacturer will be delivering two release dates, or at least specific release windows.
Carriers Announced
One other reason why we believe there are two events is because HTC has American carriers lined up for this smartphone. Typically, when events are hosted in the U.S., we see carriers take the stage and pledge support for a device. This could be what happens at the event in New York.
It's also possible that we'll just see HTC announce the carriers without any sort of participation, but it would be extremely odd to see HTC host a U.S. event without some kind of carrier involvement.
No Pricing on Stage
We expect carriers to be involved in the event but we don't expect the carriers to announce pricing on stage at the event. Instead, look for the pricing to be revealed by the carriers themselves in press releases either during or after the show.
No rumors have emerged just yet but expect $199.99 on-contract across the board.
Pressure on Samsung
We expect this all to occur, one, because HTC really needs to cater to its customers around the world with this launch but also because the HTC M7 needs every advantage in the book to compete against the Galaxy S4, rumored to be coming in March.
Still, if HTC is able to deliver specific pricing and release dates for carriers around the globe, that would put a lot of pressure on Samsung to do the same with the Galaxy S4.
Samsung is rumored to be hosting an Unpacked event on March 22nd. Past Unpacked events have revealed some details but not all. And if HTC delivers, it could be that Samsung will be compelled to spill all of the goods earlier than it typically has.

As an Amazon Associate I earn from qualifying purchases.