HTC M7 Launch Likely for HTC's February 19th Event
HTC will hold a press event in New York City on February 19, a week before Mobile World Congress, where it will likely announce the rumored HTC M7 smartphone.
If HTC does announce the M7 at the New York event, the announcement will come about a week earlier than expected. Mobile World Congress will start on February 25, but it seems HTC decided may not want to announce its new smartphone amongst all the other announcements at the trade show.
HTC's invitation doesn't give any clues as to what the announcement will be, but the M7 is the only recently leaked device from HTC. The rumored device is likely the successor to the HTC One X from last year, though recent leaks show it looks more similar to the DROID DNA than the One X.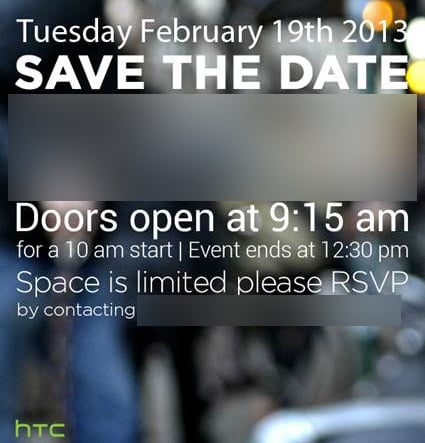 Read: HTC M7 Release Date & Rumor Roundup
Rumors say the HTC M7 will have a 4.7-inch 1080-display, giving it a pixel density of 468 ppi, which is higher than the vast majority of other smartphones. The phone will also likely use a 1.7GHz quad-core processor, a 13MP rear-facing camera with a dedicated camera button and a 2,300 mAh battery.
If the M7 follows in the footsteps of other recent HTC devices, it will have Beats audio for enhanced sound and an ImageChip for enhanced photos.
The M7 will also likely introduce HTC's new Sense 5 skin on top of Android 4.2 Jelly Bean. Leaks of Sense 5 show a flatter, more streamlined skin. Sense 5 still doesn't look exactly like stock Android, but the leaks show it's closer to Google's version of Android than previous versions of Sense were.
It's unknown which carriers will carry the HTC M7 when it comes to the U.S., and there's no carrier attached to the HTC invite. Previous rumors said the device could come to AT&T, Sprint and Verizon, but based on the One X and EVO 4G LTE from last year the device may look different and have a different name on each carrier.

As an Amazon Associate I earn from qualifying purchases.