HTC Merge Launching Tomorrow on Verizon?
While the HTC Merge is already available on Alltel, it looks like Verizon is finally going to be getting in on the non-4G fun as it looks like Big Red will be launching the phone through 3rd party retailers starting tomorrow, May 12th.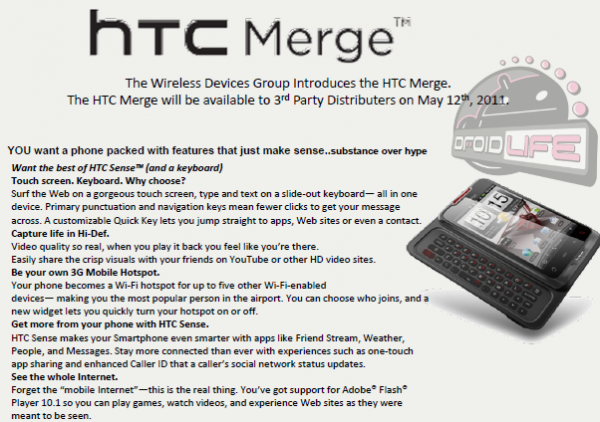 The company has yet to come right out and confirm anything but this here physical evidence indicates that tomorrow is launch day. According to the document, the device will probably not be available through Verizon stores and will be limited to 3rd party outlets.
That's not surprising considering this thing leaked out during Q4 of last year and has no 4G LTE capabilities to speak of.  The Merge also showed up on Verizon's website a short time ago.
The HTC Merge boasts a 800MHz processor, a stylish keyboard, a 3.8-inch touchscreen, and a 5-megapixel camera. It also runs Android 2.2 Froyo right out of the box.
Anyone going to be picking one of these up when it goes on sale tomorrow?
(Via Droid-Life)

As an Amazon Associate I earn from qualifying purchases.