HTC One Android 6.0 Marshmallow Update Breakdown
At the beginning of the week Google officially released the latest Android 6.0 Marshmallow, and started rolling it out to select Nexus smartphones and tablets. Naturally, we're now hearing from manufacturers regarding their update plans, and today we have more details to share about the HTC One Android 6.0 Marshmallow update release schedule.
Earlier this week HTC made a few small announcements and confirmed the HTC One M8 and the newer HTC One M9 would both see Android 6.0 updates start arriving before the end of the year, but that's all we've heard so far. However, at least one variant of the HTC One M8 will receive the update before the end of October.
Read: Nexus Android 6.0 Marshmallow Update: What to Expect
The closest thing to a Nexus device is a Google Play Edition smartphone or tablet, which started with the Galaxy S4 Google Play Edition a few years back. And while Samsung hasn't updated it's GPe phone too frequently, HTC has. Today we learned the HTC One M8 Google Play Edition will be updated to Android 6.0 Marshmallow before the end of the month.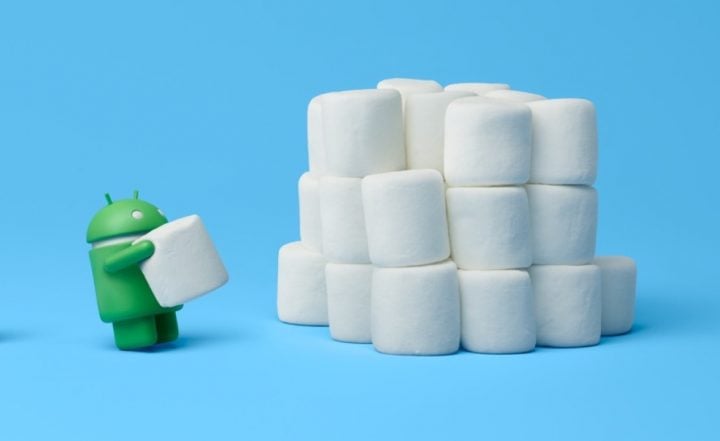 Today HTC's voice on Twitter Mo Versi, who is always very open and transparent about updates, confirmed the HTC One M8 GPe will get the update first, and they're aiming for the end of the month. If HTC can deliver it that quick (if Motorola doesn't beat them) it will be the fastest device to receive Android M that isn't a Nexus smartphone or tablet.
However, HTC has a lot more than just a few phones, and millions of owners are likely wondering about when and if they'll see the latest software release. Android 6.0 Marshmallow delivers lots of new features, improvements to battery life and performance, small changes and other things that all users are excited about.
HTC One Android 6.0 Updates
The first HTC device to be updated to Android 6.0 Marshmallow will be the Google Play Edition HTC One M8, and it's expected to see the update before the end of October. However, owners with the HTC One M9 Developer Edition will likely see it next, in November or early December, then regular phones will be up next.
Last week HTC confirmed a rough 90 day or so window for their latest two smartphones, but as you can see from the image below those aren't the only phones they plan of delivering Google's new Marshmallow treat to in the near future.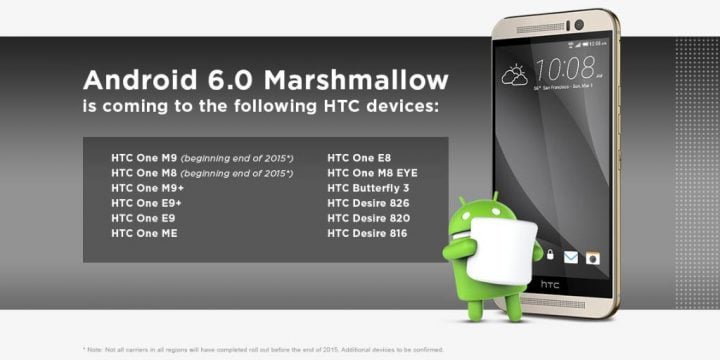 According to the image above, provided by HTC, the company looks to update all recent HTC One smartphones. To be more specific the new HTC One M9 and One M8 are first, which will start with developer edition and unlocked international units before US carriers approve it. Then smartphones like the HTC One M9+, the E9+, ME, E8, M8 Eye, Butterfly 3, and multiple HTC Desire phones released over the past 12-18 months.
The list is a bit confusing, but many of those phones aren't available in the United States.  The important thing for those in the US with the HTC One M8 or M9 (or M9+) is that these updates likely won't arrive in 2015.
Read: Android 6.0 vs Android 5.1 Lollipop: What's New in Marshmallow
HTC will aim to deliver this update as quickly as possible, but carriers in the United States often delay software upgrades by 4-6 weeks. So if we do see the HTC One M9 update start in December, US carriers will probably push it back to late January, but we'll have to wait and see. There's a chance it could already be near final, and HTC will start the testing process with carriers early, but we'll have to wait and see.
Other smartphones could be added to the list later, like the HTC One M7 Google Play Edition, but that's unlikely. As the upgrade process moves forward HTC could make more announcements, but for now that's the official list for all HTC One owners.
Android 6.0 Marshmallow
Above is a link comparing Android 6.0 to Android 5.1 Lollipop for those wondering what's new in Marshmallow, and it only touches on a few main areas. Users can expect HTC to make some additional changes and improvements with its own software updates, as well as to HTC Sense UI as a whole.
That said, here's a rundown listing a few of the bigger and important changes or new features coming soon.
Doze Mode — This new feature monitors your phone and puts it into a deep sleep when it's not being used, which can extend battery life substantially.
Now on Tap — We love Google Now, and it's improved in Android M. Simply long press the home button to bring up the Google Now feature and display information based on whatever you're doing at the time.
Android Pay — Android M allows you to bring up Android Pay with a simple tap and easily make purchases without having to open a separate app.
Direct Share — Share your photos, news, links, etc. with your favorite contacts easily and quickly.
Simpler volume controls — A more intuitive way to control ringtone and media volume.
Android 6.0 Marshmallow improved the lockscreen, homescreen, application tray, notification pulldown bar, added new permission controls, fingerprint support, automatic app and data backups, and everything mentioned above. Doze promises nearly 30% increases in standby battery life, Google Now on Tap is our favorite new feature, and the easier to use volume controls are a welcomed edition.
Above, is a quick hands-on of stock Android 6.0 Marshmallow, which is what Google Play Edition owners can expect, but it will look vastly different on regular HTC phones.
Release Date
Sadly we have no real release date for any HTC One Android 6.0 Marshmallow updates, but a few are coming soon. As we mentioned earlier, the HTC One M8 Google Play Edition will get it before the end of the month, then the M9 Developer Edition, then regular smartphones will be up next starting with the regular HTC One M9 and M8 from last year.
We're not sure how fast all of these will arrive, but HTC is aiming for at least the end of the year, with many of these updates potentially being delayed into early 2016. We'll keep an eye out for further information, and update as any and all details become available. The wait is almost over.

As an Amazon Associate I earn from qualifying purchases.