HTC One M10 Leaks Continue as Release Nears
Recently the upcoming HTC One M10 has started to leak more and more after early rumors last month, and now we have photos of the phone. Not to mentino HTC is teasing it ahead of the release date. Now that we know everything about the Galaxy S7, LG G5 and more, details and images have surfaced regarding what's next from HTC, the One M10 for 2016.
Last year the HTC One M9 was announced and released on the same day in March during Mobile World Congress, and hit US carriers on April 10th, the same day as the Galaxy S6. However, this year the company is taking a different approach to the design and the release of its next flagship smartphone.
Read: HTC One M10: 5 Key Details Leak
Until early February we didn't know much about the HTC One M10, then a huge leak surfaced which is detailed above. Key information was shared about the phone, photos appeared shortly after revealing the design and more. The big bezels and HTC branding is gone, unless that's only because this is a pre-production model. Read on for more details.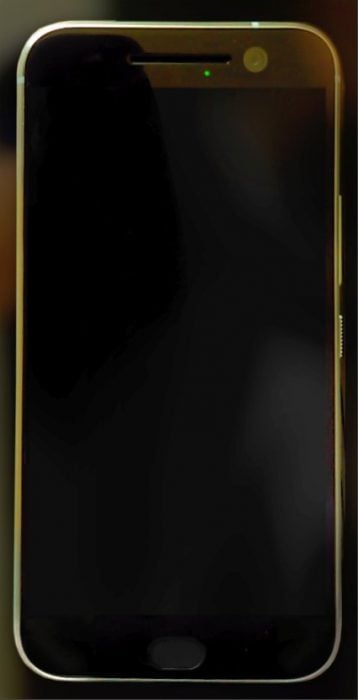 Now though, we have more details about the phone and an actual image to go along with release date rumors. Rumor suggesting it wouldn't be unveiled at Mobile World Congress were true, as Samsung and LG took the stage instead. HTC wants to wait, and has started a "#powerof10" campaign on Twitter teasing the new HTC One M10.
Apparently HTC wants to release the phone on its own stage, separate from the rest, and the latest reports suggest an event will take place later this month, before March comes to a close. That said, a launch date is near, as HTC posted another teaser and video on Twitter today, although there are no images of the phone. Just them obsessing about getting it right for buyers.
We're obsessed… in a good way. #powerof10 https://t.co/V7JoL1T094 https://t.co/EDRlGWoWEG

— HTC UK (@HTC_UK) March 2, 2016
Last month, famed leakster Evan Blass, known as @evleaks, who has been deadly accurate in the past regarding HTC smartphones, shared the above photo on Twitter. Revealing the new single front facing speaker, big front camera, thin bezels to match the big 5.1-inch display, and that new fingerprint scanner. It looks like the iPhone 6 a bit, to be honest, with a little Samsung Galaxy mixed in as the home button and fingerprint scanner isn't completely round, and has squared edges.
Other reports instantly compared it to the iPhone 6, and we can see the resemblance, but until more details surface it's hard to speculate. At the same time, there's only so many ways a smartphone can look with a fingerprint scanner. Either make a circle on the front like Apple, a square like Samsung, or place it on the back as we've seen from Google, LG, Huawei and others as of late.
Read: 7 Exciting Android Smartphones Coming in 2016
More importantly, information recently revealed some telling details regarding the overall specs, features, design and more for the HTC One M10. Of course, nothing is official until more leaks surface or HTC makes an announcement later this month. That said, here's what the latest rumors suggest.
HTC One M10 Specs (Rumored)
5.1-inch 2560 x 1440 Quad-HD AMOLED Display
Snapdragon 820 Processor with 4GB of RAM
32GB of internal storage, with a micro-SD slot (up to 200GB)
Android 6.0.1 Marshmallow
12 Megapixel "UltraPixel" camera with Optical Image Stabilization, laser auto-focus
Front Camera unknown, but will have image stabilization
Fingerprint Scanner in front similar to the Samsung Galaxy S7 (and HTC One A9)
No dual front facing "Boomsound" speakers
more
We're hearing the rear could be made out of aluminum again, similar to the HTC One M10 but look like the HTC One A9 from late 2015, but we can't say for sure. If so, it will look rather similar to an iPhone. Based on the image we're seeing lately, it does appear to at least have an aluminum ring around the frame, protecting that bigger 5.1-inch Quad-HD display. Previous HTC One M smartphones had 5-inch or smaller displays that were only 1080p. This will be the first global smartphone from HTC with a Quad-HD display.
Update: Again, Evan Blass leaked another photo, of the HTC One M10 in white, giving us a much cleaner look at the phone. As he posts images, HTC's Twitter account continue to tease the phone before its release. The front fingerprint scanner doesn't look as big as it did on the black model above, and very closely resembles a Galaxy S6 or the upcoming Galaxy S7. Take a look below.
Let's call it HTC One M10 in white. pic.twitter.com/lGfIM5SSpX

— Evan Blass (@evleaks) February 18, 2016
All these photos should be the real deal, but we won't know until it's announced. If that's the phone, it looks like a Galaxy S7 and the iPhone were mixed together, and became the HTC One M10.
If everything we're hearing is accurate HTC could have another well-designed powerful smartphone coming sometime later this year. They're hyping it really hard on Twitter, claiming they've obsessed over every detail into long hours of the night, and are obsessing "in a good way" to make it perfect.
Rumors claim it will be announced in March shortly after Mobile World Congress, but sadly another leak claims the release date won't be until early May, making it the latest arrival from HTC in years. As the HTC One M10 release date nears, more details will surface. We still don't know much yet, but expect additional information and announcement in the coming weeks.

As an Amazon Associate I earn from qualifying purchases.