3 New HTC One M8 Options Coming Soon
Back before the HTC One M8 launched at the end of March we heard reports and various rumors that the company was aiming to offer a slew of colors and options for the smartphone, but that never came to fruition.
In March HTC announced and released the brand new HTC One M8 flagship smartphone in brushed gunmetal grey, silver, and reportedly a gold option that is still rather hard to find. It has been available for a little over a month, and now this week three new versions and color variants have been revealed.
Read: 3 New HTC One M8 Details Leak
The HTC One M8 is a beautiful smartphone crafted out of a lightweight unibody aluminum shell, and many consumers are hoping a few additional color options arrive. Last year the original HTC One eventually arrived in gold, and even a few exclusive blue versions hit the UK and Best Buy retail stores. Here's what to expect from the new HTC One M8.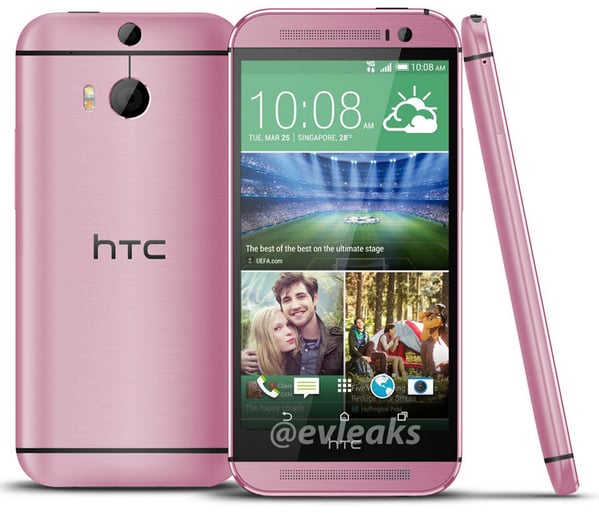 We've been hearing reports and rumors about a pink, blue or even red version coming soon, possibly as carrier exclusives in the United State and abroad, and now we're getting our first look of at least one of those. Thanks to the usually accurate Evleaks we're seeing the HTC One M8 in Pink, which is reportedly coming soon.
The leakster even went as far as to confirm the the colors mentioned above, and it's safe to assume we'll be getting our first images of those in the coming days or weeks as well. Those hopeful for different color options will be happy to hear the news, even if we don't have a release date yet for any new HTC One M8 variants.
Read: 15 Best HTC One M8 Cases
Pink, Blue and Red aren't the only options though, as popular manufacturers have already been customizing the smartphone themselves. Just like last year, there's an all-new HTC One M8 in 24k gold available from GoldGenie. The company takes flagship devices and does their own unique process, and in this case, have outfitted the M8 with a 24k gold plating. It isn't cheap, coming in at over $2,500 but is a one-of-a-kind piece of work.
All GoldGenie products come in a limited edition Cherry Oak wood box, certification of authenticity, and a receipt showing you paid the big bucks for gold. However, they also have a platinum option for $2,800, or a red-tinted Rose Gold option for $2,700 if you'd like something even more unique.
Sadly we've yet to hear any further details from HTC on the regular gold option they offer at a regular price, as it's only available at a few exclusive regions and stores outside of the US. However, we're still hopeful that it will be available soon in the United States.
The HTC One M8 has been doing quite well according to reports, and early signs show the sales are stronger than the original HTC One from 2013. With new color options on the horizon, and even an improved HTC One M8 Prime coming later this year HTC is poised for a good year.
If pink or expensive gold options aren't your fancy, we're expecting the blue model to be an exclusive from Best Buy stores and available on all US carriers sometime this summer, but that's yet to be confirmed. Then, this week HTC announced yet another option, although this one is quite limited.
If you're a Marvels Captain America fan, there's a chance you could get a limited edition HTC One M8 S.H.I.E.L.D. Edition right from HTC themselves. The company is offering a limited edition smartphone for potential winners, as well as a slew of wallpapers and other options to customize your own One. Sadly you'll have to take a selfie and post it online if you'd like this Captain America edition HTC One, but it may be worth it for some.
HTC One M8 Colors
Currently we have gunmetal gray, silver, and now this pink version in the works, and we've also seen reports of a black HTC One M8 as well. For now though, leaks have only confirmed Pink, Red, and Blue to officially join the selection. However, these colors don't always make it to the United States, nor do they always get offered by the carrier select users may be using. Verizon will likely aim for an exclusive, and we've seen the same from AT&T in the past as well.
While HTC continues adding more colors and cases to the HTC One M8 lineup, we'll be on the lookout for more details about this HTC One M8 Prime coming in September. The same M8 only with a bigger Quad HD display, better camera, and a few other neat little tricks.
Stay tuned as we should be learning more about the three new HTC One M8 colors in the coming days or weeks.