HTC One M8 & One M9 Android 6.0 Updates Hit the U.S.
In very late December HTC delivered on its promise to release Android 6.0 Marshmallow updates to the HTC One M9 before the end of the year, but that was only for a very select few users with the unlocked model. Owners in the United States had to wait much longer, but we're slowly getting good news. In February the Sprint HTC One M8 received Marshmallow, and then the M9 received the same treat on both Sprint and T-Mobile. Now, Verizon is set to finally release it as well.
In early October Google released Android 6.0 Marshmallow, and the HTC One A9 was the first non Nexus to be released running the new software. HTC has slowly been pushing out updates for older devices, and now many of its flagship HTC One M9 is receiving the latest release.
Read: HTC One Android 6.0 Release Date Breakdown
After only delivering the new software for certain devices and smaller regions, HTC is ready for a global release. Users in the UK, Canada and now the United States have slowly been getting the update to Android 6.0 Marshmallow. Below is everything users need to know.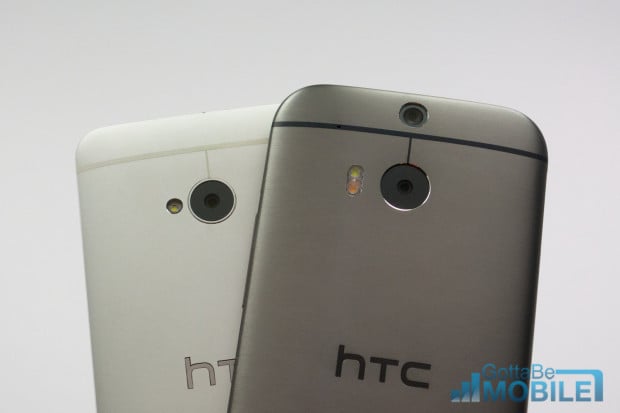 A few rumors last year suggested the HTC One M8 and HTC One M9 would be getting Android 6.0 Marshmallow in the United States during the first week of January, with HTC even suggesting late December for the Verizon HTC One M9. However, that wasn't the case, and the update didn't arrive until February for most. During the middle of February it arrived on Sprint and T-Mobile as shown below.
Happy Friday! Good news for T-Mobile HTC One (M9) owners! We've received technical approval on Marshmallow, with the OTA to start on 2/16.

— Mo Versi (@moversi) February 12, 2016
Update: We finally have good news for those on Verizon with the older HTC One M8. Recently HTC's own Mo Versi confirmed on Twitter the Verizon HTC One M8 Android 6.0 Marshmallow update has been approved, and will begin rolling out Sunday night, and for most owners on Monday, March 7th. Verizon confirmed this as well. That said, Verizon confirmed the DROID Turbo 2 Android 6.0 update last week, and it has yet to arrive. Drop a comment below starting March 7th if you've received Android 6.0 for the One M8 or the DROID Turbo 2.
Owners of both the current HTC One M9 and the older HTC One M8 in the United States are still waiting for the update except a few specific carriers.  The Google Play Edition, and unlocked developer models have already received an update to Marshmallow, but this weeks news means US carriers are finally ready to roll it out.
Great news! We'll be rolling out the Marshmallow update for the HTC One M8 over the next 48 hours. One M9 to follow shortly.

— HTC UK (@HTC_UK) January 18, 2016
In mid January HTC UK confirmed the update to Android 6.0 Marshmallow will begin throughout the UK, and the One M9 will follow shortly. Sadly there isn't an exact date for the newer HTC One M9, but it's safe to say it should be here soon.
It's odd to see the older phone receive an update first, but technically that makes sense. Giving the first device to be released priority over newer models, which is the opposite of what Samsung, LG and others do. This shows HTC will update both old and new, rather than only focus on the latest phones and leave older phones waiting for months and months on end.
Read: HTC One Android 6.0 Marshmallow Update Breakdown
We also have good news for those in Canada, or using the HTC One M9 on carriers like Sasktel, Rogers, Wind and Videotron. HTC's own Mo Versi, who is always vocal on Twitter sharing release timelines and details, had this to say in January.
Great news for our Sasktel, Rogers, Wind and Videotron HTC One M9 owners! We'll go live on Monday for the Marshmallow OS update. Thank you!

— Mo Versi (@moversi) January 15, 2016
Back on January 18th, all the carriers mentioned above started pushing out Android 6.0 Marshmallow to the HTC One M9. Most should have received it already, and now it's arriving throughout the United States.
Carriers in the United States have a lot of control over software updates, as many users already know. Most put the software through rigorous testing phases that take anywhere from 4-6 weeks to complete. Verizon has already delivered the update for the One M9, LG G4 and many other phones. At this point all HTC One M9 owners should be on Android 6.0, and the M8 is almost finished in the US as well.
At the beginning of February, HTC and Sprint confirmed the HTC One M8 will get Android 6.0 on February 2nd, and then the support page was updated stating the Sprint M9 Android 6.0 update is rolling out as of February 9th. The initial release said February 5th, but it took nearly a week to start rolling out. Hopefully the Verizon HTC One M8 release isn't slow or delayed.
A similar comment was made regarding the HTC One M9 on Verizon, T-Mobile and others. Which means the usual 4-6 week US carrier testing was on track for a early February release date of Android 6.0 Marshmallow on the HTC One M8 and M9 for carriers in the United States. Now that all HTC One M9 owners have Android 6.0, we're moving to the One M8. Those who are expecting updates early next week should head into settings > about phone > and check for software updates. For more details regarding all things Android 6.0, check out our ultimate update breakdown.

As an Amazon Associate I earn from qualifying purchases.