HTC One M9: 9 Features You'll Love
The HTC One M9 was just announced and it's full of improvements that will make it a worthy successor of the original. Its impressive specs and improved camera, array of features, front facing speakers and more are all reasons why you'll want to upgrade to the new phone, and below we'll go over nine or so features all potential buyers should love about the new HTC One M9.
Yesterday HTC announced the new One M9 live in Barcelona, Spain, and thanks to an array of leaks over the past month or so there weren't too many surprises. It's a premium looking device, but looks nearly identical to the One M8 from last year, but still has plenty to offer, which we'll outline below.
Read: HTC One M9 Cases and Accessories
During the announcement HTC confirmed the release date is set for mid-March, but sadly we didn't get an exact date like last year. That being said, all four major US carriers have confirmed it's coming soon, possibly around the end of March or early April, just in time to compete with the Galaxy S6. And below are nine or so reasons you'll want the HTC One M9.
Yesterday was an important day in the mobile space for mobile users, most notably those who enjoy Android smartphones. Both the Samsung Galaxy S6 (and Edge) and the HTC One M9 were announced and revealed for the first time, and will be available in the coming weeks. While the HTC One M9 will have some tough competition, the things below are a few of many that will separate it from the competition.
Screen Size
With big devices like the Nexus 6 or Galaxy Note 4 becoming the norm these days, many buyers are looking for a top end phone with a smaller screen. The HTC One M9 kept the same 5-inch screen as last year, and it's also 1080p and not 2560 x 1440. And while a 2k screen would be nice, the lower resolution won't be very noticeable as it's still 1080p, and will help the battery last longer.
This is the same size and resolution as last year, and makes the phone a great size for most users hands. The Galaxy S6 has a 5.1-inch screen, the Note 4 is 5.7-inches, and the Nexus 6 has a huge 5.96-inch display. Some enjoy a larger screen, but for those who don't, the IPS display on the HTC One M9 will be perfect for many.
Camera
One of the biggest changes to the HTC One M9 (since there aren't many from the One M8) is the camera, and this is a huge thing many complained about with last years model. Rather than a poor two camera setup last year, the One M9 has an impressive 20.7 megapixel rear camera, and they've moved the 4 Ultrapixel camera to the front for improved video chat and selfies.
The camera was one of the biggest complaints of the HTC One and the HTC One M8, but in 2015 that will no longer be an issue. HTC has focused on a new HTC Eye software experience for better camera usage, and the huge 20.7 megapixel lens should provide excellent photos for users. Samsung's touting their 16 megapixel camera in the new Galaxy S6 is the best, and we'll be sure to try them both once they're released.
Micro-SD Card Support
One advantage many Android devices have over the iPhone is the inclusion of a micro-SD card slot for expandable storage. This year, Samsung abandoned that for the first time ever, and now the HTC One M9 has a huge advantage over almost all of the Android competition.
It comes with 32GB of internal storage, and users can add a 64GB, 128GB, and even SanDisk's new 200GB micro-SD card for extra storage. This is way cheaper than buying a 64GB iPhone or Galaxy S6. This was a poor move by Samsung that many are complaining about, and HTC delivered it to all.
Double Tap to Wake Screen
While it wasn't exclusively talked about this year, the original HTC One M8 and HTC Sense 6 introduced a popular feature called Double tap to wake. This seems menial at first read, but is extremely convenient for all owners. Rather than pick up your phone or fumble for the power button, simply double tap anywhere on the screen and it turns on. This initially arrived with the LG G2, and has continued to be one of our favorite software features we wish all Android manufacturers would employ.
Dot View Case
The Dot View case for the HTC One M8 was a surprising and exciting accessory many loved. The all TPU flip cover case was excellent at protecting the phone, but the little dots in the plastic allowed for users to answer calls, check the weather and more all with the case closed. The screen would glow through the small "dot view" and give users information at a glance.
This year the new Dot View will let users customize what all can be shown while the screen is still closed, customize the colors and lights of notifications, and there's even neat little games like Brickles and more all playable without ever opening your case. It's pretty neat, and should be priced similar to the $49 price tag as last years option. It's expensive, but protects your phone while allowing you to do more than most cases.
HTC Theme
Android is extremely customizable and this is why HTC phones look completely different on the same software as Samsung, or even Motorola. This is due to the HTC Sense user interface, Samsung's TouchWiz user experience, or even LG's changes. With the HTC One M9 (and soon the One M8) HTC Sense 7 has been refined to match Android 5.0 Lollipop, while allowing for more customization than ever.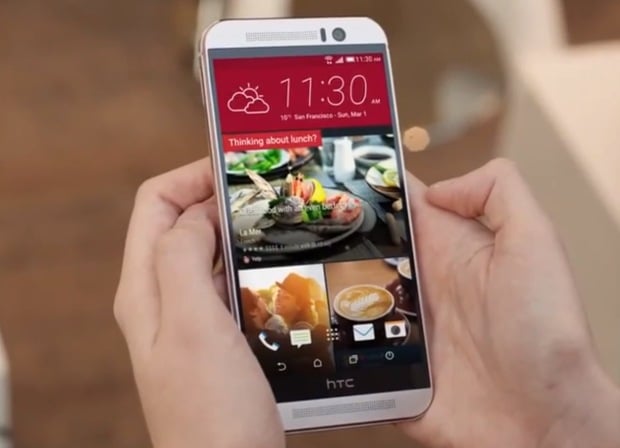 We don't know too much yet, but everything will be highly customizable. From buttons on the screen, colors and menu headers, and much more. To make it even easier, users can take a photo with the camera and the HTC Theme app will take colors from the image and insert it into menus and aspects of the phone. That, and add it as a background wallpaper at the same time. We're excited about the possibilities, but need some hands-on time with it before we comment further.
Front Facing Speakers
The original HTC One in 2013 introduced dual front facing speakers on a smartphone, and this has been a staple feature on the "One" brand. We've seen Motorola adopt it, but none sound as good as the HTC Boomsound dual front facing speakers. The HTC One M9 still has them, and this year they'll be better than ever.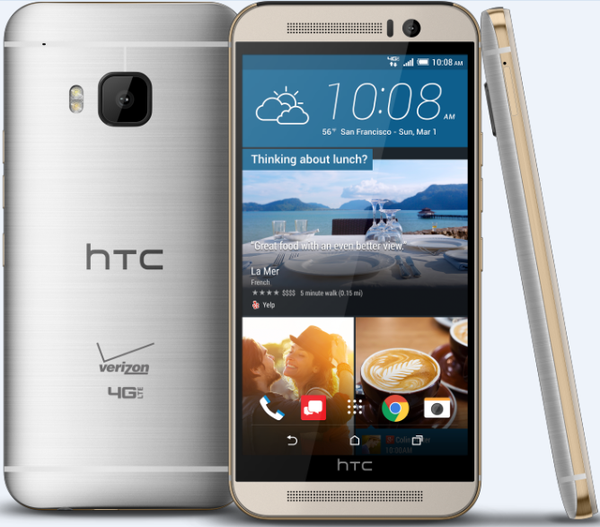 The new HTC One M9 has the same impressive speakers, but they've improved the sound, added more options to tweak the sound settings on the phone, as well as introduced Dolby Audio integration for the best sound possible. Whether that be using the front speakers, or while plugged in with headphones. This is another feature most smartphones can't match, and is a key feature many buyers take into consideration.
Battery Life
This year HTC has finally focused on battery life more than previous years. For one, the new HTC One M9 has what is technically an 8-core processor. The Snapdragon 810 has two four core processors. One powerful 2.0 GHz chip for gaming and intensive tasks, and a battery efficient 1.2 GHz quad-core for regular tasks like browsing the web and more.
This should be a huge addition to battery life, and let the phone last longer than previous models. At the same time, they've also increased the battery size from 2,600 to 2,900 mAh. This means you'll have the same size screen and resolution, a more efficient processor and Android 5.0, all while getting a bigger battery. This should offer some of the best battery life of most phones in 2015, something many buyers can get excited about.
Quick Charging
While we're talking about battery life, we have to mention Quick Charge. Just like the Samsung Galaxy Note 4 or Nexus 6, the new HTC One M9 features Qualcomm's popular Quick Charge 2.0 technology, allowing the One M9 to charge nearly 60% faster than previous generation devices. When the battery is under 10%, the Rapid Charger will give you hours of usage after just 15-30 minutes on the wall charger.
The Rapid Charger HTC offers themselves is currently sold out, but should be back in stock priced at $34.99 once the HTC One M9 is announced. We're expecting a quick charger to be in the box, but if not, you'll want to get this charger to get more battery faster, especially while on the go.
HTC's brand new One M9 smartphone has some impressive specs, a beautiful new two-tone color design to the all aluminum frame, improved camera, blazing fast processor, expandable storage for users, and thanks to Android 5.0.1 Lollipop and a new Sense UI 7 interface it should be a great device.
Once we get our hands on it in the next few weeks we'll be sure to add even more awesome features and options we find while enjoying the latest from HTC. Stay tuned. Are you more excited about the One M9, or the Galaxy S6? Drop a comment below.

As an Amazon Associate I earn from qualifying purchases.